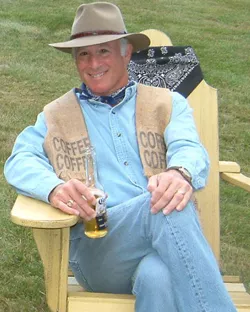 Skip Rosskam spreads out an array of baggies, vials and jars on a conference table in what seems at first like an illicit encounter. He then dribbles some jewel-colored liquid into a few miniature wine glasses and hands them to us, Seven Days' two food writers. The juice gives off an intense aroma of blueberries with hints of white flowers; each sip has soft, sweet, round fruit flavors tinged with nuttiness.
"Arctic berries are very on-trend," he remarks, sounding like a fashionista of food. Rosskam, the chief operating officer of the Philadelphia food lab David Michael & Co., oversees the company's 70 flavor chemists, sensory scientists and sales staff from his unofficial Vermont office, the Stowe home where he spends half the year and drums up business with local clients.
He's come to the Seven Days offices to share some new products, and he watches our faces as we taste the blue honeysuckle berry — aka Haskap berry — a flavor that has been blended into some rooibos tea and that Rosskam is certain will be popular within two or three years. It's derived from a bell-shaped berry that grows in cold climates and is loaded with antioxidants, but the tea's wholesome flavors were actually perfected in the lab.
Whether it's cake pops, whipped cream-flavored vodka or chia seeds, the staff of David Michael was probably dishing it out in tiny samples years before the public caught on. The company, born in the back of a New Jersey bar more than a century ago, has developed 40,000 flavors, textures and stabilizers that have appeared in almost every conceivable food and drink.
"Remember salted caramel?" asks Rosskam. "Well, meet salted vanilla." He sprinkles some wafery, eggshell-hued granola into our palms, and we each take a bite. Each piece is buttery, crisp and barely sweet, with only the slightest hint of salt. It's instantly addictive.
Next we taste molten lava cookies whose gooey insides, tinged with raspberry flavor, ooze onto our tongues. We sample tart-sweet, lime-green gummy bears flavored with a southeast Asian fruit called snake fruit. We ogle pictures in a catalog of what might soon be coming our way: a pea-protein smoothie, gluten-free doughnuts flavored with strawberries and mint, savory macaroons, mescal toritos, Buffalo-wing potstickers, congee…
Every year Rosskam and his staff share 30 or so of these new ideas with food company executives at an event called the Innovation Roadshow, a miniature version of which we're sampling now. Rosskam also travels around the country to meet with companies one-on-one. After our tasting he planned to travel to Iowa to meet with a dairy conglomerate that wants to use his salted vanilla in its products.
"Everyone would like to have the new blockbuster [flavor], but they don't come easy," observes Bob Smith, a retired food industry executive who spent much of his career with Quaker Oats, Del Monte and Nabisco and now lives in Newport. He occasionally advises David Michael as part of a strategic advisory board. "If you look at some of our dinner menus and supermarket shelves, you'll see flavors that travel around the world," Smith says. "That's not possible without the flavor houses that develop those flavors."
If you insist to Rosskam that Vermont's food products are wholesome and homespun, the executive's eyes twinkle. He counts many Vermont companies, some of them megabrands, among his clients. When Rosskam first bought his Stowe home, he says, "It was difficult to be getting off at Exit 10 and driving past two of the most successful food companies in the country." He's referring, of course, to Ben & Jerry's Ice Cream and Green Mountain Coffee Roasters. "That bothered me, that we didn't have any business with either one. I made it a personal goal to achieve that."
After a few visits, he made inroads with GMCR. Though Rosskam declines to name all of his clients, he divulges that they include Vermont Hard Cider Company and Sugarman of Vermont in Hardwick. "We try to get involved in the beginning of a project, whether it's a line extension, another SKU [stock-keeping unit] of flavor of ice cream, another flavor of coffee," he says. "All of these things get developed with the help and assistance of people in my industry."
In addition to drawing on their extensive, century-old library of rearranged molecules — aka flavors — David Michael's staff will hold expert and consumer tasting panels to hone a flavor for a client, as well as explore regulatory and dietary angles such as kosher, halal certifications or nutritional content.
Much has changed in the food industry since 1896, when a chewing gum salesman named David Michael was frequenting an Atlantic City bar owned by Herman Hertz. Hertz had pioneered an elixir of barks and botanicals that could transform clear corn whiskey into something that looked and tasted like 10-year-old bourbon. Together, the men began marketing it, demonstrating the process on whiskey they made in a still at the back of the tavern. "I call it early vertical integration," jokes Rosskam. The partners named the formula Oldtime Special Body & Age — and it took off.
A few years later, Michael and Hertz came up with a powdered vanilla sugar they called Michael's Mixevan that became ubiquitous in ice cream. In the early 1920s, Rosskam's grandfather — a chemist named Walter Rosskam — joined the company, after a stint in his own firm marketing a cigar that burned continuously with the aid of tiny explosive charges. Eventually his son, Bill — Skip's dad — became a salesman for the company.
David Michael was an under-the-radar flavor house, notes Smith. It's still much smaller than some of the largest global flavor and fragrance houses such as Givaudan and International Flavors & Fragrances. However, it's always been nimble in responding to needs, shortages and changing tastes. During a global dearth of nuts in the 1950s, the company developed a "natural nut extender" to impart nutty flavors to ice cream. And it adapted Body & Age into a line of blending agents for booze. In the late 1950s, David Michael began imbuing ice creams and sorbets with cocktail flavors such as daiquiri, pink champagne and grasshopper.
"David Michael may not be the biggest [flavor house]," says Smith, who worked with the company on a few culinary projects when he was in the research-and-development business. Smith says its strength lies in both innovation and close observation of trends. "They get supplies from all over the world, and things happen all over the world," he says. "What I found with David Michael is, as soon as they see something extraordinary, they immediately focus on it and tell their customers, 'Something is going to happen,' and they find a way to augment it."
Skip Rosskam hadn't intended to become a company man. He went to college to study marketing but returned to David Michael 10 years later. "My dad had a heart attack, and something just happened inside me. I knew intuitively that the right thing to do was go into the business," Rosskam recalls. "I told my dad I'd be waiting for him in the office when he got back. And I was."
Rosskam became part of a company that seems like a lifetime endeavor for some of its employees. "We hire our salespeople right out of college, which is unusual," he says. Those new hires train for a year, working in every part of the plant before launching into their respective tasks.
Chemists go through years of training, too, and the company's staff obsessively stays on top of food trends. They comb over reports from research companies, keep three chefs on staff and pay attention to what's happening in restaurants. "That's where a lot of trends start, at the white-tablecloth restaurants," Rosskam says.
Though Vermont isn't necessarily known as a culinary trendsetter, a few food trends have originated here — from K-cups to using maple syrup as an ingredient in savory cooking. The farm-to-fork ethos has powerful cachet across the country, Rosskam notes. He's also keeping tabs on the trend of barrel-aging spirits and other liquids that's happening all over New England.
Despite his almost constant focus on flavor, Rosskam doesn't seem to tire of it. Years ago, he developed a dinner-party game at his home called "The Nose Knows." Rosskam asked his chemists for 70 flavors he could keep in his home library, from Philly cheesesteak to Burgundy wine. After plates are cleared away, Rosskam adds those flavors to perfume strips, hands them out and asks guests to figure out what they're smelling. "Ninety percent of our taste is in our olfactory senses," he says, adding that he has "a pretty good" palate, one that prefers bittersweet chocolate and bristles at both eggs and mustard.
In a state where farm-fresh is sacrosanct, and the term "food producers" has become a catchphrase, it's strange to hear someone proudly describe himself and his colleagues as food manufacturers — but that's just what Rosskam does. The moniker is reflective of his unique perch within the industry as both a trend-spotter and a realist.
And he has a point. "Think about cola, for instance," he says. "Without flavor, it would taste like sweet, brown acid water. The flavor that's used in cola is what gives cola its character. There's no cola tree nearby where you can pick the nuts."
The original print version of this article was headlined "The Flavor Maestro"