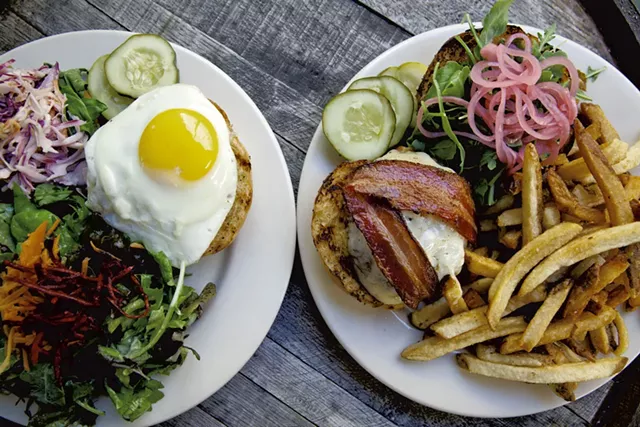 Courtesy Of The Farmhouse Tap & Grill
Burgers at the Farmhouse Tap & Grill
Terroir is a French word often used in the winemaking world: It refers to the set of environmental factors — soil, climate and sunlight — that imbue grapes with their distinct flavor. But the word has wider applications. Travelers in search of Vermont's unique terroir can get a taste of place simply by dining at one of our many fine restaurants.
A great meal says a great deal about the state's farm-to-table food systems, community partnerships and creative spirit. And spring is the best time to sample it all: Vermont Restaurant Week, held from April 26 through May 5, offers three-course, prix-fixe menus at more than 100 participating eateries throughout the state.
Visit vermontrestaurantweek.com for the delicious details — and read on for three Burlington restaurants deserving of your to-dine list.
Pizzeria Verità
File: Matthew Thorsen
Neapolitan pies at Pizzeria Verità
At Pizzeria Verità, paper-thin pies emerge bubbling and blistered from a blazing, 900-degree wood-fired oven. They cook in two minutes flat.
Co-owner John Rao spent years perfecting the Neapolitan-style preparation — in which only a handful of pizzaioli in the world offer instruction — until he settled on just the right combination of superfine flour, San Marzano tomatoes and whole-milk mozzarella. He even shipped his two-ton oven from Italy to Burlington.
Once a livery barn, his restaurant strikes the perfect balance of cozy and elegant. A pile of logs — to feed the fire — sits between the front door and the sleek bar, which serves stellar cocktails.
Verità's pizza dough undergoes a long, lazy rise that makes it tastier. The fresh house fior di latte cheese is creamy heaven wherever it appears, be it on a Margherita pie accented with basil, a white pizza topped with curls of prosciutto, or the Cherry Amore dotted with cherries and drizzled with melted honey.
The menu offsets all that dough and cheese with gorgeous salads of peppery arugula studded with pine nuts and shaved fennel, and colorful roasted beets with avocado and a citrus dressing. Antipasto devotees can cobble together platters of marinated artichoke hearts, wedges of fior di latte and smoky ribbons of speck — but they may not have room for the rest of the meal. Pro tip: Go easy on the antipasti.
There's really only one proper way to finish a meal at Verità: with pizza alla Nutella. The hot, chewy dough is folded over melted Nutella, drizzled with chocolate and sprinkled with sugar.
— Corin Hirsch
The Farmhouse Tap & Grill
File: Matthew Thorsen
Outdoor dining at the Farmhouse Tap & Grill
Before it became the quintessence of Vermont farm-to-table dining, Burlington's Farmhouse Tap & Grill was, of all things, a McDonald's. In 2010, new owners transformed one of the city's few fast-food chain restaurants into a temple to local fare. And they tapped plenty of craft beers to wash it down.
Let's just say the burgers aren't what they were. The chefs craft grass-fed LaPlatte River Angus Farm beef into a tender, oozing tower of flesh atop a crisp bun. The barbecue dry-rubbed chicken wings come with chile sauce and blue cheese dressing; the meatloaf is bathed in herb gravy and spicy housemade ketchup. Some nights, the menu features all wild edibles — just as the taps are occasionally turned over to a visiting brewer.
Even the "everyday" beer menu teems with rare, local and exotic brews. There might be a Vienna lager from Stowe's von Trapp Brewing, a double IPA from Greensboro's Hill Farmstead Brewery or a chocolaty imperial stout from the Netherlands. Other local quaffs range from a semidry hard cider made in Burlington to a glass of lively natural wine grown and vinified in Shelburne.
It's little wonder that the place is always packed, from lunch straight through to last call. If the main dining room gets too crowded, diners can seek refuge in the firelit speakeasy downstairs or, in summer, decamp to the sidewalk café or backyard beer garden. Wherever it is, a table here is worth waiting for.
— Corin Hirsch
Bistro de Margot
File: Oliver Parini
An array of dishes at Bistro de Margot
The restaurant as we know it was invented in France and, for a long time, going out to dinner in America meant eating French food. Even when more varied spots later sprang up, visiting a fancy restaurant still meant ordering aubergines grillées instead of grilled eggplant.
But the pendulum has swung the other way. As casual restaurants, with their laminated menus and heaping portions, became the American norm, white linen and impeccably dressed servers began to read as snobby. And, with the welcome rise of other world cuisines in U.S. cities, Continental dining lost its primacy.
Nowadays a true French restaurant is hard to find, but Burlington has an utterly charming one in Bistro de Margot. Here, Hervé Mahé prepares finely crafted classic dishes, such as snails drowning in parsley-and-garlic butter, and duck terrine with pistachio and coriander. Yet the Burgundy-born chef also lets Vermont ingredients and a hint of global flavor inform the fare.
Playful perfection is the marker of Bistro de Margot's menu, and the luscious desserts are no exception. Lemon curd arrives in a jar, topped with strips of gooey candied lemon peel and dots of torched meringue. It is both fun to behold and swoon-inducing to eat.
The relaxed elegance extends to the service. Few chefs make a point of visiting with customers in the dining room these days, but Mahé stops by every table with a ready laugh and stories to tell.
The chef's ability to blend the best of French technique with the casual flavor of Vermont dining makes Bistro de Margot one of Burlington's best restaurants du jour.
— Suzanne Podhaizer
---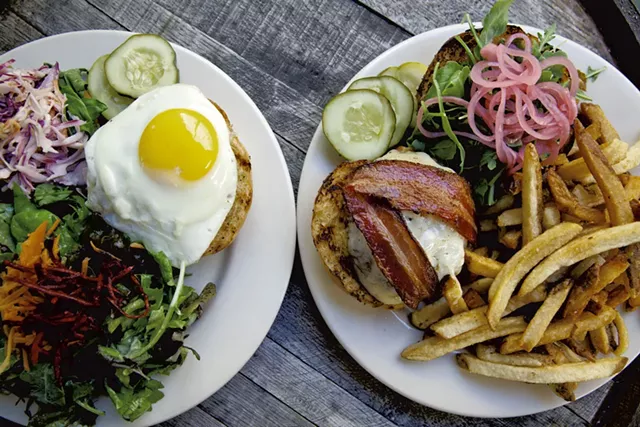 Courtesy Of The Farmhouse Tap & Grill
Burgers at the Farmhouse Tap & Grill
On emploie souvent le mot terroir dans le monde du vin pour désigner l'ensemble de facteurs environnementaux — sol, climat et ensoleillement — qui donne aux raisins leurs saveurs distinctes. Mais ce terme a une acception plus large. Pour découvrir le terroir unique du Vermont, il suffit d'essayer l'un de nos nombreux restaurants gastronomiques.
Chaque assiette en dit long sur les réseaux « de la ferme à la table », les partenariats communautaires et l'esprit créatif de l'État. Et le printemps est le meilleur moment pour en profiter à fond : du 26 avril au 5 mai, plus de 100 restaurants participants proposent des menus trois services à prix fixe à l'occasion de la Semaine des restaurants du Vermont.
Visitez vermontrestaurantweek.com pour connaître tous les détails alléchants — et lisez ce qui suit pour découvrir trois restaurants de Burlington qui valent le détour.
Pizzeria Verità
File: Matthew Thorsen
Neapolitan pies at Pizzeria Verità
À la Pizzeria Verità, les croûtes minces comme du papier sortent grillées et boursouflées à point du four à bois où elles cuisent à 900 degrés. En deux minutes top chrono.
Le copropriétaire John Rao a passé des années à perfectionner la technique de confection napolitaine — que seulement une poignée de pizzaioli enseignent dans le monde — jusqu'à ce qu'il trouve la parfaite combinaison de farine superfine, de tomates San Marzano et de mozzarella de lait entier. Son four de deux tonnes a même fait le voyage de l'Italie jusqu'à Burlington.
Son restaurant, qui était autrefois une pension pour chevaux, allie à merveille confort et élégance. Une pile de bûches — pour alimenter le feu — se trouve entre la porte d'entrée et le superbe bar, où l'on sert des cocktails éblouissants.
La pâte à pizza de Verità est soumise à un long processus de levage qui la rend des plus goûteuses. Le fromage fior di latte frais et crémeux fait merveille partout où on le dépose, que ce soit sur une Margherita agrémentée de basilic, une pizza blanche avec des rosettes de prosciutto ou encore une Cherry Amore parsemée de cerises et de miel coulant.
Pour compenser cette orgie de pâte et de fromage, le menu propose de magnifiques salades de roquette poivrée avec noix de pin et lamelles de fenouil, ou de betteraves colorées avec avocat et vinaigrette citronnée. Les amateurs d'antipasto peuvent quant à eux se régaler d'un délicieux plateau de cœurs d'artichaut marinés, de morceaux bien coulants de fior di latte et de rubans de jambon speck fumé — au risque de ne plus avoir faim pour le plat principal. Conseil d'ami : allez-y mollo avec les antipasti.
Il y a une seule façon de finir le repas dans les règles de l'art chez Verità : avec une « pizza alla Nutella ». La pâte chaude et moelleuse, pliée en deux, renferme du Nutella fondu parsemé de copeaux de chocolat et saupoudré de sucre.
— Corin Hirsch
The Farmhouse Tap & Grill
File: Matthew Thorsen
Outdoor dining at the Farmhouse Tap & Grill
Là où se trouve actuellement le Farmhouse Tap & Grill de Burlington, quintessence de l'alimentation « de la ferme à la table » du Vermont, on trouvait – tenez-vous bien – un McDonald. En 2010, les nouveaux propriétaires ont transformé ce restaurant, l'un des rares en ville à appartenir à une chaîne de bouffe minute, en temple de la gastronomie locale. Et on y trouve une foule de bières en fût pour faire descendre le tout.
Disons simplement que les burgers ont bien changé entre les deux époques! Les chefs utilisent le bœuf engraissé à l'herbe de LaPlatte River Angus Farm pour concocter des boulettes tendres et juteuses, déposées sur un petit pain croustillant. Les ailes de poulet barbecue marinées à sec sont accompagnées de sauce chili et de trempette au fromage bleu. Le pain de viande est nappé de sauce parfumée aux herbes et de ketchup maison épicé. Certains soirs, le menu est composé exclusivement de délices sauvages — tout comme les fûts sont parfois réservés à un brasseur invité.
Même la carte des bières « quotidienne » comprend des variétés rares, locales et exotiques. Vous pourriez y trouver une lager viennoise de von Trapp Brewing, à Stowe, une double IPA de la Hill Farmstead Brewery, à Greensboro, ou encore une stout impériale chocolatée des Pays-Bas. Parmi les autres boissons locales, on trouve également un cidre demi-sec fabriqué à Burlington et un vin nature dynamique, élevé et mis en bouteille à Shelburne.
Pas étonnant, donc, que le lieu soit toujours complet, de midi jusqu'à la fermeture. Si la salle à manger principale est trop bondée à votre goût, vous pouvez trouver refuge auprès du feu dans le speakeasy situé juste en bas. L'été, optez pour le café en bord de trottoir ou la brasserie en plein air dans la cour arrière.
— Corin Hirsch
Bistro de Margot
File: Oliver Parini
An array of dishes at Bistro de Margot
Le restaurant tel qu'on le connaît a été inventé en France et, pendant longtemps, quand on sortait souper en Amérique, on allait forcément manger français. Même quand les restaurants se sont mis à se diversifier et à se multiplier, il était de bon ton de commander des « aubergines grillées » et non des « grilled eggplant ».
Mais, depuis, la vapeur s'est renversée. Quand les restaurants décontractés, avec leurs menus plastifiés et leurs gigantesques portions, sont devenus la norme en Amérique, les restaurants « nappe blanche », avec leurs serveurs tirés à quatre épingles, ont commencé à faire un peu snob. Et avec la montée (tout à fait bienvenue) des autres cuisines du monde aux États-Unis, la gastronomie « vieille Europe » a perdu son monopole.
De nos jours, les vrais restaurants français sont difficiles à trouver, mais il y en a un absolument charmant à Burlington : le Bistro de Margot. Hervé Mahé y concocte des plats classiques parfaitement maîtrisés, comme les escargots noyés dans le beurre à l'ail et au persil, et la terrine de canard avec pistaches et coriandre. Mais le chef natif de Bourgogne se permet également d'intégrer des ingrédients du Vermont et une touche de saveurs du monde.
La perfection sans prétention, voilà ce qui distingue la carte du Bistro de Margot, et les somptueux desserts ne font pas exception. La crème de citron est servie dans un petit pot et coiffée de zestes de citron confits et de morceaux de meringue flambée. C'est à la fois un ravissement pour les yeux et un pur délice.
L'élégance décontractée s'étend jusqu'au service. Peu de chefs prennent la peine d'aller voir les clients dans la salle à manger de nos jours, mais Hervé se fait un point d'honneur de passer à chaque table, toujours rieur et jamais à court d'histoires.
La capacité du chef à mêler le meilleur de la gastronomie française et l'aspect décomplexé de la cuisine du Vermont fait du Bistro de Margot l'un des meilleurs restaurants du moment.
— Suzanne Podhaizer