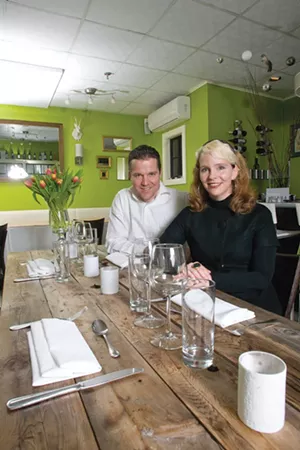 Justin Cash
Osteria Pane e Salute
For folks who haven't had the pleasure of exploring the Italian countryside, it's possible to dine at Pane e Salute without sampling a single familiar dish.
At the eight-table eatery — which blends cool, modern décor with a few rustic touches — the menu is based on "heirloom" recipes that Caleb Barber and Deirdre Heekin have gathered during their annual travels to "il bel paese."
The nightly tasting menu, which is expertly paired with Italian wines from the cellar, changes depending on what's seasonal and enticing. True to the spirits of both Italy and Vermont, much of it is prepared from ingredients grown in the restaurant's garden, or produced by area farmers and artisans.
On one evening, a wedge of water-buffalo ricotta from Woodstock's own creamery is set atop roasted scallions as an appetizer. Another is a pile of lightly dressed, nutty arugula with beet cubes, roasted potato slices and house-pickled herring on the side. A primi portion of risotto comes topped with pork-cheek ragù and, for one main course, squid is wrapped around black-olive pesto, roasted and served with a side of escarole.
Because the restaurant is so small, it's not unusual to find Chef Barber and Heekin — she runs the front of the house — doing everything themselves. Barber may pop out of the kitchen to drop off a twirl of al dente pasta topped with garlicky bread crumbs and cauliflower, or a fragrant portion of fennel-braised pork shoulder with lavender-scented white bean purée.
Meanwhile, Heekin could be putting together an elegant cheese plate or recommending the restaurant's infused liquors, such as her special rose-petal-scented brandy.
Patrons who have seen the duo gracefully negotiate the restaurant won't be surprised to learn that they studied modern dance before becoming restaurateurs. They've also authored two books together, and Heekin has won prizes for her fiction.
With that much creativity between them, it's no wonder Barber and Heekin's osteria is a work of art.