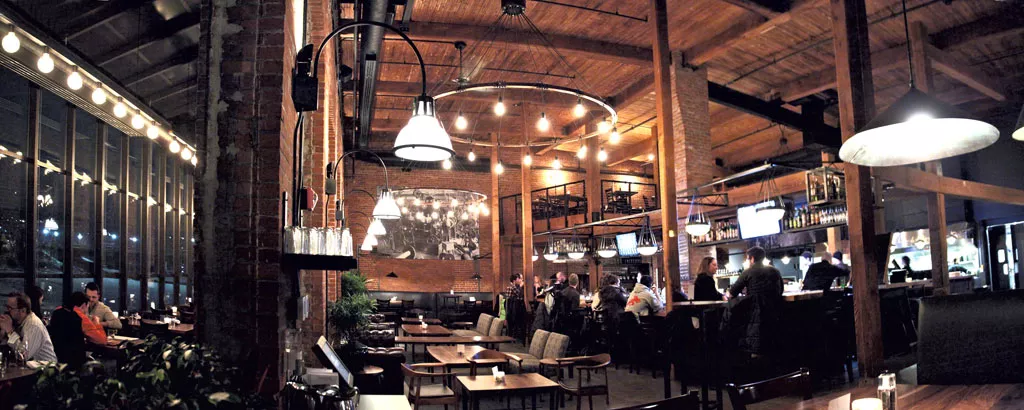 Guests may feel a rush of emotions as they enter Waterworks Food + Drink in Winooski. Granted, one of those sensations might be relief at finally finding their way inside a restaurant that opened in one of the coldest winters on record. No longer can diners descend to Waterworks through the main entrance of the Champlain Mill, as they did in the restaurant's beloved previous iteration. Its new side entrance is a brisk walk from the nearest parking area, so reaching the goal is bound to bring a welcome rush of warmth.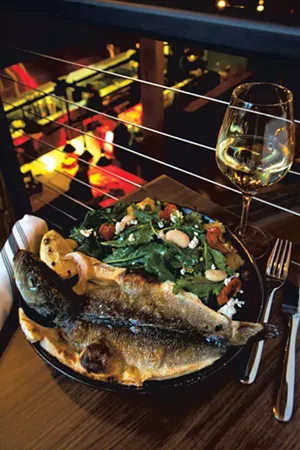 Matthew Thorsen
Whole branzino
Still, judging by the faces of guests as they enter, the first glimpse of Waterworks promises more than a refuge from the chill. First their necks crane to take in the surroundings. Then their faces unerringly break into awed smiles. American Woolen Company's Winooski Mill No. 4 has been preserved in all its cavernous glory.
The familiar brick and soaring wood beams are still there, more than a decade after the old Waterworks stopped making memories. While the original restaurant had an outdated feel by the time it shuttered, the nearly 200-seat new one doesn't have that problem. With its giant chandeliers full of bare bulbs and its wall-size archival photos of the mill's workers, Waterworks has a stark modernity rarely seen in the Green Mountains.
The place is big and beautiful (dare we say voluptuous?), but the décor leaves a niggling question. What exactly is this new restaurant's demographic? Is it the middle-aged crowd who used to celebrate date night over wild-mushroom chicken and Santa Fe pork chops? Or the millennials attracted by Sam Nelis' cerebral cocktails, which can be enjoyed on leather couches just past the bar?
Owner David Abdoo's goal is to win over both crowds. One unfortunate result is a bloated bill of fare that is difficult to navigate. Sixteen shared plates take up most of the menu, and they vary in scope from a $6 presentation of mixed olives to a $29 lobster flatbread. Knowing whether something will suffice as an entrée or app can take guesswork.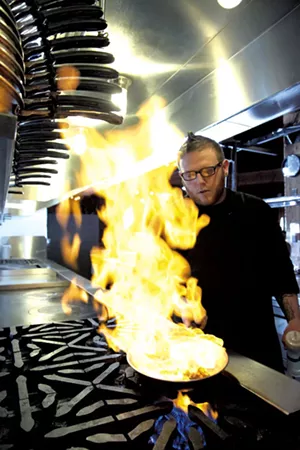 Matthew Thorsen
Sous-chef Shawn Careau
It's in these shared plates that chef Sergjio Shantoja really gets to show off the muscle of his Mediterranean flavors. (He has the help of a team that features talent from restaurants such as Prohibition Pig, Guild Tavern and Hinesburgh Public House.) In early interviews, Abdoo described his plans for Waterworks' menu as reflecting the heritage of mill workers from Canada, Europe and the Middle East. But the final product sticks closest to Abdoo's own Lebanese heritage. That gives Shantoja a chance to play with ingredients seldom seen in greater Burlington, such as harissa and preserved lemon.
On my first visit, I made a conscious effort to sample dishes likely to please fans of the original Waterworks. Shantoja's take on the chicken wing seemed a likely measure of how far Waterworks had come from its pubby origins.
A mighty pyramid of lacquered wings and drumettes materialized in what the menu billed as tarragon barbecue sauce. The idea was tantalizing, but to me the sticky sauce tasted identical to General Tso's chicken. An attractive presentation on the plate — complete with a shower of pea shoots, drizzles of blue cheese and cubes of "candied harissa" (in effect, miniature cubes of caramelized sugar) — couldn't fix the dish's resemblance to Americanized Chinese food.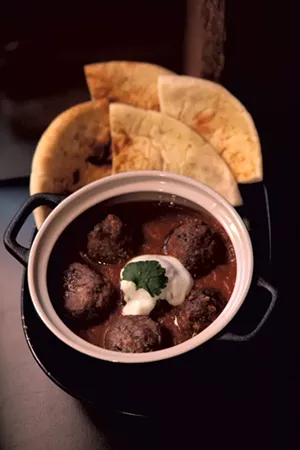 Matthew Thorsen
Lamb meatballs with naan
The second app I tried, the sausage and pretzel plate, was a far greater success, despite a less intuitive combination of elements. The golden pretzel was ideally springy and salty. It paired well with whole-grain mustard and sauerkraut, but sat less comfortably alongside the lamb sausage. Served in slices and presented in a small black bowl to match the egg-shaped plate, the sausage was pleasingly fatty, with a nice layer of spice. But its presentation and flavors simply didn't make sense with the pretzel.
I'll admit that I view the rib eye as a dud of a steak. The high price pays for weight, yes, but most of that is bone and fat. Still, ordering the $32 cut seemed like a sensible way to assess the entrée options at the area's newest special-occasion destination. The beef is sure to be more popular with certain Waterworks diners than, say, lobster mac-and-cheese or red-curry vegetarian pot pie.
The 14-ounce slab came to me precisely medium-rare and rubbed in coffee. The housemade steak sauce tasted like A.1. That's not necessarily a bad thing, except that the sugary sauce combined with the coffee rub made the steak taste like a beefy new Starbucks drink. Bland mashed potatoes and a pile of watercress dressed in nothing but slippery olive oil did the dish no favors.
Matters improved with a taste of the whole branzino. Fired in the kitchen's wood oven, the fish came to the table with its skin still bubbling from the heat. It was boned out and butterflied, its flesh mild and easy to eat. The Mediterranean comfort food came with a single wedge of grilled lemon and a zippy baby-kale panzanella salad filled with chubby butter beans and roasted tomato.
Matthew Thorsen
Ploughman's Platter
The meal ended on a high note with a $6 bowl of churros. The fried pastries were soft inside and crispy outside, but what will bring me back is the bowl of spicy chocolate sauce in which they rested. What the cinnamon-sugar-coated sticks didn't pick up, I consumed greedily with a spoon.
Feeling like I'd gotten a hint of what the kitchen did best, I stuck to the shared plates for my second Waterworks visit. But first, a cocktail. Sure, the restaurant has a dozen beers on draft and a carefully curated list of international wines. But the cocktail still reigns at Waterworks, once the place for a Mudslide. And that old-school calorie bomb remains on the menu, along with other tried-and-true cocktails ranging from an 1830s-style sherry cobbler to a hip Angostura sour.
Nelis' creative efforts deserve a sip, too. His seven original cocktails pay homage to the mill's history with names like the Dye House and Bobbin of Roses. The Smoking Loom gets its blackened flavor from a combination of Del Maguey Crema de Mezcal and caraway-and-cumin-infused kümmel, brightened by quince and rosemary. But the biggest flavor comes in a copper cup that signals the arrival of the Cascade Winds, a new take on the Moscow Mule. Rather than using the standard ginger beer, Nelis pairs Polish potato vodka with the floral, gingery Eastern Winds blend from Dobrà Tea.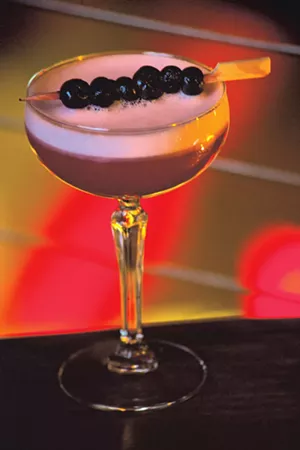 Matthew Thorsen
The Dye House
The drink's lightness, buoyed with lime and pineapple, made a natural pairing with the vivid flavors of the Ploughman's Platter. On the night I tried it, Shantoja's version of the charcuterie board included three cheeses: Grafton Village Cheese's cumin-flecked Vermont Leyden, Boucher Family Farm's Green Mountain Blue and Blythedale Farm Vermont Brie. They were accompanied by local soppressata, two house-cured delicacies, quince paste, plump raisins served on the vine and grilled bread.
It's rare to see local air-dried beef, so the peppery bresaola was a pleasure. But the house-cured pork belly (that's bacon to you, pal) was in a class of its own. In fact, the meat was almost an afterthought, presented beneath a garden of pickled jalapeños, corn shoots, beets and sherry vinegar aioli that made my mouth water.
Pickles and breads are clearly two of the from-scratch kitchen's specialties. The tiny brioche buns on which the mahi sliders were served were worth the price of the app. The fish patties, like particularly juicy crab cakes, were topped with fennel slaw and served with a rainbow of pickles, including cauliflower, beet and cucumber. They were satisfying, but the bun was key.
Matthew Thorsen
Cappuccino and churros
Pastry chef Nicole Maddox, late of South End Kitchen, also excelled at making the fluffy naan served with a cocotte of lamb meatballs. Though the meat itself could have used a heavier hand with seasoning, the harissa-imbued pomodoro sauce in which it was cooked very nearly made up for it. A shot of cilantro-lemon yogurt blobbed on the five balls put the tangy flavor over the top.
Filled almost to bursting after a couple of slices of flatbread dressed with duck prosciutto, chèvre and date syrup, I still made room for a few bites of a Mediterranean farewell. Like most of the food at Waterworks, the bowl of Greek yogurt panna cotta was larger than I expected, perhaps not to its advantage. (I left both meals with bags straining with leftovers.) But we did devour the panna cotta, whose topping of lemon-pistachio gremolata couldn't conceal that it was a few degrees too sweet.
That caveat might be a worthy way to sum up the current Waterworks. Abdoo and co. are trying so hard to please everyone that the experience can be overwhelming. The team's gymnastics yield some excellent results: exceptional service, big flavors and the space's outsize glamor among them. But the oversize menu, the large portions and, yes, the sweetness can sometimes feel like simply too much. Once the eager team settles into a groove, I have no doubt that Waterworks will be far from run of the mill.