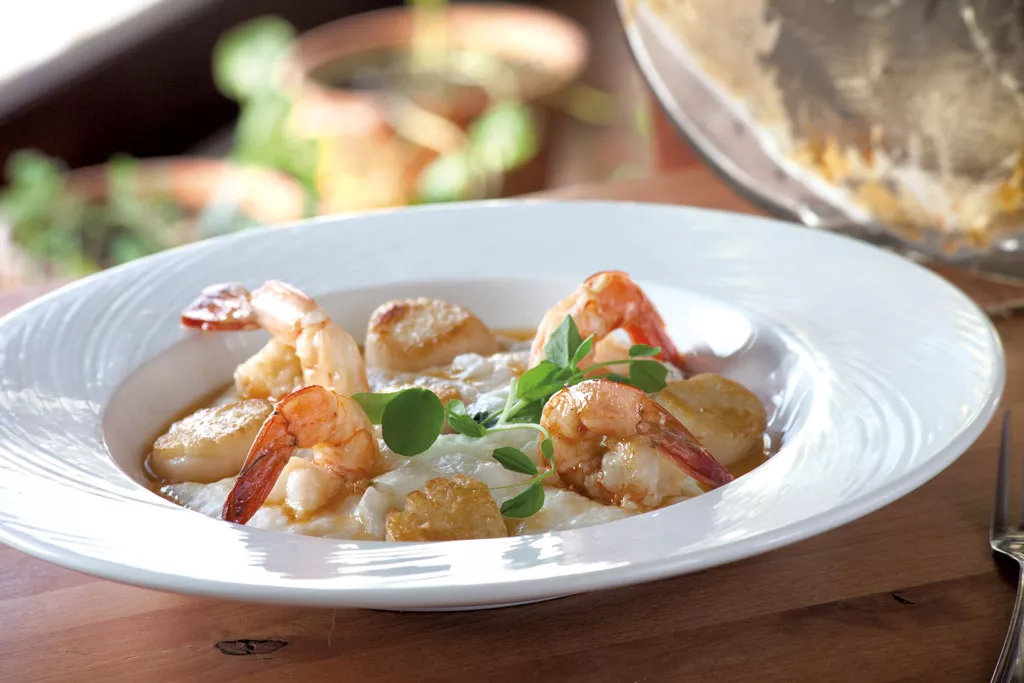 Matthew Thorsen
Seafood grits
One of the Queen City's timeless pleasures is sipping a glass of, say, Bandol or Côtes du Rhône — or perhaps a warming whiskey cocktail — while nibbling a plate of fine local cheese. Better still if you're ensconced on a plush leather couch while gazing out a window at frosty City Hall Park.
This describes one of the comfiest seating options at the Gryphon, which opened on the corner of Main and St. Paul streets in mid-September. It's owned by husband-and-wife team Paige Gross and Tom Chadwick, and Gross' ex-husband, Andrea Gross, is the head chef.
The Gryphon is the latest in a series of restaurants — which have included Ramen (Japanese) and Souza's (Brazilian) — to occupy the first floor of the Vermont House over the past several years. But the room seems better suited to a classic American eatery than anything else. Painted in subdued tones of gray and burgundy and trimmed in gold, the dining room boasts soaring ceilings and ornate crown moldings, mock columns tucked into corners and walls, and oak wainscoting. Its lengthy, elegant bar recalls a hotel lobby cantina, brought back from the days of top hats and tails.
As the Gryphon is just steps from the Flynn Center for the Performing Arts, preshow dinners would seem to be its calling card. To succeed at that, the place should satisfy several needs: It must be formal enough for a date, affordable enough for diners who've already shelled out money for theater tickets, and efficient enough to get everyone served and out the door before showtime.
Perhaps most importantly, a pretheater restaurant must be broadly accessible, appealing both to older couples en route to a Broadway revival and to millennials heading to a rock concert. For extra points, the place could remain open for post-show nightcaps and snacks.
The good news is the Gryphon accomplishes all these things with plenty of grace and zero fuss. I've enjoyed several fine meals there (some as a critic, some not) — during lunch and dinner, on Flynn nights and not. And though I've heard that at least one of the Gryphon's early preshow dinners was a disaster, during my visits service was uniformly smooth. Also, the Gryphon has become my regular cocktail haunt.
When it comes to mixed drinks, I'm fond of the classics: Manhattan, Old Fashioned, Julep, Negroni, Aviation, egg flip, sour, fizz. Their names, paraded across a page, sound like eccentric guests at a quirky party. The Gryphon's menu is filled with these quintessential boozy potions that welcome grown-ups to dinner. No appletinis or pomegranate Cosmos here.
But keeping to the canon doesn't preclude lead bartenders Niall McMahon and Kat Funk from teaching old cocktails new tricks. The Fall Flip, mixed with bourbon and a couple of liqueurs, is an autumnal take on that old-school class of cocktails made with milk or egg and shaken until a lip-coating froth forms on top. It's a mellow cocktail, sweet enough for before or after dinner, and delectable during a meal, as well.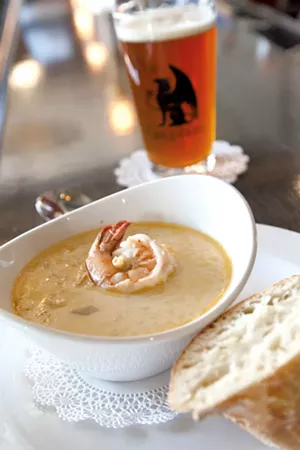 Matthew Thorsen
Seafood chowder
The Basilisk Egg, another flip-style drink, is a citrusy gin confection that recalls a Pisco Sour, while the Sage Julep, served in a glittering crystal glass, is just what it sounds like. At $8 to $10 apiece, the drinks aren't cheap, but they're mixed with top-shelf liquors and are strong enough that one or two can engender a solid buzz.
The wine list hits most of the world's major wine-producing regions, and bottles are reasonably priced at $50 or less — most of them around $30.
The dinner menu treads a similarly well-worn path. On one of my early visits, there was no arguing with a bubbling bowl of French onion soup ($6). The melty blanket of Swiss and Parmesan cheeses shrouded a chewy baguette crouton tucked into a dark, savory broth and stewed onions. Another night, hearty New England-style seafood chowder, its light, milky broth speckled with melted butter, was loaded with shellfish, haddock, potatoes and corn ($8). It was filling enough for a light meal, as good chowder should be.
The Gryphon's food is not hyperlocal, though the chef makes an effort to source from Vermont producers when he can. A cheese plate serves up cheeses from Shelburne Farms, Blue Ledge Farm and von Trapp Farmstead, and the bar is rife with local beers and spirits. But standards such as their stellar, affordably priced soups transcend farm-to-table and locavore trends.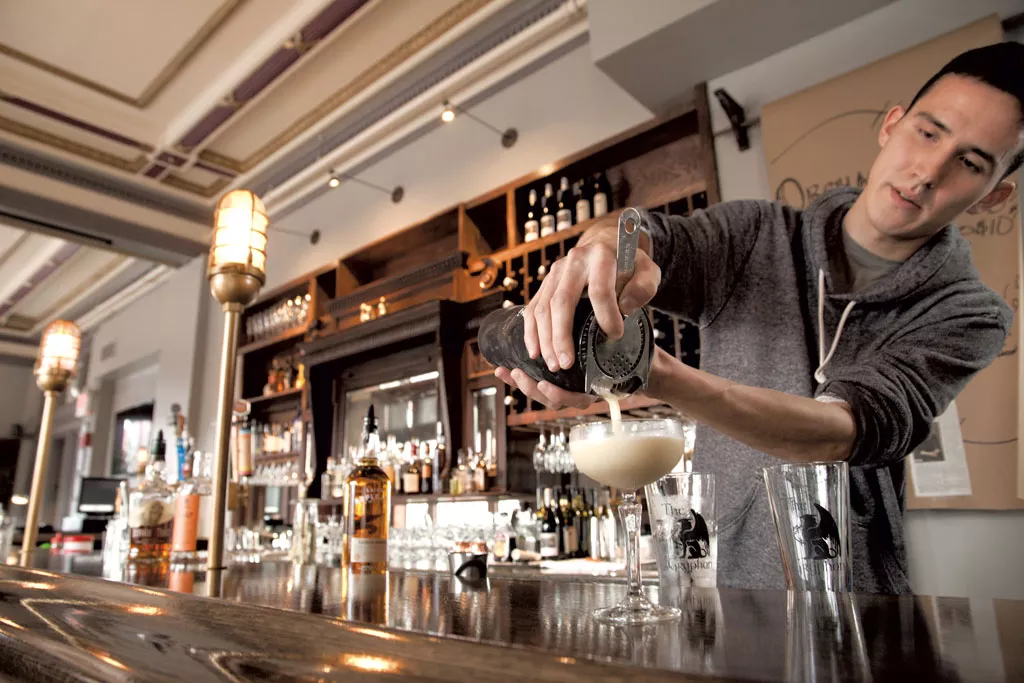 Those movements have taught us about mindful sourcing and attention to quality, but there is little reason to be dogmatic, particularly in a landlocked northern state where temperatures dip below freezing for months, and where, according to recent census data, the average annual per-capita income hovers around $28,000.
During a recent lunch, velvety seafood grits ($14, lunch; $23, dinner) came topped with succulent, springy sea scallops and blushing jumbo shrimp, lightly seared in white wine and olive oil and finished with lobster butter. At dinner on another night, ruby-red Caribbean ahi tuna ($20) was so tender that the acid from a lemon squeeze burned pale marks into its surface. Served on a bed of peppery arugula dressed in light vinaigrette, the dish tasted like a decadent celebration of good taste and health.
I haven't been to the Gryphon for brunch, but, according to social media accounts, it serves a Bloody Mary crowned with shrimp and pickles; bagels with cream cheese, lox, red onion and capers; and Belgian-style waffles topped with strawberries and ice cream.
On another night, at a birthday meal I attended (not for review), my friend's grilled rainbow trout ($18) was an impressive whole fish, deboned and stuffed with herbs and veggies, served with well-seasoned, roasted potatoes. The fish was moist and flaky, the potatoes creamy. It all coalesced into a beautifully rustic but nuanced dish.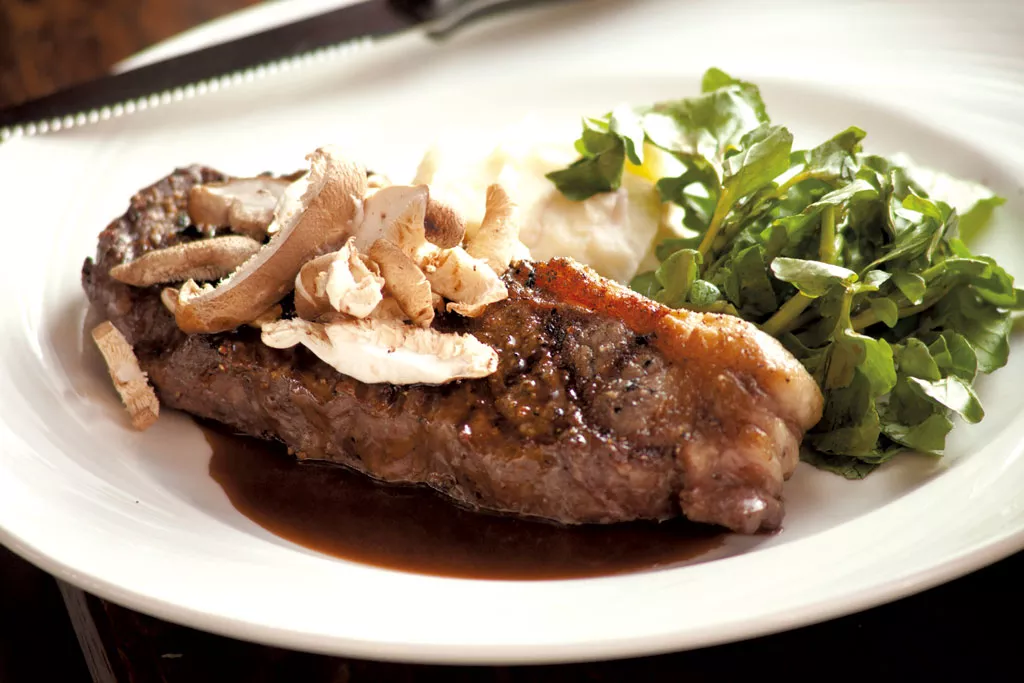 Wherever they come from, the Gryphon's meats are exceptionally fresh and high quality. A 12-ounce New York strip was fork-tender and supple, and, just as I ordered, cooked a perfectly bloody rare. Soused in a tangy shiitake mushroom jus that doubled as gravy for buttery mashed potatoes, the Gryphon's strip was the best — and most affordable, at $28 — restaurant steak I'd enjoyed in many moons.
That same night, a tall tenderloin filet ($33), also rich and juicy, came with hot, crisped, bacon-wrapped shrimp, which were a delightful surfy-turfy snack that smacked of a suburban cocktail party circa 1979.
For dessert, a vanilla-bean bread pudding ($8) was delightfully eggy and warm, while a silky-smooth chocolate mousse ($8) was flecked with soft dark chocolate, making for a climactic, decadent finish.
Lunches are less formal, with lighter, less-expensive fare. One afternoon last week, a silky smooth bowl of tomato bisque was served with a hefty grilled-cheese sandwich oozing with Swiss, provolone and cheddar layered between thick-cut, golden-crisp slices of fluffy, white toast. Although I can easily make something similar at home, at $8, this soup and sandwich was worth a return visit.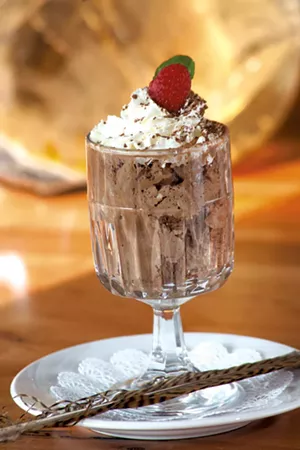 Matthew Thorsen
Chocolate mousse
Despite its resounding successes on most counts, the Gryphon is not perfect. There were times when the service needed more polish and meals arrived slowly. (Theatergoers should allow ample time for dinner.) From the kitchen, I experienced only minor misfires, such as too little salt or spice to enliven a dish.
And while I often take issue with menus like the Gryphon's, where the food is not particularly challenging (as a critic, I hunger for meals that make me think), the Gryphon gets enough right that it's a real pleasure to dine there.
You can go and enjoy a fantastic cocktail, a killer bowl of soup and likely the best steaming seafood grits this Yankee state has to offer. When a restaurant can execute the classics, in a classic setting, with good, friendly service, it's enough to give this critic pause.
The original print version of this article was headlined "A Cozy Classic"