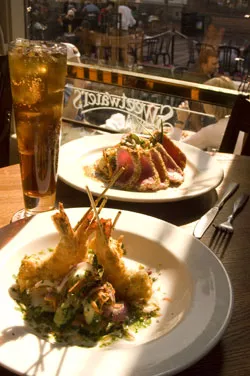 It's got a massive mural featuring rollicking nude figures straight out of an ancient bacchanal, and tons of al fresco seating on a busy corner of Church Street. But for years, there was one thing Sweetwaters lacked: food worth a trip.
When the Reel Hospitality Group — which also owns Dakota Steak House in Rocky Hill, Connecticut — hired a former NECI chef instructor to run the kitchen, it was clear Sweetwaters was looking to shake things up. The question: Can new Chef Tim Benzing change the old standby's reputation?
Though I once swore off the place after being served a concoction of slimy old mesclun greens topped with a scoop of over-mayonnaised chicken salad at a "business lunch," I decided to give the resto another try . . . or three, as it turned out.
The verdict? Things are looking up. The service is good, the extensive menu includes both simple pub food and a few creative offerings, and the prices are completely reasonable. But there is still room for improvement.
Of the meals I had, a mid-afternoon lunch was the least satisfying. For one thing, the paucity of vegetarian options disappointed my companion, whose choice of entrées consisted of a rosemary eggplant sandwich ($7.95) and a less-frugal harvest tortellini with cranberries and spinach in a garlic basil sauce ($13.50). There were a couple of vegetarian apps, too, but sweet potato fries ($3.95) and artichoke dip ($8.50) do not a meal make. Or at least they shouldn't. I, on the other hand, got to select among numerous sandwiches, specialty salads, steaks and "bistro" offerings — 28, to be exact.
My friend finally opted for the eggplant, while I selected fish 'n' chips ($11.95) dipped in a batter made with Trout River beer. The coating tasted pleasantly of the local brew without overpowering the fish, which was cooked to flaky, tender perfection. And I loved the lemon-caper tartar sauce. The only problem with the seafood was a sheen of excess oil, which also plagued the none-too-crisp French fries and the eggplant in my lunch date's somewhat soggy sandwich.
My guess? The resto was hopping, so staff didn't let the frying oil attain the proper temperature before throwing in a fresh batch of food. When that happens, starchy stuff soaks the oil right up.
The slaw that came alongside my meal was refreshing in that it wasn't drenched in mayo — there was plenty of that in the tartar sauce — but the overwhelmingly sweet quality of the dressing left something to be desired. Like salt. Or more tongue-tingling tang. On the plus side, the crunchy seeds sprinkled on top added textural interest and a unique flavor, and the cabbage, carrots and red onions were nice and thinly sliced.
Despite the glitches and my friend's half-eaten sandwich, I left feeling buoyant, thanks to the rush of dining in the sun for the first time this season, not to mention the waitstaff's consistently thoughtful service.
It seems altogether possible that Sweetwaters employees have actually gone through some sort of training encouraging them to be considerate to their customers. Either that or they're just naturally nice people. When I asked picayune questions — which dishes were added by the new chef (a bunch of 'em), whether the stock for the French onion soup is made in-house (no) — they all made an effort to find out for me, and were gracious when they returned. Another nice touch: asking if a diner is done with her plate rather than snatching it away as she's trying to grab the last handful of fries. These things sound basic, but they're rarer than you might think — even at pricier restaurants.
At the duo of dinners I had at Sweetwaters, the food preparation seemed more "on point" than it had at lunch. A generous order of sweet potato fries was delicious and not at all oily; all meat was cooked to the appropriate temperature — as we could tell with the help of a "key" on the menu — and most items were flavorful and properly seasoned.
There were still a few misses and inconsistencies, though. The cucumber salad promised with one entrée never arrived. Our first Caesar salad ($3.95) came with lemon slices but no anchovies, while on a later visit anchovies were proffered — and accepted — while lemons were not. (We got lemon slices with our water at lunch, but not at either dinner.) Still, the Caesar dressing had just the right amount of garlic, and the Romaine was crisp.
A crock of artichoke "dip" wasn't actually a dip — not if you go by Merriam-Webster's definition of it as "a sauce or soft mixture into which food may be dipped," anyway. This was halved artichoke hearts bound together with mayo and topped with melted cheese, served with toasted slices of slightly stale bread. The mixture was savory — it's hard to mess up something so simple — but the chunks had a habit of falling off the bread, occasionally landing in someone's lap. A little quality time with a blender would fix that.
We eagerly anticipated a 12-ounce Delmonico steak ($20.95), which was slathered with sweet caramelized onions and bits of Gorgonzola, but found it was a lot smaller once we removed the gristle and "silver skin." And, despite six weeks of on-site aging, it wasn't as flavorful or tender as I'd anticipated. Luckily, the slightly chunky Asiago mashed potatoes that came on the side were a treat.
By contrast, the precious Kobe burger ($12.95, plus 50 cents extra for cheese) was as beefy and toothsome as any carnivore could desire. It came bloody, with a slice of mild cheddar, mesclun greens and red onions. I immediately discarded the boring bun. My only other wish for this burger: that it be served with something more elevating than Heinz ketchup, which cannot do it justice. When a burger costs this much — compare the non-Kobe version at $8.50 — the restaurant could surely afford to provide some sort of housemade condiment. Perhaps a nice tomato chutney?
I also appreciated the sesame-encrusted tuna entrée ($15.95) with a pile of flavorful peanut noodles. The sashimi-sized slices were seared on the outside, with a bright, watermelon-red center.
The one nightly special we sampled, a chicken roulade stuffed with jalapeño cornbread and sausage, was unusual and full of flavor.
How about the sweet stuff? Folks who like intense desserts can OD on a piece of "Chocolate Eruption" ($6.25), a silky chocolate mousse on a chocolate cake "crust," with pieces of cheesecake scattered throughout. I preferred the apple crisp ($5.95), served warm with a nutty crumb topping and optional ice cream. It was just right.
A place with so much history and so many longtime customers can't just jettison its menu at the drop of a toque. Chef Benzing appears to be moving slowly toward adding new and exciting dishes, improving old favorites and increasing consistency in the kitchen. The great location and agreeable staff only help matters. The food may not yet inspire the kind of orgiastic celebration pictured on Sweetwaters' back wall, but some of the dishes are certainly a tease — and make me want to come back for more.