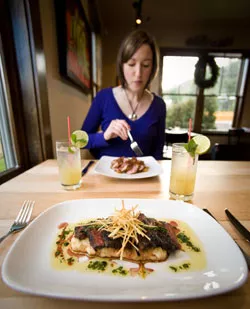 Andy Duback
In front: Churrasco a la Parilla – grilled skirt steak, mashed root vegetables, Santos chimichurri
It doesn't take more than a few seconds inside Santos Cocina Latina — Stowe's new Latin American restaurant — to realize it's unlike any other eatery in Vermont. The first clue is the upbeat Spanish music that throbs through the speakers. The second depends on where your eyes happen to rest. A statue of a saint holding a child, presumably Jesus, stands over the host station. Directly across the entryway, in full view of the holy ones, hangs an expressionist painting of a nude woman in a field of red flowers. One of the blooms is placed suggestively over her loins.
If you arrive on a weekend night, you're likely to have time to examine these works, or the much larger abstract composition of multicolored squiggles that hangs near the restrooms. That's because the restaurant, which has been open for just two weeks, has already become a bona fide hot spot. On the Saturday after Thanksgiving at 7 p.m., the dining rooms, bar and foyer were packed with people waiting to dine. On occasion, it took several minutes for staff members to greet new parties.
The throngs are here for good reason: Chef-owner Miguel Garcia Lopez has created a menu full of Latin dishes that pulse with color and flavor, drawing on the cuisines of Puerto Rico, Cuba, Peru and more. Although the service still has traces of the just-opened jitters, the fare rarely falters. Between the unique ceviches, the tender and flavorful long-cooked meats and the decadent desserts, Santos Cocina — located in a brand-new eco-friendly building — is a tour de force.
Past the foyer, the décor continues to be as flavorful as the food. The main dining room boasts a working wine "cellar" lined with recycled cork. Throughout the resto, devotional icons mix with edgy art that would be at home at MOMA. The bar has a TV tucked in the corner, but patrons who don't make a point of poking around may never notice.
The few service glitches I experienced on my two visits all seem easily correctable. When our party of eight ordered a bottle of wine — one of several we planned to try — our very young server poured too much in the first few glasses, draining the bottle before everyone was served. The most gracious response would have been to donate a couple of glasses to the table with the manager's blessing. Instead, she asked something along the lines of, "So, are you gonna get another one?" We did, but that purchase deprived us of a more expensive bottle we'd been eyeing.
On the same visit, we ordered a menu item called La Banda Rice — which is usually made with fish and served with garlicky aioli — only to learn it was unavailable. Four nights later that dish was gone from the menu, replaced by Chef Style Paella for two.
That saffron-laced rice dish is delightful when well made, and on the second visit, my two companions and I agreed to share it, plus another entrée. (Individual entrées ranged from $15 to $22; the paella was listed at $35.) Because we figured we'd be eating plenty of seafood, we chose appetizers that featured chicken, pork and veggies. But when I placed our order, there was no paella to be had. We watched a nearby table go through the same rigmarole a few minutes later. The lesson: If the kitchen can't prepare a dish that's on the menu — particularly a specialty of the house — servers should tell diners up front.
On the upside, the items we did get didn't disappoint. And not a single one was ordinary. At Santos Cocina, the standard mesclun salad is sexed up with lime juice, strips of green mango and bits of toasted coconut. Daring diners can opt for salted-cod salad instead. Fans of sushi will flip for ceviche — raw fish pickled with vinegar or citrus juice. The version made with black grouper, cilantro and a brilliant yellow mustard sauce was tangy and sensuous. On the dessert menu, we discovered another rarity: deep-fried fritters called buñuelos — pumpkin, in this case — served with a ruby-red cranberry and pomegranate sauce.
One tiny quibble: Although it was pleasantly tangy and spicy, I found a side of pickled Vegetable Escabeche too heavy on sliced onions. Otherwise, with its thin strips of asparagus, carrot and peppers, it offered a nice counterpoint to the herbal, fruity and salty flavors of our other items.
I highly recommend a handful of slow-cooked meat dishes, all of which were tender and seasoned to perfection. From the Taquitos portion of the menu came a soft corn tortilla topped with shreds of rich braised pork, thin slices of radish and cabbage, and sour cream. A chicken empanada with citrus-chile sauce was so flavorful that my tablemates mistook the typically mild bird for a more flavorful fowl.
Because chicken is often bland and rubbery in restaurants, I rarely order it as an entrée. But on my second trip, having sampled nearly everything else, I tried the rôtisserie half-chicken "Peruvian style." It arrived sans bones, a lovely touch that made it easy to share. The plain and simple — but excellent — red beans and rice were a fine foil.
At many eateries, side dishes seem like afterthoughts that are slapped on plates to fill them. But Garcia Lopez has a way with rice, root vegetables and legumes that makes sides into essentials. With slices of grilled skirt steak — seared dark on the outside, rare in the middle and slathered with parsley and garlic chimichurri — came mashed root vegetables that were just as mouth watering. Buttery shrimp arrived with mofongo, a denser, stickier yuca mash that was even more delicious than the other roots. It tasted as if it were enhanced with broth and was studded with crispy bits that appeared to be pork cracklings. Caramelized-onion-flecked rice and beans — distinct from those served with the chicken entrée — accompanied mojo-marinated pork cubes. They may have outshone the meat.
The only entrée whose side wasn't as enticing as the main event was the Pato Chaufa, a juicy, crispy duck breast that came with what appeared to be a Latin version of the Chinese takeout staple: fried rice. The rice was fine, but the duck was sublime.
On each visit, my comrades and I were cautioned to save room for dessert. Having sampled every sweet dish on the menu, I would like to second this sage advice. Although the Key lime pie, raisin bread pudding and dulce-de-leche-laced chocolate soufflé are good, the almond Tres Leches cake and coconut flan are even better.
Since my first visit, I've been proselytizing about Santos Cocina to all my foodie friends. Perhaps it's because we see so little Latin American cuisine up here by the Canadian border, but every single dish on the menu seems like a discovery.
The novelty alone might make this restaurant worth the drive from outside of Stowe, but the deciding factor is the chef's way with flavor. Combining ingredients in ways Vermont palates aren't used to is one thing. Finding the perfect balance of salinity, zippy citrus, verdant cilantro and pungent garlic is a bigger challenge, and Garcia Lopez does it with skill.
Food like this doesn't stay a secret, and the word is already out. If you don't want to spend too long admiring the artwork at Santos Cocina Latina, be sure to make a reservation.