Few foods are as emotionally satisfying as a perfect waffle. Jack Pickett and Joshua Bard know that much. At their new Stowe restaurant, Phoenix Table and Bar, the pair formerly behind Frida's Taqueria and Grill treat diners to not one but two excellent waffle dishes.
The pair's waffle is at once savory and just a bit sweet, crisp outside and pillowy within, whether served in a dinner or dessert context. In the past couple of years, practically every contemporary American restaurant to open in Vermont has debuted with chicken and waffles on the menu, and Phoenix Table is no exception. Its version stands out with well-brined, uncommonly spiced pieces of poultry (turmeric, cardamom and cloves are just a few of the exotic flavors in the blend), confetti-colored root-vegetable slaw and a slather of homemade rhubarb jam.
Come dessert time, it would not be redundant to order those same waffles in sundae form. Two waffle slabs, fresh from the iron, slowly melt scoops of vanilla ice cream, all liberally coated in rich, hot fudge.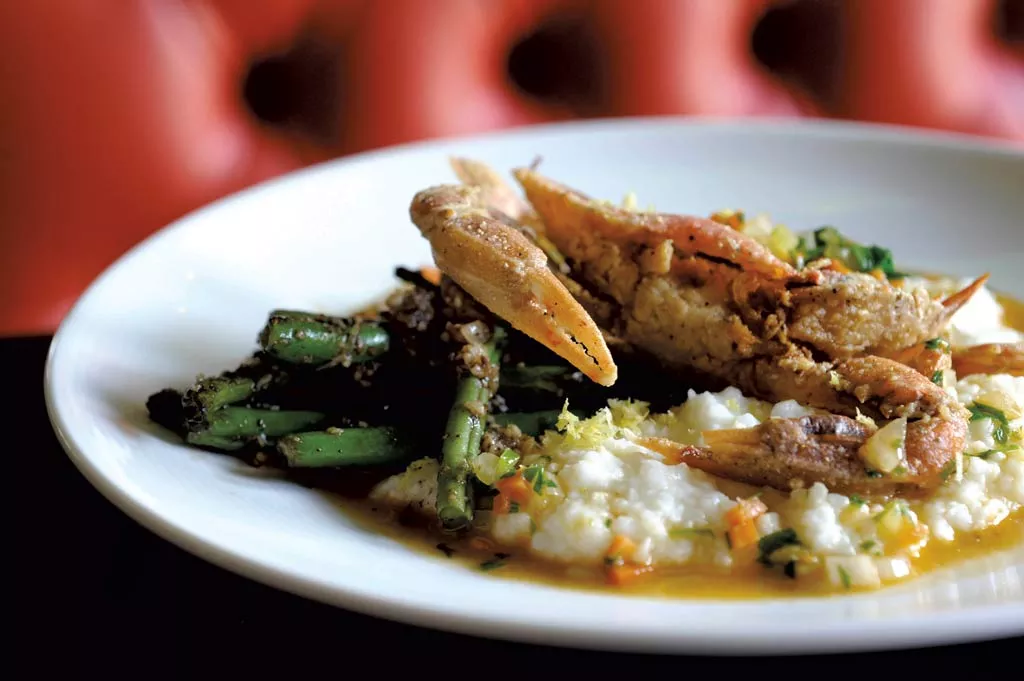 Jeb Wallace-brodeur
Softshell crab and grits
Breakfast for dinner and dessert? Sure. An oyster bar and standout soft-shell crab in landlocked Vermont? Why not? Phoenix is the product of two restaurateurs following their bliss. The restaurant's emblem is a BSA 441 Victor Shooting Star mounted on one wall; Pickett rode it cross-country in 1971 as a bohemian 19-year-old. "The weather was 20 degrees, and the motorcycle was a maintenance nightmare," he recalls in an interview. "I hauled it back east the following spring and put it in a friend's basement. It remained there until I had the brainstorm to put it on the mantel. It is now art."
In often-stuffy Stowe, the no-holds-barred spirit that piece of "artwork" at Phoenix exemplifies can offer diners a thrilling joy ride. But a few dishes hit the pavement like Dennis Hopper and Peter Fonda at the end of Easy Rider.
My first visit, on a Sunday night, revealed a 125-seat restaurant that could barely cram in my party of two. With gray walls and wire-covered ceilings, the manly space borders on industrial. Red leather banquettes and colorful metal flower decorations help to avert the potential testosterone overload.
That macho musk carried over — metaphorically speaking — into the arugula salad. A port vinaigrette lent a dark, oaky taste to the greens, piled with hickory-smoked ham from Benton's Smoky Mountain Country Hams in Tennessee, fried shallots and clouds of goat cheese.
Jeb Wallace-Brodeur
Jack Pickett
My dining partner had been missing Frida's tamales since the restaurant closed last year. Phoenix Table has resurrected them, with fillings that change regularly. That night, it was salt cod mixed with corn and peppers. The fish disappeared into the tender steamed masa, but the too-crisp veggies made for an uneasy textural contrast. The twin tamales were each dressed in a different salsa: one in deep-red guajillo sauce, the other in a light-green tomatillo one. While the former was excessively smoky, the latter had little flavor of any kind.
Another Southwest-inflected creation also suffered from a sub-par sauce. The collard dolmas, filled with rice and beans, were a novel idea that fell victim to road rash on the way to realization. The big green leaves proved unsuitably bitter to eat in such bulk. (When I cook collards at home, I use garlic and lemon as key ingredients to rid the greens of that unappealing flavor.) The fat rolls were an attractive green on their own, but they sat in a congealing pool of overly sugary ancho chile sauce. It could have functioned as ketchup, had it been better balanced.
The aforementioned chicken-and-waffles and a well-made dessert helped right matters. Pickett's smooth coconut-cream pie burst with ribbons of toasted coconut, but the true secret of its success was a light, crumbly crust bolstered with a layer of dark chocolate.
I returned several days later with a pair of colleagues. Over glasses of Citizen Cider Full Nelson and Pepperell Pilsner from Maine's Banded Horn Brewing, we picked at two plates filled with four balls each.
The first plate held salt-cod hush puppies. The little orbs were visually appealing, but one native Southern dining companion called them "dry." The crisp puppies could have used more moisture; more importantly, only a few bites carried a whisper of fishy flavor. It was a pity, as the accompanying pool of zippy, spicy remoulade had addictive pizzazz.
The balls on the other plate — made of spicy, sweet lamb — matched the sauce's charisma. With just a hint of gaminess, the moist meat's complex flavors changed slightly with each bite, like Everlasting Gobstoppers. The side of tzatziki was too thick for dipping, but, scooped onto a piece of lamb, it provided a refreshing wash of cool.
We waited longer than expected for entrées; once they arrived, our group fell uncharacteristically quiet.
Except for crunching. The same West Virginian who gave a thumbs-down to the hush puppies was impressed by the soft-shell-crab po' boy. Fried to perfection, the cute little crustacean waved its crisp arms with each bite of the crusty roll, but never escaped. The crab rested on a platform of lettuce and tomato beside its primary foil, a pile of corn, making for a classic summer combination. Old Bay mayonnaise gave the dish its final nudge into the Chesapeake Bay.
Phoenix Table shows its globetrotting tendencies with banh mi sandwiches, available with a vegetarian filling of lentil-walnut pâté or stuffed with house country pâté and pork shoulder. Guess which one we tried. The juices from the braised shoulder soaked the inside of the baguette. But the crisp bread remained sturdy, staunchly holding the meats, pickled veggies, cilantro and a thick layer of spicy radish sprouts. Both sandwiches came with a lightly vinegared slaw of cabbage, carrots and radish slices. Like the roots served with the chicken and waffles, these veggies could have used an extra dose of acid.
There was no such nitpicking when it came to the harissa-marinated steak. Cooked more medium-well than the medium I had requested, the still-juicy beef wasn't overwhelmed by the peppery spice blend. Instead, the garlicky heat shone through as just one component of a mixture uniting the meat with a tangy chimichurri and velvety veal demi-glace.
Though the combination was big on flavor, it displayed a subdued maturity. By contrast, the veggies on the plate just didn't want the man to keep them down. Kale was fried and salted — in a counterintuitive play on healthy, hippie kale chips — while ultra-crisp, bisected fingerlings stood in for frites.
My one reason to hesitate to order the dish again would be its $30 price tag. Though the steak is all-around excellent, I might have a hard time convincing myself it's worth almost $20 more than the $10.50 banh mi. Stowe regulars are unlikely to share my tightwad tendencies.
For $5.50 apiece, I was more than happy to splurge on two desserts. While the chocolate-waffle sundae fed my soul, Pickett's latest creation wowed me on both corporeal and intellectual planes.
A panna cotta should quiver at your spoon as if facing its imminent demise. This jiggling custard didn't even need ambient movement to set it in frantic motion. Once it was stabbed, its mouthfeel was pure silk. And then came the mouth-coating wave of chocolate and hazelnut. My tablemates and I agreed that elements of the flavor evoked a Wendy's Frosty, but all grown up and on a trip to Europe. Even on the Continent, it would be hard to find a panna cotta as platonically ideal as this one.
If that's the taste of things to come at Phoenix Table, Stowe has a new destination restaurant. And, despite Pickett and Bard's beginning bumps, I have confidence they'll be taking diners on a long, sweet trip.
The original print version of this article was headlined "Zen and the Art of Menu Planning"