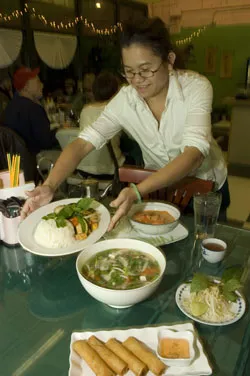 Matthew Thorsen
Jade Le
Opening a restaurant in a former bus terminal can present some design challenges — think super-high ceiling, harsh lighting and an industrial ambiance. But Pho Hong, which took over the convenient North Winooski spot previously occupied by Global Markets, has adapted to its unusual surroundings with grace. Exposed brick is painted a delicate salmon, and the walls — which hold a collection of paintings and Asian scrolls — are spring green. To complete the pastel palette, a pale-yellow, translucent cloth canopy hangs over the small dining room, creating a cozier space and shielding patrons from the fluorescent lights that hang above. In a brief flight of fancy, I imagined I was dining beneath a parachute, or in a hot-air balloon.
Pho Hong, the Burlington area's third Vietnamese restaurant and the only one within city limits, opened at the beginning of February and serves lunch and dinner every day of the week. The menu features a good number of vegetarian selections and stir-fries labeled "organic," and the selections draw on the flavors of Vietnam and Thailand. On two recent visits, offerings from both Southeast Asian countries were colorful and flavorful, and portions were just the right size. But the service, though friendly and gracious, was consistent in its inconsistency.
While complimentary pots of tea appeared on the table immediately, I had to request glasses of water. At lunch, the sole server often disappeared into the kitchen and was unavailable to answer questions or to bring the check when my dining companion and I were done eating. It took a full hour and a half to get our appetizers, entrées and the bill, and we were forced to order dessert-to-go so my dining companion could get back to work before his prolonged absence was noticed. During dinner, the same young woman was swamped with eight full tables and a bevy of takeout requests. On that occasion, three of us ended up staying at the restaurant for nearly two hours.
Both times, our apps arrived on platters, without individual plates. Since dipping sauce is drippy by definition, having one's own dish is important. The second time this happened, I'd specifically requested big plates for each diner when I ordered, explaining that we planned to share. We were eventually given small saucers, but the big plates never materialized.
This might have been a good thing, since the table was soon crammed in quick succession with our three appetizers and three entrées. Throughout the meal we were forced to juggle, rearrange and stack dishes as we tried to negotiate the items before they got cold. Luckily, the quality of the food partially compensated for the unusual pacing and organization.
Fresh summer rolls — rice noodles, shrimp halves, thin strips of pork, lettuce and herbs, enclosed in a sticky rice-paper wrapper — were cool and refreshing and came with a rich dipping sauce. A few more mint or cilantro leaves would have made them even better. The three other appetizer rolls on the menu were deep-fried. Hot, crisp Vietnamese egg rolls, stuffed with ground meat, cabbage, carrots and mushrooms, were the best of the bunch. Subtract the meat and you've got the spring rolls. The final variant, tiger rolls, lacked bite: Two of the four were mostly hollow, and even those that weren't meager on the filling tasted mainly of cream cheese, rather than the promised crabmeat, scallions and red pepper.
A generous bowl of pho, the French-influenced Vietnamese noodle soup, came with a side of bean sprouts, basil and a wedge of lime, to be added as desired. A canister on each table held colorful chopsticks, silverware and some additional condiments, such as fish sauce and bright-red sriracha chile sauce. The broth wasn't quite as funky and flavorful as others I've tried, so I enriched it with a squirt of the hot stuff.
Of the five "noodle soups" on the menu, I'd gone for the version including "rare beef, well done beef and beef meat balls." Lovers of tender, Italian-style meatballs, take note: These are dense, slightly gelatinous pucks of mild-flavored ground meat. Aside from the meatballs, the soup offered up strips of beef striated with fat — they may have been rare before they hit the hot broth — and a bunch of unrecognizable pale, cartilaginous bits. Well-done beef, perhaps? Less adventurous eaters may want to stick with the plainer pho tai, which comes with just "rare beef," or the vegetarian version, pho chai.
Then there was the "Vietnamese crêpe," or what an American would refer to as a filled omelette. The browned exterior enclosed a few tiny shrimp, along with pork, bean sprouts and onions. Though the dish wasn't highly seasoned, it was served with a slightly sweet and vinegary sauce, which added interest.
A duo of stir-fries turned out to be the most enticing and well-prepared dishes on the menu. Each came with the customer's choice of protein: chicken, shrimp, beef, pork, squid or tofu. We selected pork to go with cashew nuts, vegetables and chunks of pineapple in a sweet and spicy sauce. Even better was the Sichuan eggplant: a dish with a Chinese name featuring Japanese eggplant in a "Thai-style" sauce. The spicy, just-salty-enough black-bean sauce was a great match for chicken, meltingly tender eggplant and vegetables with whole basil leaves interspersed.
Hotter still was the panang curry, with crisp-tender yellow squash, peppers and red carrots in a deep pool of herb-scented coconut milk on which floated lots of chile oil. The piquant oil coated my mouth immediately, making it hard to taste the other elements in the dish. Perhaps that's why, compared with the perfectly seasoned Sichuan eggplant, this sauce seemed less nuanced. We discovered bits of lemon leaf and coriander in the sauce, but that was the only time we could taste them.
Luckily, we had drinks and white rice to cool off our smoldering mouths. I was disappointed to miss Pho Hong's special milkshake — it wasn't available that day — which features a choice of avocado or durian, a tropical fruit known for smelling like rotting flesh and tasting like heaven. I settled for a light and sweet lemonade, while my companions sampled the milky Thai iced tea and coconut juice. The lemonade and iced tea came in tall glasses with ice, while the juice was less ceremoniously served in a can with a straw.
Pho Hong offers just one dessert — coconut sticky rice with mango — but it was caramelized and delicious. Once the management hires a couple more staffers and smoothes out wrinkles in the service, this restaurant will be a very good place to sample Vietnamese cuisine — as well as the spiffiest bus stop in town.