Oliver Parini
Chicken salad sandwich
Before One Radish Eatery opened in Richmond last December, co-owner Jessica Bunce told Seven Days that the food would be "approachable, predictable and accessible." Which is to say that your grandma, your vegan kid sister and your meat-and-potatoes husband could all find something to dig on there.
As a writer who craves food as art and out-of-the-box culinary creativity, I wasn't super titillated by anything on the One Radish menu. Even so, I'll return again — and again.
That's in part because chef Bobby Seaman, who signed on last fall before the restaurant opened, has a way of melding inauspicious American breakfasts with Mediterranean small plates and fresh, unassuming bohemian fare. Last year, Seaman cooked at a farm on Long Island's North Fork; before that, he worked at Magnolia Bistro and A Single Pebble in Burlington.
Meals at One Radish are like ones you might have in your own living room: The space is easy to sit in, comfortable and relaxed. The hardwood floors reflect ample natural light — even with March's stratus clouds hemming in the sky. Eating there reminds you that good hospitality is more about making people feel welcome than wowing them with fancy food or starched linen napkins.
That's not to say the food isn't good — it is.
Breads come from Barrio Bakery, Ryan and Jessica Bunce's homey pastry and pizza shop in Burlington's Old North End. The tea cakes, biscuits and sweet pastries are made on-site from Barrio recipes.
For breakfast, vegans and meat eaters might find common ground with a Flower Child tofu scramble. Stained yellow with turmeric, the soy crumbles had the look and feel of eggs scrambled hard, with wilted spinach and a bouquet of diced peppers and onions. The cuts of tempeh "bacon" served alongside packed all the salt and smoke of the real thing — they were even a tad crisp around the edges. And I have little patience for fake meats.
Even for omnivores, Seaman's food reads as healthy but lacks "health food" preachiness. Indeed, the breakfast menu — available until the restaurant closes at 3 p.m. — invites visitors to order pizza in the morning.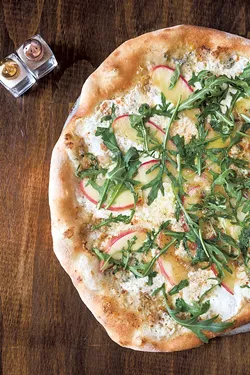 Oliver Parini
Green Mountain pizza
Somehow, doing so doesn't feel naughty. In fact, a tomato-chorizo-cheddar breakfast pie might have benefited from some extra fat. The crumbled chorizo was a little lean, and, given a choice, I would have preferred runny eggs to the over-hard ones baked into the crust. While soft eggs on a Neapolitan crust can be tricky to pull off, it's definitely possible with a little finesse.
Then again, the Green Mountain pizza was a study in how eating well can be fun: flecks of blue cheese melting into honey-drizzled ricotta, softened slices of Braeburn apple and fresh baby arugula.
If you and your date are quite hungry, you might split a pizza to start and order sandwiches for the main event. A focaccia roll stuffed with soft, roasted eggplant dressed in olive oil skewed more Mediterranean than Italian, despite its melted mozzarella and tomato sauce. A heap of curried chicken salad, spread over bread, came with crisp mizuna and a touch of mango chutney and diced almonds.
My friend's hand pie, ordered from the day's specials list, billowed with ricotta and hunks of ham. And the delicate, buttery pastry reminded me of the restaurant's bakeshop roots.
One Radish serves clean, casual, un-weighty food — the kind that allows you to eat midday and still be productive afterward. And even when it's busy, you can get in and out in an hour or less.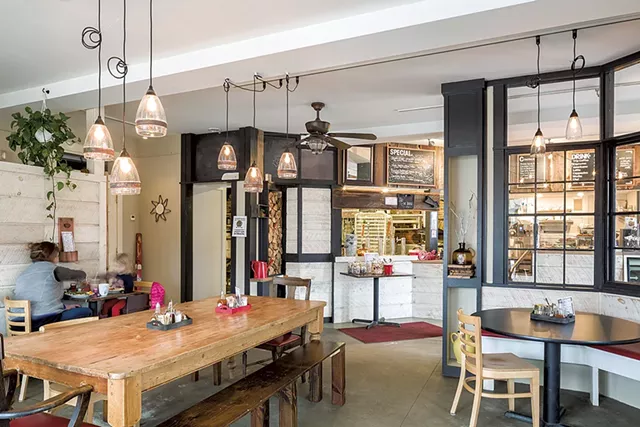 Oliver Parini
One Radish Eatery
Not that you necessarily want to. On two separate occasions, my lunch dates and I found ourselves hanging around long after we should have returned to work. We picked at slices of cold pizza, spread sun-dried-tomato tapenade and hummus on bits of brittle toast, and chatted about jobs, families, our dogs and other everyday minutiae.
On our way out, we paused to talk with general manager Leah Daws, whom Barrio regulars would recognize. She gushed about the new creemee machine that One Radish has purchased for summer and the dinners they plan to start serving later this spring. Our conversation meandered to the logistics of running two locations and moving to outer Chittenden County and beyond. Even as you depart One Radish, you feel compelled to stay, to catch up, to enjoy the day.
And this reminded me of something we often forget: Good restaurants aren't merely the sum of a menu, a location, a chef or an interior design. Here, as elsewhere, the people are the place.