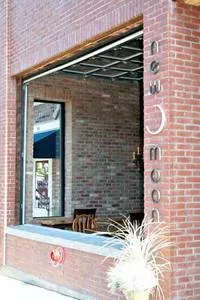 The "New Moon" has risen on Cherry Street. And what better name for the café and espresso bar that opened Sunday in a storefront that has been boarded up for more than a decade? Located in the former Knights of Columbus, next to Outdoor Gear Exchange, the urban-styled eatery has a fresh, cosmopolitan look and an extensive menu.
High brick walls and cool colors give the place a citified feel. Ditto the black-attired staffers behind the 17-foot salad bar. But right in the middle of the dining area stands a trio of cushy leather couches around a towering fireplace with a hand-carved wooden mantle. Above it, a crystal chandelier hints at the provenance of the place: Owner Eileen Schonbek Beer belongs to the famous chandelier-making Schonbek family of Plattsburgh, New York.
As befits its world-traveling, food-loving owner, the café comes with a strong DIY ethic: Its staff makes everything but the bread — purchased from O'Bread and Red Hen Bakery — from scratch. That includes sweets, soups, quiches and 10 salad dressings: In addition to traditional offerings such as balsamic, ranch and bleu cheese, there are tangy lemon and pear vinaigrette.
You order at the counter, then hang around while they make the stuff. (In addition to the couches, the restaurant has about a dozen tables.) Customers who decide not to opt for a "featured" offering, such as the Montréal smoked-meat sandwich or Cobb salad, get to design their own from over 60 available items. Sandwiches can be constructed on eight different kinds of bread, while salads are built on beds of romaine, mesclun mix or spinach. No actual kitchen skills are required: All you have to do is choose your foods, and a trained New Moon "maestro," as Schonbek Beer calls her staffers, does the actual stacking and tossing. There's no ceramic dishware in the place — only cardboard containers and disposable plates.
Of the featured sandwiches, the tangy tuna with Vermont cheddar was a tad too tangy. But the roast beef and bleu cheese spread on a baguette had just the right ratio of grainy Dijon mustard to meat. On a turkey sandwich, the interplay between slices of creamy havarti and muffaletta — the New Orleans olive spread — makes the meal. A generous portion of self-designed salad was tasty, but the dressing could have used a bit more salt to bring out the other flavors. For dessert, don't miss the fudge-like brownie with walnuts. The coffee? Complex and strong.