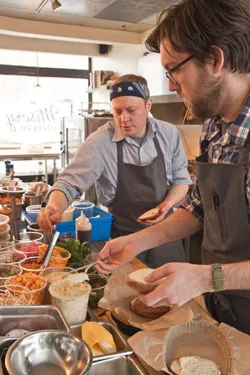 Matthew Thorsen
Chef-owners Nathaniel Wade and Aaron Josinsky
The Dunnsky. Anti-Hero. The Saltie. Since catering company Misery Loves Co. went mobile with its food truck in May 2012, the names of its massive, handmade sandwiches have become Burlington-area icons. With the late-November opening of its restaurant on Main Street in Winooski, the lunches — heart stopping both in their huge flavors and in their unabashedly messy, fatty glories — finally found a home.
But there's far more to Misery Loves Co., which bills itself on its window as a "luncheonette, bar and supper." The restaurant began serving the evening meal in December. After several visits, we deemed it worthy of the same celebrity that lunch enjoys. Since the counter-service lunch isn't so different from the fare we covered when it was available from the truck, we stuck to supper for this review.
From the moment a diner enters from the cold street, the space sets a mood. The previous occupant, orange-and-yellow-toned Don Pedro's Taqueria, never quite shed the look of its predecessor, Quiznos. Misery's renovation, by contrast, is staggering. Artfully spare, white-on-white walls and curtains suggest heaven as portrayed in a Wes Anderson movie. Even the hardwood floors, with their houndstooth-like pattern, add a touch of class to the sit-down dinners.
Perhaps working in such surroundings raises the employees' morale. On my two visits, servers were uniformly cheerful and chatty, though not overwhelmingly so. I left feeling like I'd made friends but was still able to converse with my dining partners unimpeded. Even chef-owners Aaron Josinsky and Nathaniel Wade seem to be having a ball cooking to the kick-ass mixes featuring David Bowie and the Who that play throughout the restaurant. The core crew also includes third owner Laura Wade who runs the front-of-house.
The menu presents the same sense of fun. Back when Misery's food truck, known as Big Red, first hit the road, I spoke to the chefs about the impetus behind their fast-eats business. Nathaniel Wade told me simply, "I'm sick of eating crap."
He and Josinsky are successfully preparing quite the opposite, with a menu that changes daily to showcase local ingredients at their freshest. They're not showy about the "local" part. Don't look for a laundry list of farm names on the chalkboard menu; the flavors tell the story on their own.
Usually such a straightforward approach would indicate an abbreviated menu. Not so at Misery. On one recent visit, I found 17 small plates on the bill of fare, which changes daily and is assiduously updated online. Add the "meat and three" option (choose a protein, plus three sides for a fixed price) and desserts, and the dinner menu offered no fewer than 29 creative, handcrafted dishes. That doesn't include croissants, monkey bread called "kongs" and lemon-curd doughnuts that rest on the counter.
All rules of logic indicate that a menu of that scale should include its fair share of clunkers. And I looked for them. The closest thing to a complaint I can scrounge up regards the smoked chicken wings, served with a complex, fermented-black-bean sauce. The wings have been a hit for Misery since its pop-up days in the summer of 2011, when the team served them at weekly Dirty Bird events at Winooski's Monkey House. I found the viscous sauce to be applied with an excessively heavy hand, which made for flaccid skin despite a trip to the fryer after smoking. The wings were still delicious.
Now for the wholehearted rave. Josinsky and Wade have a way with flavors that can tempt even conservative eaters to plunge, delighted, into a plate of offal. I had no reservations about tearing through a plate of pig tails at Bluebird Tavern when Josinsky, the original chef there, prepared a delightful, fried stick of their meat in a sauce gribiche. But at Misery, the chefs' alchemy did something better with a dish called Chinatown Pigtails. It made me love bok choy, a vegetable that I usually crunch my way through with resignation when digging into authentic Chinatown favorites.
With a stab of aggressive flavor that balanced ginger, smoked cayenne hot long red chiles, cilantro and vinegar, the plate of crunchy pig tails inspired my chopsticks to work overtime digging out every morsel. That included the crispy, meltingly fatty bone-in chunks of tail, as well as peanuts and, yes, bok choy.
The MLC team excels in Asian flavors. Owing to the changing menu, I missed the popular East Meets West Ramen filled with pork belly and house spaghetti, but did get to try another staple, pork buns. They look similar to the Taiwanese-style pork belly in a puffy steamed wrap, known as gua bao, that you might find in Chinatown. However, Misery's shredded pork, in a sweet and hot combination of hoisin sauce and Sriracha mayo, is unique to Winooski.
The dinner menu doesn't stop at updated Asian. Italy gets its own tip of the hat with varied pasta dishes. One recent evening, that included a rustic bowl of tortellini en brodo. The cheese-flecked broth was comfortingly thick and salty, but the al dente pasta revealed a delicious secret: meaty, whipped mortadella. On another occasion, the chefs combined their knacks for pasta and seafood to create an uni carbonara.
I didn't have room for that, but I did enjoy another seafood dish, skate wing served over melted fennel. A puddle of winter citrus marmalade, which had a surprising note of bittersweet grapefruit, accompanied the perfectly crisp, tender chunk of ray.
Not all the small plates were composed of uncommon delicacies. The Bobby Fries were a simple but addictive poutine with hand-cut, herbed frites bathed in gravy, cheese curds and crisped, housemade smoked meat. Steak tartare also benefited from the power of fried potatoes — shoestrings — alongside a yolk-topped mound of chopped beef and garlic. A side of horseradish-flavored pickled onions lent flair.
As diverse and delicious as the small plates are, there's no excuse not to save room for fried chicken. A staple on the "meat and three" section of the menu, the $28 plate of chicken had enough meat to feed at least two people, including uncommon cuts of the bird such as neck and back. The pile of poultry was admirably moist, with a crunchy, flaky coating showered in fresh herbs and flakes of salt. This was all delightful, but it's a tub of honey butter on the side that might make you moan in ecstasy.
Each of the three side dishes we tried was eminently flavorful. Marinated beets were speckled with fresh tarragon for a hint of licorice. Polenta was roughly ground and served topped with cheese in a miniature cast-iron skillet. But I was most taken with the charms of the Sicilian cauliflower, featuring petite florets combined with golden raisins and pine nuts.
After all that, you won't have room for dessert. Don't let that stop you. Both the sweets I tried were not just well executed but creative, without going overboard.
Ren Weiner, Nathaniel Wade's chef successor at ¡Duino! (Duende) and now a cook at Misery, told me that her bread pudding derives its varied texture from a combination of Misery's many homemade breads, including the pork buns and croissants. When I tried it, a ring was cut in the center to leave room for preserved blueberries. The combination was great on its own, but a thick smear of cream, singing with big ginger flavor, gave the dessert an electric charge. Similarly, a flaky almond tart scored extra pizzazz with a yin and yang of tangy sour cream and intensely smoky apple-caramel sauce.
Combining a casual vibe with food that you'd expect to see on white tablecloths, Winooski's newest dinner spot is an ideal destination for diners hoping to embark on a culinary journey. Food is truly the focus, and chances are, your mind — and taste buds — will be bent.
Misery Loves Co., 46 Main Street, Winooski, 497-3989. Lunch served Monday through Saturday, 11 a.m. to 3 p.m.; supper Thursday through Saturday, 5 p.m. to 10 p.m. miserylovescovt.com
The print version of this article was headlined "Flavor Town".