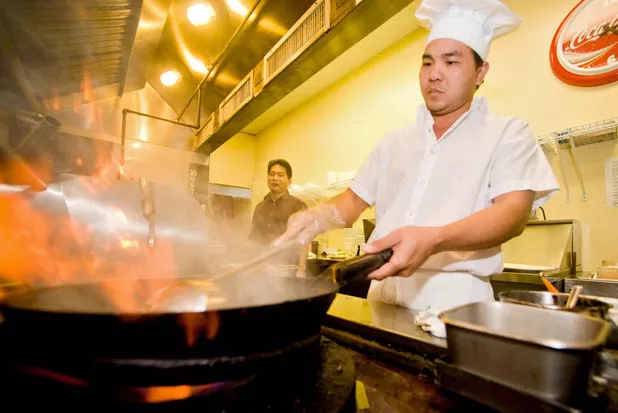 It seems like Vietnamese is the "flavor of the year" in the Burlington area. Besides the older Vietnam Restaurant in Essex and Pho Dang, three more places in the Greater Burlington area now ladle up the country's signature soup, pho: Pho Hong in the Old North End, Phuong's Kitchen in the New North End, and M-Saigon Vietnamese Noodle House, which has replaced Ming's in the Shelburne Road strip mall that's home to a post office and Waterfront Video. In just a year, plenty of local eaters have been transformed from pho virgins into "phoficionados."
The new kid on the block has to do something special to impress them - especially when the "block" is a major artery. At M-Saigon, the pho certainly makes the cut. (Why the M? An allusion to the Broadway show Miss Saigon, says a staffer.) "We treasure pho," reads the menu. And the owners help their customers treasure the soup in six ways. Each one features a different combination of meats, including rare beef, flank, brisket, meatballs and tendon. Don't eat cow? There are chicken and vegetable versions, too.
Happily, both the homemade beef and chicken stocks are delicious, although noodle portions could be heftier. Condiments such as fish sauce, hoisin and chili sauces are always on the table, and soup bowls are delivered along with a selection of mix-ins, including bean sprouts, sprigs of basil and slices of lime. In several visits, the only pho glitch was a takeout order in which the sprouts were brown and unappetizing.
M-Saigon's flavorful broths make appearances in a bunch of other dishes, too. The eatery serves up two permutations of wonton soup: a plain version where the wontons are immersed in broth and garnished with cilantro (referred to as coriander, as it's known in many parts of the world) and a heartier offering with shrimp, pork and egg noodles in the mix. The latter is perfect on a rainy day.
I also enjoyed the seafood soup: perfectly clear broth poured over a tangle of the fattest noodles I've ever seen and topped with a pair of shrimp, a few dense, gelatinous fish balls and what appeared to be faux crab made of surimi, although the menu called it "crab meat." Floating on top were crisp shards of shallot, perhaps over-browned, which served as a reminder of French colonial influence.
For a bit more substance and another hint of Gallic flavor, I sampled the "Vietnamese Crispy Crêpe," which was novel but not particularly memorable. Tinted yellow with turmeric and lightly browned, the coconut flour shell was stuffed with shrimp, pork, sprouts and mung beans. It came with two whole Romaine lettuce leaves and a bowl of fish sauce dressing for dipping. It's traditional to roll the crêpe in the greenery before anointing it with the liquid. "Most of my customers don't eat the lettuce," our server said. Probably because they don't know the crêpe wrapper is meant to be wrapped itself.
A weekly special, the "Traditional Vietnamese Curry," would taste familiar to lovers of Thai food. It consisted of onion wedges, big chunks of fork-tender pork and sweet potatoes in a spicy, coconut-based sauce. A few whole basil leaves and a couple of lemongrass stems made an appearance. Although the curry was filling and pleasant, with just the right amount of heat, the copious serving of sauce in which it swam wasn't particularly complex.
More impressive was a vermicelli "entry" called "BBQ Pork and Egg Rolls." The noodles came with bright pink garlic-and-pepper-scented ground-pork patties and a couple of cigar-sized fried egg rolls chopped in pieces, with a side dish of pale, sweet 'n' tangy sauce to pour over the top. An extra dose of the condiment would have helped liven up the starch, but the meat was perfectly smoky and salty.
Another winner: the "Fresh Garden Rolls" from the appetizer menu. The fat cylinders, rolled in sticky rice wrappers, enclosed the usual shrimp, pork, vermicelli and crisp veggies and arrived with a sticky, dark-brown peanut plum sauce. We also ordered a serving of the pleasantly named "Happy Tails," whole shrimp enveloped in egg-roll wrappers and deep-fried. A hint of ginger distinguished this foolproof snack.
I also enjoyed the M-Saigon salad - yet another vehicle for shrimp and pork, this time featuring a mixture of lotus stems, carrots, daikon and herbs topped with a light citrus and fish-sauce dressing. On the side rested a few sand-dollar-sized shrimp crackers . . . Asian croutons?
After all the saline fish sauce, I was in the mood for something sweet, and desserts-in-a-drink make M-Saigon stand out from its competition. The "Three Colors Drink," a blend of beans, coconut milk and peanuts with crushed ice and strips of green gelatin is one of the best I've tried. The "Dried Longan Ice Drink" is another rare and delightful taste sensation. Like "Three Colors," this syrupy, dark-brown concoction is served in a tall glass filled with crushed ice. On the bottom lie sweet, fleshy longan - a translucent fruit related to the lychee.
Then there's the fruit-flavored bubble tea, a hot trend in major cities that has finally reached Burlington - see sidebar. M-Saigon offers the milky drinks, complete with pearls of black tapioca and extra-wide straws, in exotic flavors such as red bean, taro, durian and lychee, as well as more recognizable cantaloupe, coconut and strawberry. All are delicious, bizarre and fun. For those who like the taste but not the chewy chunks, icy, pearl-free smoothies come in all the same flavors.
Right next to Burlington's biggest indie video store, M-Saigon - open for lunch and dinner - is a natural choice for last-minute takeout to accompany a fresh copy of The Bank Job. But the dining room is also fine for a casual meal, though the décor is basic and the space, full of hard surfaces, can get loud at times. It stays open till 10 on weekends - just like Waterfront.