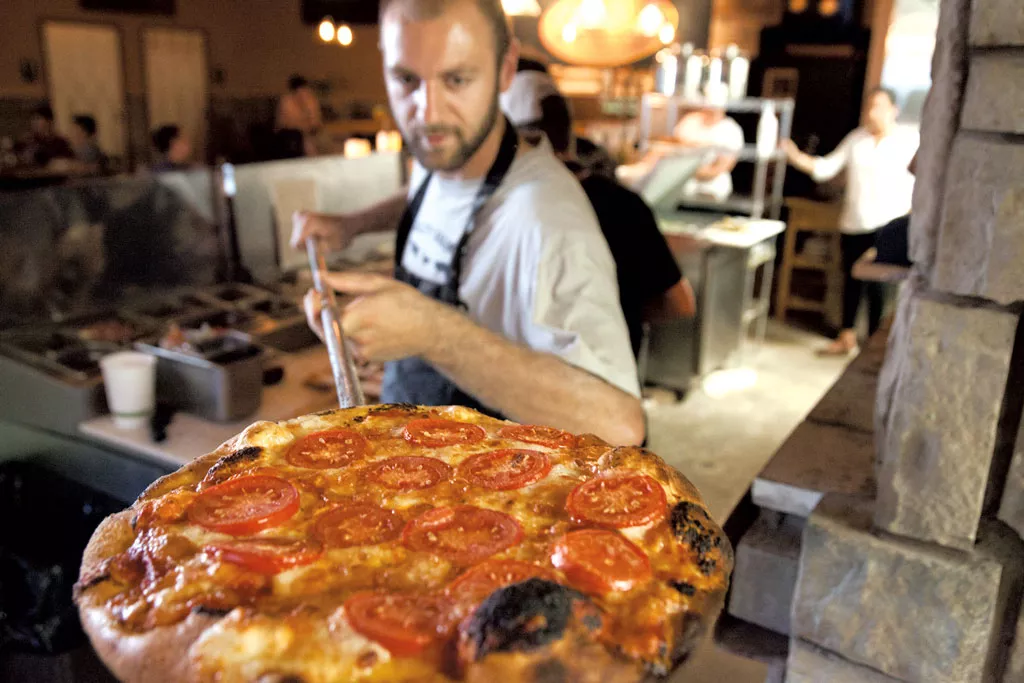 Matthew Thorsen
Peter Grimard
Despite its dense population, Burlington's New North End has long been a culinary wasteland. Locals hungry for pizza had to order in from Domino's or drive at least 15 minutes out of their way. This critic heard it time and time again from local residents: "Why can't North Avenue support a good neighborhood restaurant?"
Among those lamenters were Peter Grimard and Marylene Boileau. And they decided to do something about it. The couple was exceptionally hush-hush about the process of opening La Boca Wood Fired Pizzeria, which only heightened the fevered excitement of their neighbors. When the doors finally opened in July, though, the strip-mall eatery got mixed reviews.
Early on, Grimard and Boileau hurried to make improvements. They added curtains when guests complained that the sparely decorated restaurant was too loud. Toppings on pizzas became more locally focused as Grimard made connections with local farmers.
These restaurateurs are clearly hip to what diners want. And, for the most part, they're providing it. The menu has a few clunkers, but what really matters at a pizzeria is the pizza, and La Boca delivers ably on that front.
La Boca's dough is infused with honey, which lends a touch of sweetness and a satisfyingly chewy bite. When cooked, the crust bubbles up to something resembling a baked version of a beaver tail. In fact, three diners with whom I spoke independently compared the pizza to fried dough.
While indulgent, La Boca's pizza didn't make me feel like I'd taken a trip to the fair — just to a family restaurant where relaxed fun is paramount. In keeping with that theme, each table is stacked with a mix of cards from Disney Scene It? and Disney Trivial Pursuit. The latter is an endearing blast from the past for grown-ups, featuring questions about Air Jordan and Carefree gum sponsoring an REO Speedwagon concert tour in 1985.
At my first meal at La Boca, our server had not yet been born when those concerts occurred. But she led us through the menu well, if meekly.
We stuck to a large carafe of lemon water, but if we'd been so disposed we could have had our pick of local beer. Ultra-local, in fact — La Boca's tap list includes Simple Roots Brewing's Kara's Kölsch, crafted right in the neighborhood. Of the eight drinks on tap, Champlain Orchards' cider and Long Trail Brewing's Limbo IPA have the most food miles. Most of the rest are made in Chittenden County, including suds from newbies Infinity Brewing and Queen City Brewery.
While our pizzas were being prepped for their trip into the brick-walled, wood-fired oven, my party of three munched on a pair of appetizers. The dressed green salad was small, even for $6, but offered an uncommon take on a standard that had every right to be boring. The greens were coated in a light wash of balsamic dressing, while crumbled, honey-roasted cashews lent an extra level of sweetness. I couldn't help wishing for a little more variety in the flavor, perhaps some blue cheese to diversify.
But the salad worked out for us far better than the chicken saltimbocca appetizer ($7) — which I ordered to find out if the classic entrée would really arrive appetizer style. Sure enough, one small, apparently unseasoned chicken breast was filled with prosciutto and sage, rolled and served in four pieces, each stabbed with a toothpick. It was kind of depressing — like a picked-over plate at a party where you're the last to arrive — and certainly not enough food to justify the price tag. Good flavors might have compensated — if only the app had tasted of something besides a hint of sage.
Matters vastly improved when our two pizzas arrived. The crusts were densely covered in tiny bubbles, leaving the dough at once airy and crisp, with a tug of chew. It's rare that I deign to eat a whole pizza crust, preferring to save my carb allowance for something more interesting. But at La Boca, the crusts were sometimes my favorite part of the pizza.
Matthew Thorsen
S'mores pizza
I especially felt that way tearing into a pie called Firehouse Chicken ($17). The name presumably refers to the fireman's practice of throwing together mismatched larder ingredients to produce a hearty, satisfying meal. In this case, those motley foods included shreds of chicken, kidney beans and thinly sliced potatoes.
I am willing to out myself as a potato-pizza hater. I just don't need that much starch on one item. But I didn't particularly mind the spuds when they were topped with swirls of the tangy house barbecue sauce. And I enjoyed that acidic sauce even more on the pizza's bones; its combination with the honeyed crust would have worked for me as a pie in itself.
A similar observation seems to have inspired the Chipotle & Honey pizza ($13), which has no chunky toppings — just a thin layer of mozzarella and tomato sauce. A burning trail of chipotle oil imbues each bite with a kiss of fire. A drizzle of local honey cools it slightly, but mostly adds a seductive sweetness. Little about the dish suggests a classic pizza, but as its own animal, it's a flaming success.
La Boca also serves two dessert pies. One is spread with Nutella and served with raspberry coulis, the other topped with marshmallows, chocolate and crumbled graham crackers. I chose the latter ($8) and found it every bit as bewitching as it sounds. As a rule, chef Chris Ferguson cooks the dessert pies to a fluffier, whiter doneness than the savory ones. I didn't find the blobby dough as satisfying without the bubbling and crackling, though, so next time I'll ask for mine to spend a little more time in the oven.
Of course, a too-long stay in that oven presents its own dangers. When I visited La Boca for a second time, the brussels-sprout appetizer was just such a casualty. Presented in a jauntily asymmetrical white bowl was a collection of what looked like charcoal ready to be thrown in the fire. Only these were sprouts that had just emerged from it.
Butter and white balsamic vinegar topped the sprouts, chunks of Vermont Smoke and Cure bacon, and a mix of herbs. The char rendered the makings of a good dish all but inedible. Kelly, our exceptionally friendly, highly pragmatic server (she rebuilt our unstable table for us early in our meal), took off half the dish's $7 price tag. A nice gesture, but the offer of another, nonburned bowl might have been even nicer.
Granted, we didn't need the starter. My friend and I ordered two pizzas when one could easily have fed us — perhaps even with leftovers.
On one pie, we took the opportunity to try two different toppings. The pepperoni half ($16 for a whole pie) was gooey with cheese and a sea of oil from the spicy Vermont Smoke and Cure pepperoni. I didn't mind the oil slick too much, but I did mind that the pizza wasn't sliced through — a common problem with the pies at La Boca, and particularly troublesome with a messy topping. The other half of the pie was topped with the daily special: sausage made at North Avenue neighbor Bessery's Quality Market and slices of fennel and tomato.
It was a simple but effective combination, something I'd like to see more at La Boca. The menu sometimes gives the impression that the chefs are straining themselves to come up with unique toppings. And while they often hit that mark, their crust is so good that the effort really isn't necessary. In this case, crisp-edged fennel, juicy sausage, and a layer of tomato and cheese were more than enough to make me happy.
The final pie, however, was a clear victim of the quest for originality. This was my first-ever opportunity to try a chicken-and-gremolata pizza ($17) — and perhaps the odd combo was doomed from the outset. More likely, though, this pizza just needed better development of the individual elements to give them the flavor they deserved. My dining partner and I could barely detect garlic in the gremolata, let alone lemon or herbs. The chicken was aggressive in its bareness, like a nudist at a protest march. Stalks of broccoli were likewise nondescript, so the only real flavor came from a sandy shower of Grana Padano. Thank goodness for that addictive crust.
I'll avoid certain items when I make future treks to La Boca, but others I tried will inspire return pilgrimages to the petite pizzeria. When I'm in the mood for a Neapolitan pie, I'll head to Burlington's Pizzeria Verità;. When a craving strikes for New York-style pizza, Junior's Italian is the destination. Donny's New York Pizza & Sports Bar in Winooski satisfies my need for a Sicilian slice. But there's nowhere else in the world to get La Boca's signature pies. They're worth a trip to the New North End.
The original print version of this article was headlined "Round the Neighborhood"