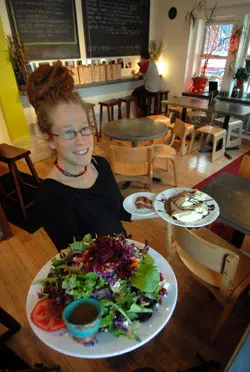 Jeb Wallace-Brodeur
Co-Owner Alanna Dorf
Everybody has their own version of restaurant love at first sight. Some people swoon over a joint with 25 beers on tap and a selection of crisp, golden-brown fare from the fryer. Others go for minimalist décor, tiny plates of architecturally arranged food and a cadre of model-thin trendy folks. For me, it's about a cozy environment, thoughtful staffers and a menu that appears to take both food ethics and taste into account. Of course, for the place to keep my affection, the offerings have to tantalize my tongue, too.
Montpelier's Kismet meets the requirements. Located in a tiny space on Barre Street, the breakfast-and-lunch eatery has a friendly, crunchy vibe and serves food made from materials sourced almost exclusively from local farmers and producers. The ingredient information page on Kismet's website reads like a Who's Who of quality Vermont vittles: The chicken hails from Misty Knoll, various vegetables from Cate Farm, and the tofu is produced in Hardwick by the Vermont Soy Company. Sea salt and seaweed are shipped from the not-too-distant coast of Maine.
Thirtysomething co-owners Alanna Dorf and Crystal Maderia speckle their menu with tempeh, tahini and whole-grain breads, but this isn't the spartan "health food" of earlier eras. Some of the fare sounds downright decadent: for instance, polenta with eggs and ham; "Parisian toast" — i.e., a croissant served with hot chocolate for dipping; and a sweet buckwheat crêpe with macadamia nuts, ginger, chocolate and honeyed chèvre. At the same time, Dorf and Maderia note on the menu that they can easily accommodate diners looking for gluten- and dairy-free foods, as well as those who eschew milk and protein from animal sources. The children's menu is the healthiest-looking I've ever seen.
As 2007 waned, I used a trek to Montpelier as an opportunity to try Kismet's artful salad of mesclun greens topped with grated beets and carrots, goat cheese, pea shoots, pomegranate and sunflower seeds, accompanied by a warming bowl of squash soup with a swirl of crème fraîche and a side of crusty bread. After the holidays, I returned with a couple of friends to sample more of the menu. After all, how many restaurants make their own butter and ketchup, or serve their miso-ginger salad dressing in cute ceramic cups? I was also swayed by pleasant memories of Kismet's truffles and maple hot chocolate, which can be dolled up with spices and flavorings such as cayenne, "Latin spice" or rose.
Since Kismet offers an extensive non-alcoholic drink menu, featuring fresh-squeezed juices, soothing cups of warm miso or chicken broth and a few café-style caffeinated offerings, we immediately ordered a round to shake off the January chill. (Though the dining area is bright and cozy, the set-up is such that whenever a new patron opens the door — a regular occurrence on a recent Saturday morning — a gust of frosty air sweeps the room.)
A tablemate who's accustomed to the ultra-sugary "Oregon chai" was surprised by the Kismet chai latte, which tastes more like spices than honey or milk. I appreciated the heady blend of cinnamon, ginger, cardamom and nutmeg. A hot ginger and honey drink was a little more startling to the palate — extra gingery and not so honeyed — but the friend who ordered it finished the whole mug.
The table's favorite potion was a surprise: a sweet and earthy dandelion latte, made from house-roasted organic dandelion root, maple syrup and a choice of milks. (I opted for the atypical hemp variety.) Unlike the other two beverages, this one had a prominent but not overpowering sweetness, thanks to the syrup. It was good enough to order over and over.
Then our meals arrived. The huevos rancheros were hearty enough for a lumberjack, with enough leftovers for a second breakfast. The two eggs — cooked "harder" than I would have preferred — came on a bed of crispy polenta and smoky salsa, with a mess of local black beans and some strips of glazed tempeh on the side. The whole was topped with melted raw-milk cheese, and arrived with a side of carrot-cayenne hot sauce. The tempeh was the best I've had, and the combo of salsa, eggs, cheese and polenta was delightful. The beans were cooked to just the right tenderness, but needed a few sprinkles of sea salt to pep them up. Some additional salsa would have done the trick, too.
I was less impressed with the Kismet Benedict, which came on slices of croissant with a side of extra-crispy bacon. The hollandaise sauce was a shocking shade of yellow, but the flavor quotient didn't live up to the color's promise — the concoction lacked the gently tangy, ultra-lush quality of the best renditions. With the meat on the side, the bread, egg and sauce trio felt lacking somehow. Luckily, the eggs were perfectly poached, and the blend of just-right roasted roots on the side was a refreshing alternative to standard home fries.
The best of the three entrées we tried was the "I Am Beautiful Crêpe," which I was embarrassed to order but thrilled to eat. The buckwheat wrapper held a generous portion of poached chicken, goat cheese and pesto topped with pea shoots, and arrived swimming in a luscious pool of lemon-scented cream. This dish also came with the robust roots, leaving us too full even to think about a dessert crêpe. All this local, organic food and drink rang up at just over $40 — comparable to a conventional eatery with similar quality and portions. Cash came in handy, though — Kismet doesn't take plastic.
Like many of today's conscientious young restaurateurs, the owners of Kismet aim to offer cuisine that's eco-friendly, healthy and delectable. With a blend of grace and intensity, they accomplish it better than most.