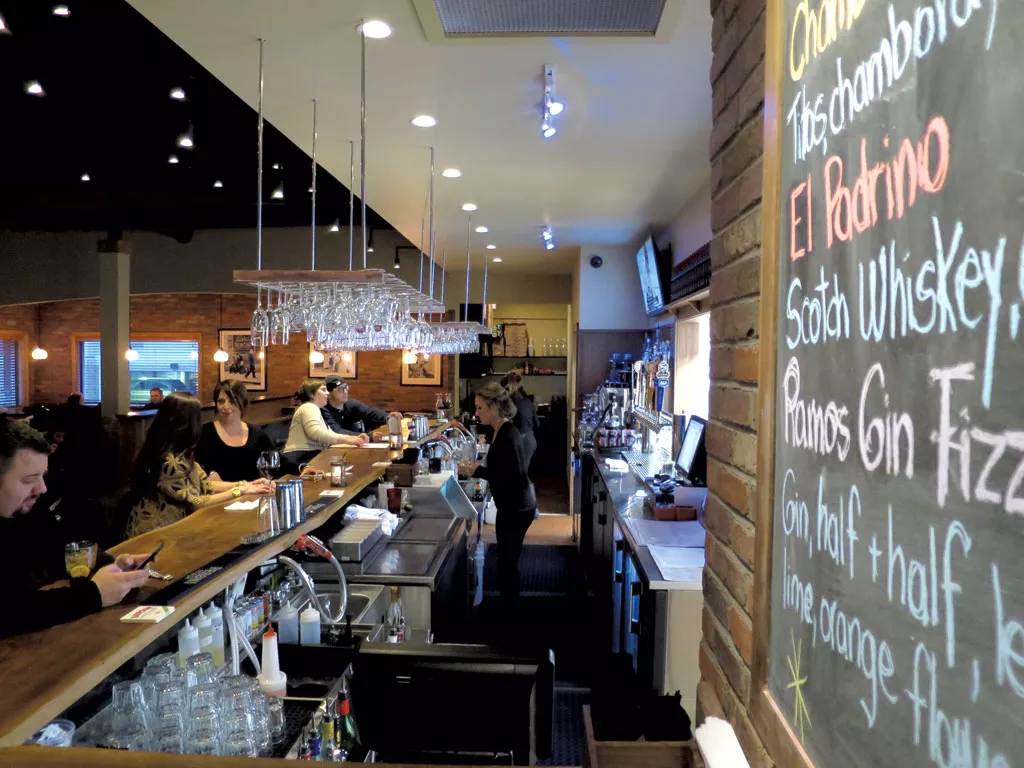 The day had been long, cloudy and cold and involved too much driving. As I exited the highway onto Shelburne Road in Burlington, a gray dusk fell over the salt-sodden road and filthy snowbanks. All I could think about was a belly-warming bowl of spaghetti and meatballs. Conveniently, Junior's Rustico was on the way home; I'd been planning to review it, but hadn't yet been in. Imagining a heaping whorl of pasta swaddled in savory red sauce and fluffy meatballs dusted in Parmesan, I asked my husband to stop.
We ordered takeout. By the time we made it the eight-tenths of a mile from the restaurant to our house, our pizza was cool and brittle, its crust like cardboard. OK, we agreed, these pizzas don't travel well. Good to know.
But when I cracked open my $15 linguine and meatballs, I was stunned to find a modest portion of box pasta — not the handmade stuff the restaurant promised in interviews prior to opening — lubricated with a scant ladleful of forgettable marinara. The two meatballs were about the size and density of golf balls, and had about as much charm.
Wow, I thought. We are not in Brooklyn anymore.
Before I'm crucified for holding Vermont food to New York expectations, let's remember that Junior's owner Franke Salese Jr. grew up in a New York restaurant family and opened the original Junior's on Long Island in 1982. So I had reason to hope for something resembling the downstate pasta-and-meatball standard — which, for the record, means tangled mountains of pasta served with a pint of sauce and three or four fist-size, juicy meatballs. For about $9.
Matthew Thorsen
Evelyn Salese
But the new restaurant, which opened on Shelburne Road last November, doesn't aim to be a New York-style red-sauce joint, even if the pizza boxes advertise "the original pizza from Long Island." That's just marketing carried over from other Junior's outposts in Colchester and downtown Burlington.
Over the weeks that followed, I returned for a series of sit-down meals.
A lot of work went into transforming the space — which used to house a KFC — into the latest garrison in the Salese empire. Brick walls give it a sexy, old-world vibe, but the interior still feels a bit value-engineered and anonymous, lacking in homey charm.
Muted TVs screen sports for folks who pop in for a quick meal at the gorgeous black-walnut bar, while 16 draft lines offer local, domestic and imported beers.
The wine list includes sips from Vermont's Boyden Valley Winery, but otherwise skews affordable and predictable. Wine drinkers can expect generous pours of Spanish and Italian reds and a few bold West Coast vintages. For whites, there's plenty of pinot grigio and chardonnay.
Bar manager Chris Leighton formulates the cocktails, and the ones I tried were decent. The L Train was a cool, cloudy blend of citrus and lavender, with its gin a mellow background note. A steaming cup of hot buttered rum smacked of a rum toddy.
Salese conceived the menu with help from his Costa Rican wife, Evelyn, and the bill of fare blends ideas of Spanish-style tapas and pastoral Italian cuisine. It's on trend (small plates, peasant food) and sounds good, but the dual focus doesn't quite jive in practice.
Also, the "tapas" aren't tapas in any usual sense of the word. Instead, the menu offers a few Italian plates, such as bruschetta and mussels in white-wine broth, and several Latin-ish spins on American pub fare — wings, fried mozzarella, jalapeño poppers, nachos. I don't mean to sound closed-minded, but I can't order nachos at a "rustic Italian" tapas joint. I just can't.
But I'm a sucker for wings, and Rustico's big, brawny flappers came dry-rubbed and bare, with buffalo and bleu-cheese dipping sauces on the side. The wings were good — and amply portioned — but were neither tapas nor rustic Italian.
Another night, arancini — deep-fried risotto balls stuffed with mushrooms — tasted mostly just fried and were pointlessly shrouded in rubbery melted mozzarella. My table ordered the grilled sausages with peppers and onions, but was stymied when the sausages arrived charred. The links might have been worthwhile if a careless cook had not incinerated the life out of them. And why they came scattered with yellow corn chips remains a mystery.
Soft slices of Junior's Bakery bread heaped with saucy stewed barbecue beef, again cloaked in translucent, flaccid mozzarella, were marginally better. The dish made a satisfying starter at the time, but I doubt I'd order it again.
Matthew Thorsen
Cubano sandwich
On the positive side: An heirloom-tomato salad, ordered from the specials list, came on a wooden paddle in a beautiful, if puzzling presentation. (Should we eat the salad off the paddle? Maybe not. Shuffle some onto a plate? Yes.) Beyond that, the red and yellow cherry tomatoes were piquant and bright, the arugula firm and spicy, and the dobs of goat cheese pungent and gamey. Lightly dressed in Champagne vinaigrette, the salad was the kind of fresh (albeit shipped from somewhere — none of that produce is in season here now), no-frills cooking that hails from the hills of Tuscany.
A basil-strewn Margherita pizza was perfect in its simplicity. Piping hot from the oven and riddled with juicy San Marzano tomatoes and bubbling mozzarella, it was almost whispering of the motherland.
And, while the toppings on a Vesuvius pizza — prosciutto, roasted red peppers, arugula, mozzarella and olive oil — melted and mingled, something fell a little flat. The pie was pleasant but too bland to be marriage material.
Still, a pie might be the best entrée. A bowl of winter rigatoni, commingled with bitter kale, sweet butternut squash and parsnip, offered an amenable combination of salty and sweet, but it lacked a sauce to tie things together. An aggressively creamy carbonara tasted like pancetta-laced Alfredo with peas; the flabby, over-sauced dish bore scant resemblance to Italy's elegant pork-and-egg pasta.
It's worth noting that all of the pasta is available gluten-free; it's springy, slightly nutty and nearly indiscernible from the semolina version. Pizzas, too, can be had on celiac-friendly crusts.
During lunch, Rustico offers sandwiches. For me, a melty Cuban made a great midday meal. The juicy pickles were pleasantly warmed by the ham and tender pork — all of which was embraced by griddled focaccia. But my companion's Italian beef with giardiniera was a disaster. The meat was bland and barely seasoned, and the insipid, watery jus provided for dipping did nothing to save it. At least the hand-cut fries were good: skins on, amply salted, crisp and spuddy.
I'd be remiss not to mention Rustico's service. As critics go, I'm pretty sympathetic. I've spent much of my adult life working in restaurants — from grimy pubs to Michelin-starred fine-dining places. I know what good service looks and feels like. I also know that it can take years to fully develop, so I tend to allow inexperienced waitstaff transgressions aplenty. Until those transgressions appear to be so entrenched that the problem is clearly with management — meaning, management hasn't taken the time to train its staff on the basic points of service, or doesn't know or care that they are messing up as much as they are.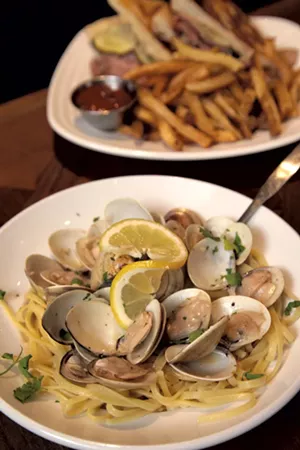 Matthew Thorsen
Linguini with clams and Cubano sandwich
Rustico waiters and hosts are unflappably genial and nice. But getting orders right, and properly coursing and timing meals for an entire table seemed mostly beyond them during my visits.
At my first sit-down visit, we waited nearly 15 minutes for drinks in a nearly empty restaurant. Another night, my dinner guest ordered linguine with clams in white sauce; the server brought red sauce instead. My husband asked for chicken and got eggplant parm. I asked our server whether the sausages were made in-house, and she couldn't say.
Those kinds of rookie errors not only irk patrons, they cost the restaurant money.
But let's move on to dessert. The options at Rustico come from Junior's Colchester bakery. The cannoli were crisp and stuffed to order; the cheesy stuffing sang with notes of almond and citrus. Our cheesecake was silky smooth, light and refined. After the generally subpar dinners, I was grateful for a sweet finish.
This review is somewhat of an ode to what might have been. Prior to opening, Salese said he planned to make pastas and a variety of sausages in-house, using organic, local ingredients, and I've heard that the restaurant runs occasional handmade gnocchi specials. But during my visits, the kitchen had swapped handmade pasta for dry Barilla noodles and kept the artisanal prices.
Four months into business, Rustico succeeds at providing simple, rustic fare: The cooking is home-style, for sure. It's just too bad that so much of the menu consists of one-note, unimaginative plates that many cooks could make just as well, or better, at home — and for a fraction of the price.