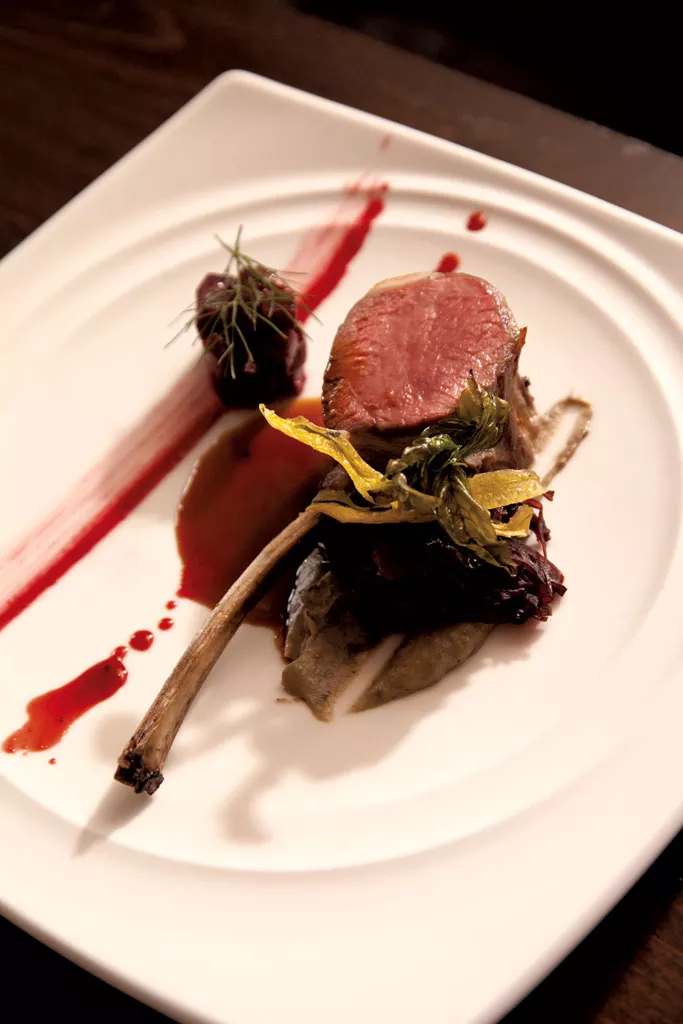 Matthew Thorsen
Lamb chop with beets
The single rare lamb chop, topped with a spicy harissa aioli, was surrounded by a fantasia in red. A pile of beet tartare bathed in a wide brushstroke of beet purée. Nearby, drizzles of homemade beet vinegar made the plate look like the only thing missing was the message "Helter Skelter."
On the other side of the chop, the look of carnage gave way to maroon cabbage strands. A deep, dark braise of balsamic vinegar had rendered them into something akin to a sweet pasta. Beneath the lamb, the harissa met its Middle Eastern match in pureed eggplant. Deep fried and flavored with soy, this was no baba ghanoush.
This entrée at Junction — which had its grand opening in the Essex Culinary Resort & Spa on August 1 — packed a punch. But a week earlier, on a Tuesday, it had been a different story.
That earlier meal featured well-prepared dishes but no fireworks. A wagyu short rib from Vermont's Fischer Farm was cooked beyond the point of melting in Périgueux sauce, flavored with Madeira and truffles. As opulent as that sounds, the plate was a study in brown, with carrots, Chanterelles and pearl onions all taking on the same hue. Ill-advised leaves of raw gem lettuce supplied the only color. The sauce was lip-stickingly fatty but lacked dimension.
Given the stark contrast between those two meals, it's no surprise that two different chefs cooked them. Junction's chef de cuisine, Michael Clauss, cooks Wednesday through Saturday and was responsible for that memorable lamb chop. Alex Casimir, the executive chef at Essex Culinary Resort & Spa, cooks Sunday through Tuesday and oversaw the short rib.
Dining at Junction on those two nights was like eating at two pop-up restaurants in the same space. The format was the same, but the food was worlds apart. Casimir cooks hearty, Vermont-style fine cuisine with a sophisticated twist, while Clauss pushes boundaries much as he did when he represented the United States in the Bocuse d'Or.
The duality is just the latest manifestation of an ongoing fine-dining identity crisis for the resort. When I posted the story of Junction's opening to my Facebook journalist page, one reader commented, "A new month, a new restaurant at The Essex."
The remark was harsh but not unfounded. Since the New England Culinary Institute closed its branch at the Essex in 2009, the hotel's fine-dining restaurant has been through multiple changes of location, staff and concept. In that time, its name has changed from Butler's Restaurant to Butler's Farm to Amuse and now to Junction. Who's to say this version will stick?
I don't have that power, but if the food becomes more consistent, I hope Junction makes it. If the two chefs can indeed create a junction of what they do best, the restaurant as a whole will be stronger for it.
Matthew Thorsen
Michael Clauss
Director of culinary operations Shawn Calley has learned lessons from the restaurant's previous incarnation as Amuse. Gone are the stoic waiters in uniforms that resembled orange dentists' shirts. In their place, less formal waiters who nonetheless know their wine pairings and service etiquette serve customers in jeans. The room's playful new ceiling décor reflects the upending of expectations. Overhead, diners see a whimsical arrangement of table settings, from blue-and-white china to a child's dinosaur bowl.
But the real entertainment happens in the open kitchen. At Amuse, most of the food was cooked in the hotel's large back kitchen. Now that space is reserved for the Essex's Tavern, while Junction's chef of the night and his able cooks make everything in a small strip near the restaurant's entrance.
There, a ballet takes place as cooks spoon potatoes, polenta and Périgueux onto plates at their chef's behest. Steak, veal and lamb get marked on the grill, then finished in the Blodgett stove. It's all done in near-silence and with a smile. Awareness of their audience may account for some of the staff's serenity, but they seem to be enjoying their work.
Part of the fun is a menu that changes daily, based on suppliers' wares and the harvest of the Essex's own backyard garden. When Casimir hands the torch to Clauss for the week, the menu enjoys an even more drastic metamorphosis.
One constant at Junction is the initial offering of an amuse bouche. On Tuesday, Casimir's quail egg with linguiça and harissa certainly got my taste buds primed. But the following Wednesday, Clauss' made me rethink what I knew about flavor.
He plated a sliver of Three Sisters, a tender, bloomy-rind cheese from New York's Nettle Meadow Farm and Artisan Cheese. Made from a combination of goat, cow and sheep milk for a complex flavor, it was served on a light-green seaweed aioli dotted with sesame seeds. A thin reservoir of beet syrup lent a hint of tart sweetness to the briny-nutty combination. It was a laundry list of tastes that should have clashed, yet they lingered on my palate so delightfully, I almost didn't want to spoil the effect with a bowl of onion popovers.
Almost. Crisp outside and filled with a cloud of warm, eggy fluff, those popovers were a welcome departure from the classic breadbasket. On both my visits, the rolls came with a heaping bowl of crème fraîche covered in a haystack of pickled carrot and horseradish. The first time, this arrangement struck me as odd. The second time, when homemade crème fraîche replaced the store-bought version, I found that the silky, lightly sweet addition made all the difference, coating the folds of the popover seductively.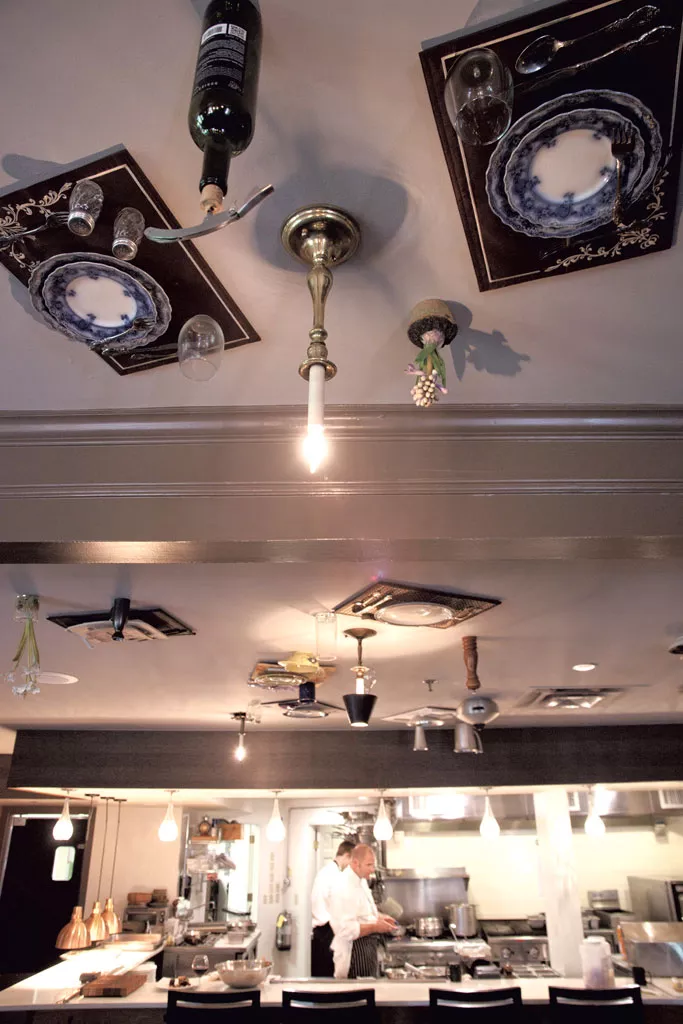 Matthew Thorsen
Table settings on the ceiling
This was the juncture where my two Junction experiences more sharply diverged — owing not solely to the chef in charge but to my seating choice. On my first visit, I sat in the main dining room, where Casimir came to visit and briefly chat with my party. While this chef visit is standard procedure at Junction, without questions or allergens to bring up I found it awkward, especially since we then had to wait for our waiter to order our $50 three-course dinner.
By contrast, when Clauss cooked for us the following Wednesday, we sat at the chef's table and ordered the $85 five-course prix-fixe dinner. There, the awkwardness gave way to discussions of the food Clauss was presenting, as well as of Montréal restaurants and the chef's young family.
Those five courses turned into seven. While the upgrade may have owed something to Clauss' acquaintance with me, the fun he was having cooking for an enraptured audience was palpable. We received only two dishes exactly as listed on the five-course menu: the cheese plate (Jasper Hill Farm's Willoughby with rhubarb sauce, quince paste and honey with bee pollen) and a dark-chocolate pot de crème (served with a hot dousing of salted caramel and crackling with cacao nibs at the bottom).
When I'd eaten Casimir's cuisine in the dining room, proceedings had been more by the book. Three courses came just as expected, with hits and misses. A salad of local greens promised plum vinaigrette but was primarily flavored by Grafton cheddar shaved on top, Marcona almonds and a trio of nasturtiums. The dressing turned out to be waiting at the bottom of the eye-pleasing salad.
A strawberry chiffon cake was suitably light and filled with layers of whipped cream and berries. But I'd ordered it for what the menu called "pistachio butter." Instead, I was presented with a pile of crumbled pistachios next to the cake.
Besides the sticky pleasure of the short ribs, the greatest triumph of that night's meal was pastry chef Emily Hurd's Neapolitan mousse dome. Foamy raspberry and white chocolate mousses came covered in a soft jacket of dark chocolate, topped with a single raspberry and a mint sprig. The Essex has dealt in domes since its NECI days, but this was the best of the lot.
Though Casimir's classic cuisine had its highs, I handed out more superlatives at Clauss' meal. His foie gras terrine was an appetizer conceived and presented like a savory dessert. When Clauss left the Bluebird Restaurant Group for the Essex last year, he told me, "It's really going to allow me to get back into the fine-dining, Michelin-style food that I like to cook." The compressed liver dish fulfilled that promise in three decadent dimensions.
The creamy, fatty foie was flavored with a wash of maple whiskey, then topped with foie gras powder, pistachios and pineapple mint. In a pool of raspberry vinegar sat a single disk of gelée made from Gragnano wine. A fennel biscotto provided a crunch, a pleasant foil to the bounce of the gelée and melting foie.
The pasta course was perhaps the most compelling. Clauss filled ravioli with ricotta and squash blossoms, then flavored its buerre monté sauce with candied lemon peel and a topping of English tea powder. When he heard that my dining partner loves polenta and that I'm partial to pickled mushrooms, he made a dish just for us, mixing creamy polenta with unctuous, aromatic saffron butter and a pile of pickled chanterelles. My other half called it an ideal blend of Italy and India.
Each of Clauss' dishes had so many components, they made this food writer's head spin. There was so much to remember, look for and taste. But rather than feel overwhelming, the experience was mind expanding, like a culinary acid trip. I'll be having flashbacks to the meal — one of the best I've had in Vermont — for a long time.
Still, I hesitate to say that one chef at Junction is better than the other. It's quite possible that I would have had a similar experience if I'd sat at the chef's table with Casimir in charge, or been less enraptured with Clauss' meal if I'd sat in the main dining room. One thing is certain: When I return to Junction, I'll request a seat at the chef's table.
The original print version of this article was headlined "A Tale of Two Restaurants"