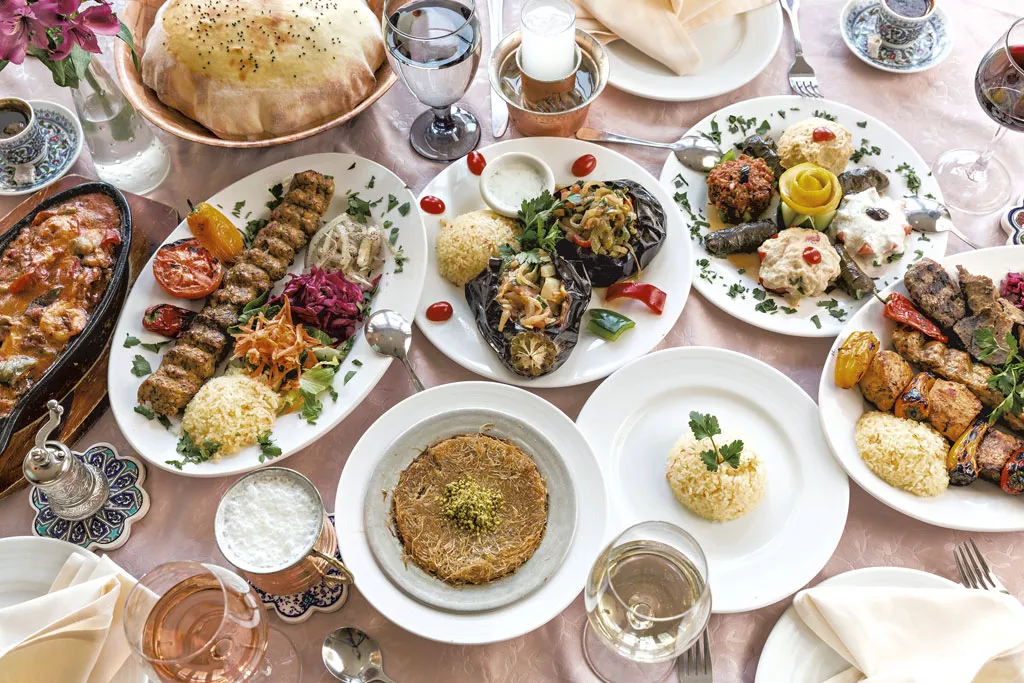 About three years ago, Vural, Hasan and Jackie Oktay opened Istanbul Kebab House at the base of an apartment complex in Essex Junction. In a subsequent review published in this newspaper, food writer Alice Levitt praised Vural Oktay's nuanced knowledge of his native Turkish cuisine and devotion to excellent service. However, she also observed that the menu lacked focus, the dishes — though made from scratch with fresh, often local ingredients — seemed pricey and the waitstaff were inexperienced.
Despite these initial hiccups, the Essex location garnered a loyal following. In late 2013, the Oktays purchased the Tuckerbox café in White River Junction and began serving Turkish dinners there in early 2014.
In January 2015, the family traded their Essex restaurant for a new space on lower Church Street in downtown Burlington — and what a difference three years makes.
During my two recent visits to the new location, Hasan Oktay flawlessly led the dining room with charm and grace. He delivered drinks with an easy smile, bussed tables and pulled out chairs for female guests. Friendly, knowledgeable waitstaff led first-timers through the menu and were ready with thoughtful recommendations for indecisive diners.
They also showed impeccable knowledge and nuance about wine. This might come as a surprise to many guests, as Turkey is generally overlooked as a formidable wine region. But Kebab House carries a dozen charismatic Turkish bottles and offers most of them by the glass ($8-11). In fact, Turkey is home to a rich wine tradition: Ancient Anatolians practically bathed in the lush liquid more than 5,000 years before Jesus walked the earth, and wine culture continued to flourish long after a Muslim majority came to power.
In the last century, state-instituted religious zealotry — and periodic prohibitions on alcohol — took a toll on the industry. But even as people moved away from viticulture, the vineyards remained, and in recent years a general loosening of rules reinvigorated the wine business. Turkish winemakers began working with hundreds of native varietals — most of them unfamiliar to westerners and woefully unpronounceable. Though the government again imposed stringent rules on the industry in 2013 and 2014, a strong base of dedicated winemakers perseveres.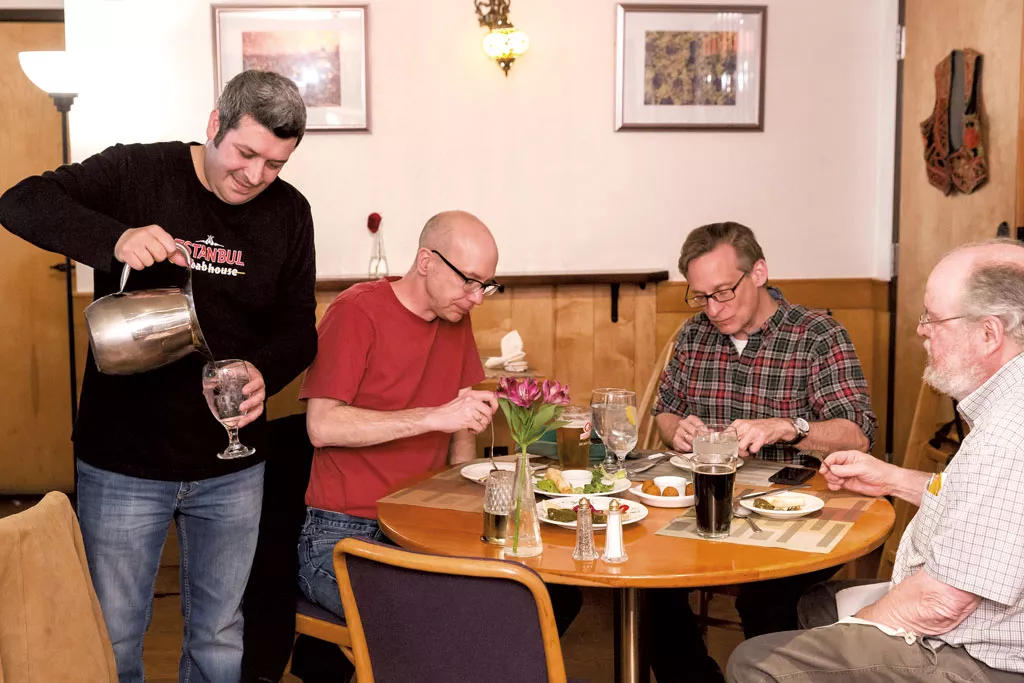 Oliver Parini
Hasan Oktay serving guests
Rooted in limestone-rich and volcanic Turkish soils, the wines show character and restraint. And at recent meals at Kebab House, they proved to be exceptionally food-friendly. I recommend trying one with every course.
A crisp Kavakldere Lal rosé, grown atop the arid Denizli plateau, just inland from the Aegean Sea in southwestern Turkey, began with a subtle, floral nose. An initial sip flooded my palate with new peaches and apricots, while the finish suggested wet stones and hints of mushroom and moss. As the wine warmed, riper strands of musky apple and green melon emerged.
Distinctly Mediterranean, the rosé transported me from a cold April night in Vermont to a cobblestone alley in that mysterious land where Europe meets the Middle East.
Hasan Oktay woke me from my reverie with snacks. We'd ordered the meze platter, which consisted of dolma and a selection of cool dips and sauces including hummus, haydari, baba ganoush and Turkish salsa. "Careful," he cautioned as I reached for a piping-hot pillow of lavash. "Maybe poke it with a knife first." Fresh from the oven and filled with hot air, the unleavened bread was an evanescent joy. It's best to eat it quickly: Soft and pliable when fresh, it becomes dry and brittle as it cools.
Within moments, my guest and I had broken the bread and slathered it with dollops of supremely smoky baba ganoush. Creamy with tahini and just a touch of salt, the spread was gone in minutes, as was the spicy, hand-chopped Turkish salsa, tangy with pepper, lemon and pomegranate juice. In answer to the warming zest of the salsa, a cool, tightly wrapped dolma stuffed with pine nuts, currants and rice was tinged with cinnamon and other sweet spices.
Oliver Parini
Turkish wine
If rosé and cold appetizers seemed premature given the lingering winter weather, Kebab House offers an array of warm starters. On a blustery evening last week, a duo of bulgur croquettes — one stuffed with chicken, the other with beef, both blended with walnut, red pepper, garlic and onion — were fried to a brittle, bready crisp outside and filled with crumbly, spice-laden meat. We dunked these in the accompanying tomato-and-olive-oil dipping sauce for a moment of bliss.
Falafel may seem familiar and bland to American diners, but the Oktays' petite chickpea fritters were little flavor bombs. Seasoned with cumin, coriander and mango powder, they were smooth and refined.
Zucchini pancakes were equally beguiling. The palm-size patties — made with shredded zucchini, carrot, garlic, dill and Turkish white cheese — were airily crisp without but soft and creamy within. Their peppery twinge built up bite by bite. Served with a weightless, yogurt-based cacik sauce similar to tzatziki, the pancakes were a refreshingly simple, straightforward delight.
Across the menu, the kitchen presents bold, forward flavors but relies on quality execution and classic Turkish spices to carry the food. Nothing suffers from extraneous cheffy flair; nothing is overdone.
Nowhere is this truer than with the kebabs — which present marinated meats, skewered and grilled, served with a couple of basic, humble sides. The menu offers more than 10 kinds, and they're somewhat pricey ($15 to $30 per dish), but a $30 mixed-grill option provides five kebabs in tasting portions. For newbies or those seeking variety, the mix of chicken and lamb makes an ample entrée for two.
We paired our kebabs with the house red wine — Kavakldere Yakut, a peppery vintage made with öküzgözü and Boazkere grapes. Deep crimson in color, the round-bodied, spicy wine played well with a rich, juicy lamb patty (köfte) seasoned with an aromatic bouquet of garlic and herbs and tinged with smoke from the grill. The wine's juicy, red-fruit acid was equally agreeable with the chicken shish kebab, which was fork-tender and so briny that every bite released a rush of mouth-filling flavor.
Oliver Parini
Mixed grill kebab
Sipped alongside the lamb shish — which had just a hint of barnyard gaminess — the wine was a quiet, unobtrusive complement. Chicken adana — wrought of hand-ground chicken breast, fire-roasted red peppers and parsley — was formed into pieces and skewered. It sung with heady spice that crept up after several bites. For this the delicate, approachable Yakut provided amiable company.
Sides of pale-yellow, subtly seasoned rice pilaf and pickled red cabbage added color to the plate and a refreshing bit of acid to cut through all that meat.
During a second visit — at our server's suggestion — my guest and I paired a beef tenderloin kebab with a glass of Öküzgözü from Cappadocia's Kocaba Winery. The sun-soaked, velvety red was rounder and more robust than the Yakut, with ripe, dark black cherry, currant and mulberry fruit. The bold yet dangerously drinkable wine was the perfect answer to the hearty timbre of the beef, which was charred a pleasant medium-rare.
Smaller sections of the menu offer Turkish "comfort foods," our server explained — homey baked dishes that afford a more serious plunge into the region's cultural flavor. A halved eggplant came stuffed with seasoned ground beef, bell pepper and herbs capped with a generous spoonful of pungent tomato sauce. A fragrant shrimp güveç casserole — scattered with cheese and still bubbling in its shallow clay dish — was loaded with succulent, sweet shrimp and studded with vegetables. The latter were firm but cooked through and were swimming in a tomato-based sauce mellowed with a splash of cream.
Oliver Parini
Turkish coffee
I don't often go for fish unless it's raw or cooked whole, but Kebab House's savory stew was a special treat. I was grateful to my guest for ordering it — and for agreeing to a cool, complex white wine with notes of honeydew and pear, which balanced the dish's richness.
Saving room for dessert was a challenge. But a toasty shredded-wheat künefe — a baked dessert layered with stringy white cheese and soaked in light maple syrup — richly rewarded our fortitude. So did a bowl of rice pudding, with its baked top layer and milky vanilla understory. An almond milk pudding was similar to the rice, but custardy and smooth and scattered with crushed pistachios.
Normally I don't drink coffee in the evening because I won't sleep, but one night, I lingered over sips of sweet, smoky, barely bitter Turkish java served in a dainty cup, and bites of pale-pink, rose-flavored Turkish delight. When at last I wandered off to bed, it was with heavy eyelids and spice-scented dreams of warmer weather.