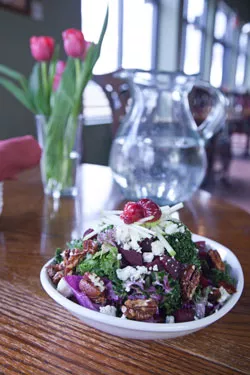 Matthew Thorsen
Kale and beet salad at Hinesburgh Public House
I made a reservation in a name not my own, but I wasn't seated long at Hinesburgh Public House before owner Will Patten came to my table to thank me for coming. On my second visit, several days later with another set of friends, chef Shawn Beede came out to chat, too. Wearing a wig or sunglasses would only have made me more of a sore thumb.
For a few years now, those in the know have acknowledged the anonymous food critic as a relic of the past. In a 2011 post on anonymity, onetime Washington City Paper blogger Stefanie Gans wrote, "Just because a critic (or blogger) walks in doesn't automatically elevate the food. Sure, better service can be given to VIPs, but it's not as if a whole new kitchen staff with superior ingredients will be magically in place when someone important walks in."
I hope Gans is right, because, if it's hard for a food critic to pass unnoticed in D.C., it's a lot harder in Hinesburg, where until recently, the dining scene consisted mostly of sandwich shops and casual cafés. With a comfort-food menu heavy on local ingredients, Hinesburgh Public House aims to change that, and my experiences on both visits to the month-and-a-half-old restaurant were nearly faultless.
Besides the anonymity conundrum, I had the opportunity to address another eternal restaurant diner's quandary: Can a kitchen operate smoothly without its chef? My first meal at the Public House turned out to fall on Beede's day off, and, in this case, I can answer with a firm yes.
Going in, I managed my expectations for the small-town, 120-seat restaurant. Its location in a former Saputo cheese plant didn't augur well for ambiance. Inside, however, I found the high ceilings lent the space a certain industrial chic, while contrasting homey notes came from a potbellied stove near the entrance; rugs hand-hooked by Patten's wife, Kathleen; and mismatched vintage chairs.
As far as I could tell, service was attentive at all tables, not just mine. But the real reason to love the Public House is its food.
The restaurant's owners have danced around the word "gastropub," preferring to emphasize the down-home, community aspect of the business. The Pattens opened the Public House hoping to bring Hinesburg "hearty, healthy, made-from-scratch and locally sourced Vermont food" and sold $500 shares in the restaurant, giving locals a true stake in the business. So perhaps it's more enlightened than your average gastropub, but that's still the best way to describe the fare: innovative takes on classic pub grub alongside excellent brews from the likes of Middlebury's Drop-In Brewing Company.
And the kitchen excels at snacks to pair with a good beer. While every meal starts with warm, fluffy house focaccia drizzled with garlic-infused olive oil, I couldn't resist ordering more bread in the form of soft pretzels.
Good choice. Emerging fiery hot from the oven, the pair of good-sized pretzels was lusciously buttery and sprinkled with just the right amount of chunky sea salt. Homemade maple-Dijon mustard balanced sweetness and heat, and the whole thing was topped with a welcome addition of chopped apple matchsticks.
The house free-range chicken wings were uniformly crisp outside, tender inside and coated in an addictive sauce that sweetened tangy Maine blueberries with a touch of maple.
Perch fingers, an uncommon menu addition, proved to be a true taste of Vermont terroir. The little chunks of flaky Lake Champlain fish were crusted in crisp cornmeal, then served with creamy, mild house tartar sauce. Pink pickled cabbage added a welcome burst of acid.
A touch of pucker also defined the kale and beet salad, which combined the locally grown veggies with chunks of blue cheese, Granny Smith apples and crunchy candied pecans in a spiced-cranberry vinaigrette. The salad stood out not only for its bold, uncommon flavors but for its apt use of local ingredients in the dead of winter.
Strategic local sourcing is perhaps the greatest strength of Beede's kitchen. The chef admits that, with a static menu featuring just a few daily specials, he can't offer consistent local sourcing of his whole roster. But the lion's share of the food is still produced not just in Vermont but in the Hinesburg area.
Key to that system: dishes that morph daily with availability. Hinesburg's Grass Roots Farm provides most of the restaurant's beef, including the grass-fed cuts in the Daily Braise, but the dish varies depending on the chunks available that day. When I tried it, shoulder was the boeuf du jour. Later in the week, it was a mighty slab of beef osso bucco.
Either way, the dish was delectable. The beef was cooked to fork tenderness but didn't fall apart in overdone strands. Bathed in a hearty demi-glâce, it had the slightly mineral flavor of grass-fed beef, but the dish as a whole didn't skimp on fatty decadence. That was partly owing to the accompanying polenta, tasting of garlic and cream. Thinly sliced carrot coins were sweetened with a whisper of maple, and benefited even more from a liberal dose of butter.
The always-available chicken pot pie was another eminently comforting, wholly delicious braise. In a velvety, herbaceous sauce, chicken, potatoes, carrots and celery were all cooked to perfection. The miniature skillet in which the dish was served was thoroughly covered with buttery puff pastry, ensuring that not a bite was missing its crust.
Millhouse Mac & Cheese was emboldened by pickled jalapeños, which contributed a hint of heat to the whole dish and touches of acid to the individual slices. Vermont Smoke and Cure bacon, hand-delivered from the factory next door, added a meaty bite. But it was the Béchamel-based cheese sauce — slightly chewy with melted Cabot Extra Sharp, Vermont Farmstead Cheese Company cheddar and imported Asiago — that made this bread-crumb-topped classic a delight.
Speaking of classics, any pub worth its salt better have a burger worth chowing down on. The Public House's "Hines" burger is just that.
I don't know what alchemy Beede uses, but he's achieved the nearly impossible — a juicy grass-fed burger. Though the thick patty was cooked slightly over my requested medium, the center still ran with delectable moisture. The outside had a pleasant char. With a layer of melted Grafton Village Cheese Company cheddar and a rustic bun from Stewart's Bakery in Williston (the Public House has since switched to Klinger's Bread Company), the sandwich was enormously satisfying all around.
Points to the chef, too, for topping the burger only with lettuce, onion and a crispy rasher of bacon from next door. Out-of-season tomatoes simply didn't make the cut. They'll be back in the spring, Beede says. The plate's only disappointment was a pile of hand-cut fries that could have used another trip to the fryer for optimal crunch.
Though I was stuffed by the end of the main course, I wouldn't have said no to a warm chocolate cake or a crème brûlée with great local ingredients. But dessert doesn't seem to be a priority at Hinesburgh Public House. The kitchen focuses on savory items, leaving sweets to Hinesburg's Spoon & Sparrow Bakery.
The desserts are laid out invitingly at the front of the restaurant, next to a grab-and-go fridge that holds Vermont Smoke & Cure RealSticks and Vermont Sweetwater Bottling Company sodas. Having to choose from the cheesecakes, carrot cakes and individually wrapped whoopee pies — plated by a server — felt like a letdown at the end of our exciting meals. The whoopee pie I tried was intensely chocolaty and all-around tasty, if a little dry. But that postscript just didn't feel in step with the rest of the lusty dinner.
That minor drawback doesn't seem to be keeping diners away from the Public House. Even on a Wednesday night, the restaurant was packed to the gills at around 8 p.m. When I tried to call for a Saturday reservation, I was told weekend reservations usually require at least a couple of days' advance notice.
It's clear why. Much as Cornerstone Pub & Kitchen has filled a void by providing excellent food in Barre, Hinesburgh Public House serves a pressing need in an area where the nearest dinner option is a gas-station Subway. The place didn't have to be as good as it is. But, even in its early days, the restaurant is thoroughly Vermont and thoroughly delicious. And there's no faking that just because a critic walked in the door.
Hinesburgh Public House, 10516 Route 116, Hinesburg, 482-5500. hinesburghpublichouse.com
The print version of this article was headlined "Best of the 'Burg".