James Buck
New England clambake
Midway through dinner, my friend put down her fork and stared past me in incredulous alarm. "Is that a peacock?" she asked, pointing into the field behind my back. Down the hill, a large, long-tailed bird tracked through the gauzy vale.
We decided it was probably a wild turkey. But, situated in a hollow off the northernmost shoulder of Mount Mansfield, Edson Hill does seem like a place where exotic birds might wander. The old estate, built as a personal retreat in 1941, oozes romance. Its original owner was a prosperous banker and heir to a Colorado mining fortune. In recent decades, Edson Hill's main charge has been hosting weddings.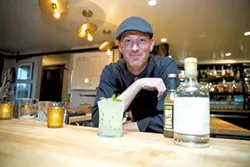 James Buck
Don Horrigan
Last summer, longtime Stowe-lovers Susan Stacy, Tom Shanahan and Jim and Bill Goldenberg (Stacy and Shanahan are married; the Goldenbergs are brothers) purchased the property for $1.85 million. In the following months, Stacy's Boston interior design firm Gauthier Stacy transformed Edson Hill from a "wedding factory," as current employees are wont to call it, into an experience-focused mountain oasis. Or, in modern hospitality parlance, an "iconic resort hotel." It reopened for business in late January.
The inn's new owners aim to take full advantage of the 38-acre property. In a phone call, Stacy shared her vision for vast perennial and vegetable gardens and other enhancements. Those gardens will help stock the kitchen, where executive chef Chad Hanley is putting out dishes that are far more ambitious than they need to be, given the resort setting.
Hanley, along with beverage director Don Horrigan and the inn's owners, hopes to build a vibrant dining scene at Edson Hill, and not just for wedding parties and well-heeled guests who can pay up to $450 for a night on-site. "We want everybody to come and enjoy this place," Hanley said in an interview last week. "I've never come across a property like this." The idea is to create a place to relax and recreate, to drink and revel, to eat and enjoy the company of friends and family. And, while the high-end setting allows Hanley to use plenty of spendy ingredients, he's also offering informal "tavern fare" that will fill you up for less than $20.
For his part, Horrigan signed onto the project even though he was plenty busy with his cocktail consulting business and Sumptuous Syrups of Vermont line of specialty mixers. As beverage director, he's in charge of the wine and beer lists (these are short but well-chosen) and creating cocktails that are as bewitching as the setting.
On most nights, you can catch him at the bar at Edson Hill's cozy downstairs tavern. If time allows, grab a tipple and head outside for a boozy wander — perhaps with a glass of dry white sangria, cloudy with coconut milk and floating with berries, or a sparkling flute of Prosecco tinged purple with crème de violette.
James Buck
Caspian Lemonade and Violette Sky
That pleasure alone would justify a visit, but once you're there, it's well worth sticking around for dinner. Hanley, a Lamoille County native, spent years working for chefs of international renown. At Edson Hill, his food — most of it sourced locally — examines classics with fresh eyes and is polished but approachable.
On a recent eve, Hanley's Cobb salad brought an impeccable spread of Bibb lettuce heaped with Jasper Hill Farm's Bayley Hazen Blue cheese and butter-poached lobster. Stabbing those succulent hunks of shellfish alongside the expected egg, bacon and tricolor carrots julienne, I wondered: Why don't we always do Cobbs this way?
If reworking that classic took a bit of daring, Hanley's Manhattan clam chowder — served cold during another visit — was even more intrepid. The complex, tomato-tinged shellfish stock was loaded with house-smoked clams and mussels; served with bread, it could have been a decent meal in itself. My New Yorker husband, sipping a glass of beer from Hill Farmstead Brewery, was astounded that a chowder so distant from the downstate standard could come off so well.
I wouldn't normally go for a turkey burger, but last Thursday, many of Edson Hill's other options were out of stock pending a Friday delivery. Last week, the restaurant was busier than expected and blew through its supplies early — and that's a good thing. But I couldn't help conjuring dishes we might have ordered, such as honey-butter-drizzled pork loin stuffed with apples and roasted peppers; or the housemade venison sausage (the first in Hanley's infant charcuterie program) with mushrooms, pork belly and roasted poblano peppers.
I took solace in my martini — a Prohibition-era sipper called the Last Word, in which splashes of Luxardo, Chartreuse and citrus underscored a cool gin base note with black cherry and bitter herbs. For the unacquainted, it's kind of like a bitter, Grinch-y Cosmopolitan: half as sweet and twice as elegant.
The turkey burger came stacked with salty-sweet grilled onion, which exploded with flavor, as well as whole-grain mustard and local alpine cheese. Hanley could have left it at that, but instead threw in some roasted peaches, which elevated the poultry patty from solid to whoa. That arresting detail again made me wonder: Why don't we always put peaches on our bird burgers?
Also, had my first choice of entrée been available, I'd have missed out on the clambake, with its briny clatter of mussels, littlenecks and split lobster tail. I'd have missed the crisp corn on the cob (which, given the season, had no right to pop with such juicy sweetness), and smashing fingerlings with my fork to absorb as much oceanic abundance as possible. Soaking up a gorgeous, aromatic two-day broth with springy Elmore Mountain Bread sourdough reminded me that sometimes, a second choice is the best choice.
Though Vermont is landlocked, natives know that seafood served here can be mere hours from the coast. Many local fishmongers — such as the ones at Stowe Seafood, where Hanley sources most of his fish — make it their business to bring the sea inland.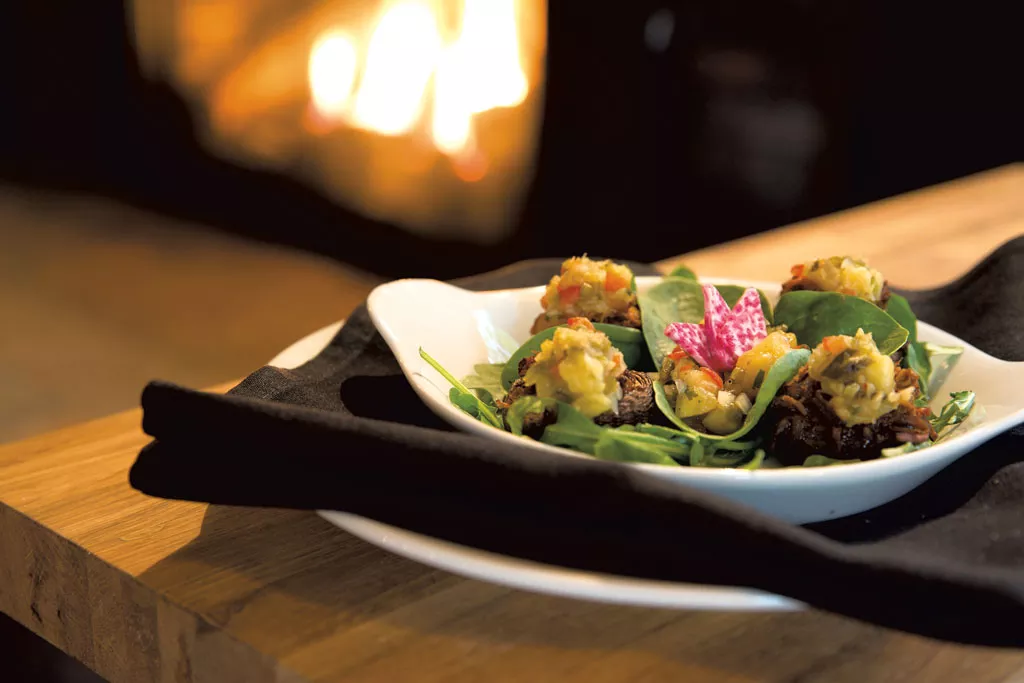 James Buck
Duck confit-stuffed mushrooms
Another night, a ruby-red filet of ahi tuna was barely seared and crusted in sesame seeds. The brawny fish was paired with spicy, wilted arugula kissed with salt and pepper, and topped with a zippy hash of grilled onions and sundried tomatoes. It takes a nimble hand to combine elements from a classic tuna Niçoise and Asian-island fusion. Hanley pulled off the understated mashup without a hint of awkwardness or cheffy pretense. His self-assured approach to the classics is well suited to Stowe, where diners generally expect quality — but not avant-garde — cuisine.
So a plate of juicy lamb meatballs, served with herby citrus tzatziki, was tinged with a bouquet of North African and Mediterranean spices. An appetizer of crimini mushrooms stuffed with sweet-scented, confit duck in a subtle, dark barbecue sauce called on Chinese and Korean influences at once.
Hanley's desserts were also familiar favorites, but sprinkled with uncommon details. On one night, we lingered over crème brûlée scented with cardamom and house-smoked sea salt; on another, a delicate stone-fruit galette smothered in melted cheddar and served à la mode with blueberry-balsamic-and-raspberry coulis. Rare is the pastry whose shell is as beguiling as one of high summer's first fruits.
The season of long days is short, and so I took both of my meals at Edson Hill on the tavern patio. In the weeks to come, the inn will open an additional, 70-seat courtyard just off the entry gallery. Diners can choose between the downstairs lounge, the formal dining room upstairs and the two terraces; they pull from the same menu, so ambiance is the deciding factor.
For now, I can think of few richer pleasures than supping amid the last of the day's rays, watching a smoky solstice dusk settle over the valley. But when cooler weather returns, Edson Hill's dining room, with its white tablecloths and creative, shabby-chic décor, will surely make a sophisticated perch for a winter's meal.