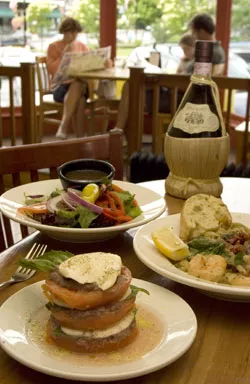 Amigo's Cantina in Middlebury was a Tex-Mex standard for 20 years, so when the taco joint closed this spring and the building re-emerged as an Italian restaurant with a striking red and black façade, people took notice. The new eatery, Doria's, opened on May 1 and threw its grand opening celebration earlier this month.
Speaking with Seven Days back in April, Jim Doria, a career chef who owns the eatery with his wife Sharon, promised to put "emphasis on the use of Vermont and locally grown products." He talked up the homemade angle: "Everything will be fresh," he enthused, mentioning specifically the soup, sauce, meatballs and lasagna. The head chef who supervises the preparation of those soups and sauces is Jim and Sharon's son, a New England Culinary Institute grad who previously worked at Tully & Marie's.
With all that in mind, I was looking forward to fare with a little extra flair and a made-from-scratch, localvore ethos. What I found were solid but predictable Southern Italian and Italian-American dishes served up by cheery young staffers. Two old Amigo's faves — buffalo wings and margaritas — survived the transition.
Though Doria's salads and entrées may well harbor some Vermont products, the menu lacks the doting descriptions of artisan products and area farms that usually accompany a chef's laborious efforts to source foods locally. When asked, our server comfortably divulged that all the salad dressings were bottled save the "Italian" variety. The Key lime pie, tiramisu and cannoli shells aren't made on the premises, either.
While I'm always willing to shell out top dollar for scrumptious food — especially when it's produced sustainably and by hand — I found the prices at Doria's surprisingly high. They're comparable to what you'd pay at Junior's, which gives you way more good food than you can eat, and around double what you'd spend at a casual place such as Papa Frank's.
Doria's makes a great first impression. The combination of big windows overlooking scenic Middlebury, high tin ceilings with lazy rotating fans, and earthy yellow and red tones on the walls add up to a pleasant ambiance. The small, Italian-centric wine list offered up a crisp Pinot Grigio and warming Chianti that paired well respectively with two different dinners. Beer lovers will find a variety of local brews on tap.
You can tell a lot about an Italian restaurant by its minestrone; here, it's one bowl fits all, for $6. The soup was comforting and homey, with a wide assortment of vegetables and legumes floating in the flavorful broth. The portion, chock-full of chickpeas and macaroni, was big and hearty enough to share.
Despite the recent salmonella scare, my dining companion and I tried an artfully presented tomato, basil and mozzarella tower layered with olive tapenade ($8.25), which was as good as it could be, given that just-picked tomatoes aren't yet an option. My only gripe was that the generous smears of full-flavored olive paste overpowered the delicate flavor of the mozzarella.
Two seafood apps proved to be worth the soldi. An order of calamari ($7.75), served on a bed of greens, was light and crisp with no visible oil. The squid came with a spicy marinara, but I also requested a dish of pesto aioli dipping sauce, swiped from a crabcake appetizer. The pale green, garlicky mayo proved a better match than the hot, tomato-based sauce: Like the tapenade paired with the tomato insalata, the latter was just a tad too much. The aioli also shone when drizzled on the sweet 'n' tender, well-seasoned crabcake made with lump crabmeat and sweet peppers ($8.75).
Side salads come with every entrée at Doria's. A small Caesar was heavy on the dressing, but boasted fresh-tasting lettuce and crunchy croutons. On my first visit, the Italian "house" salad was topped with roasted red pepper strips, plump kalamata olives and a pepperoncini; on the second one, the olives were missing and I had to pick out a few mesclun bits that were black and slimy.
Three and a half racquetball-sized meatballs formed the best part of the classic marinara and spaghetti combo ($13.95). The spheres were browned on the outside and tender within, with good, garlicky flavor. The rich, red sauce needed pepper and rock salt from the McCormick dispensers on the table. I mopped up some of the excess sauce with a slice of warm herbed bread spread with softened, whipped butter. When I came with my husband, our bread basket had four slices. When my guest was another woman, we received only two. Sexism or inconsistency?
A heaping helping of orange tortellini ($13.95) came drenched in Alfredo, gussied up with diced tomato, spinach and 'shrooms. My favorite pasta offering, an enjoyable "seafood fra diavlo" with a spicy, tomato-based sauce ($19.95), was served over al dente fettuccine and topped with a generous portion of mussels, clams, shrimp and plump, perfectly cooked scallops.
Tangy "chicken picatta" ($17.95), which also appeared on a bed of fettuccine, was a tad too lemony, but its liberal sprinkling of capers, red onion bits and verdant, chopped herbs provided textural interest and bite. The poultry pieces were a trio of plump, pale pillows — in contrast to other versions I've tried, where the breast slices were pounded thin with a mallet, dredged in flour and browned on each side.
Every one of the pasta dishes would have benefited from smaller dollops of thicker sauces. We left pools of it behind.
The desserts aren't homemade at the restaurant, aside from the crisp cannoli — which, according to a staffer, consist of Doria's yummy filling piped into store-bought shells. A slice of flabby Key lime pie lacked lime flavor and came drizzled with some sort of nondescript, fruity pink syrup. The tiramisu was soft, sugar-coated cake fingers topped with pastry cream and chocolate shavings, with no pungent coffee or booze flavors in evidence.
Everyone looks for something different in a restaurant. Local families will find plenty to like about comfortable, kid-friendly Doria's. As for me, I'll make the drive again if I learn that the restaurant is working to connect with local farmers and use Vermont's summer bounty. A few homemade desserts wouldn't hurt, either.