Remember the Asian fusion of the '80s and '90s? Of course you do. The often-wonky attempts at combining flavors live on in your Thai chicken pizza and Chinese chicken salad topped with fried noodles.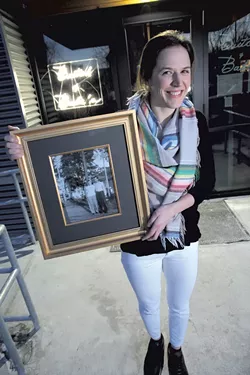 Matthew Thorsen
Kortnee Bush with the photo of her grandparents
Burlington's new restaurant Butch + Babe's opened with the concept of fusing owner Kortnee Bush's Chicago roots with those of Thai-born chef Narin Phanthakhot. But there's not a satay-flavored thing to be found here. That's a testament to Phanthakhot's ingenuity in the kitchen — he's a New England Culinary Institute grad and Worthy Kitchen alum. But it also reflects the priorities Bush has set for her restaurant, which opened in the Old North End in January. Asian fusion isn't the goal; being a "neighborhood pub" is. It just so happens that the pub's chef produces some of the biggest flavors in greater Burlington.
Bush is best known locally for her work with the Burlington School Food Project and the Association of Africans Living in Vermont — which, on paper, doesn't give her much in common with a fine-dining chef like Phanthakhot. But the unlikely pair turns out to make perfect sense. The friends met while Phanthakhot was cooking at Barnard's luxe Twin Farms and Bush managed its dining room — an aesthetic world away from their current eccentric, 45-seat restaurant.
Matthew Thorsen
Narin Phanthakhot
The centerpiece at Butch + Babe's is local artist DJ Barry's portrait of Pee-wee Herman introducing viewers to his old pal Mr. Breakfast, who has pancakes topped with eggs for eyes, a bacon mouth and a strawberry nose. Other walls are decorated with needlepoint projects by Phanthakhot's mother, Jintana. A photo of Bush's grandparents, Rich "Butch" and Marlene "Babe" Lelko, occupies a place of honor, too. The bright colors and sense of family ties help to soften the gray, industrial-looking room in the new building at 258 North Winooski Avenue.
It would be madness not to order the $2 popcorn as soon as one is seated — at least if it's the buttery, spicy curry-lime version. But don't count on it. The menu at Butch + Babe's changes constantly to make room for the freshest local, organic and non-GMO ingredients, as well as for the chef's inspiration.
But since it opened, the restaurant has had one constant: corn cakes. Though the dish isn't seasonal, it's clear why it's been a cold-weather hit. Filled with corn kernels, the fluffy pancakes offer a taste of summer. They're topped with a gingery cabbage-and-carrot slaw, which is in turn swathed in chopped scallions and cilantro. The plate isn't all sunshine: Beside the pancakes lurks the sweet heat of a thick reservoir of brick-red gochujang mayo. With its delectable balance, the dish is a standout on the modest menu.
I made the mistake of ordering those corn cakes and the Korean pork patties entrée at the same meal. Both dishes feature the same slaw and swirls of hot sauce, so the juxtaposition felt redundant. Still, the misstep didn't greatly diminish my enjoyment of the crisp, juicy pork meatballs, presented beside a cilantro-peaked mountain of jasmine rice.
Matthew Thorsen
Corn cakes
Not everything is Asian at Butch + Babe's, which pays special attention to the needs of vegan and gluten-free diners. The former get a treat in the form of "I can't believe it's not carbonara." One of the larger dishes among the restaurant's generally smaller-sized entrées, the vegan pasta dish begins with uncommonly toothsome angel hair. Then Phanthakhot uses silky tofu to replicate the egg and cheese that make up a typical carbonara sauce.
For meat eaters, the creamy texture is almost there, but the bean-curd taste has little in common with the yummy fats we're used to. I have no doubt the dish could satisfy a vegan in a pretty profound way, though smoking or crisping the mushrooms — which sub for bacon in this "carbonara" — would be another step in the right direction.
Desserts are consistently excellent at Butch + Babe's. Topping out at $5.50, they're also inexpensive for the craft involved. A custard, not unlike crème brûlée without the caramelized sugar, was flavored with 14th Star Brewing's Maple Breakfast Stout to wondrous effect. The aroma of beer pervaded the sweet pudding without a hint of alcoholic burn or hoppy bitterness. The same night, a hot, freshly baked brownie was left slightly raw in the center, allowing chocolate to ooze and meld with the salty peanut-butter sauce on top.
Matthew Thorsen
Orange Macaroon cocktail
I sat closer to the door on my second visit and noticed a trend: Nearly every entering group of diners identified themselves to Bush, with excitement, as returning guests. Perhaps that speaks to Babe's success at filling the "neighborhood pub" niche, even though its quirky food is a far cry from hot wings and nachos. Or perhaps its food is just plain good enough to attract diners from farther afield.
Who wouldn't put a few miles on their vehicle for a pair of mac-and-cheese pancakes? For an upcharge of $2, I ordered mine with slices of hot dog combined with the pasta and tossed on the griddle like a breakfast food. My dining partner was appalled by the idea, declaring it something a 7-year-old could have invented. Sure, but macaroni, yellow cheese and hot dogs griddled with pancake batter simply can't be bad — even if the result is a bit charred, as mine was. A dousing of habanero maple syrup certainly didn't hurt.
To add to the Mr. Breakfast-for-dinner proceedings, we sipped an Orange Macaroon with the pancakes. Featuring fresh-squeezed OJ, coconut milk and rum, the drink tasted like a tropical Creamsicle.
Babe's burger, served on buttery focaccia from nearby Barrio Bakery, was not as creative as the pancakes but was still eminently satisfying. I wasn't asked how I like my burger cooked, but the pink medium I got seemed like a good, moist middle ground. A thick spackle of garlic mayo served as a strong foundation for the other flavors. My one complaint was that, with the tower of thick bread, beef, lettuce, tomato and crisp bacon, the burger was too tall to eat comfortably. I cut it up. Fries were also served in prodigious quantity. Though they were crisp, well salted and covered in herbs, I didn't come close to finishing them.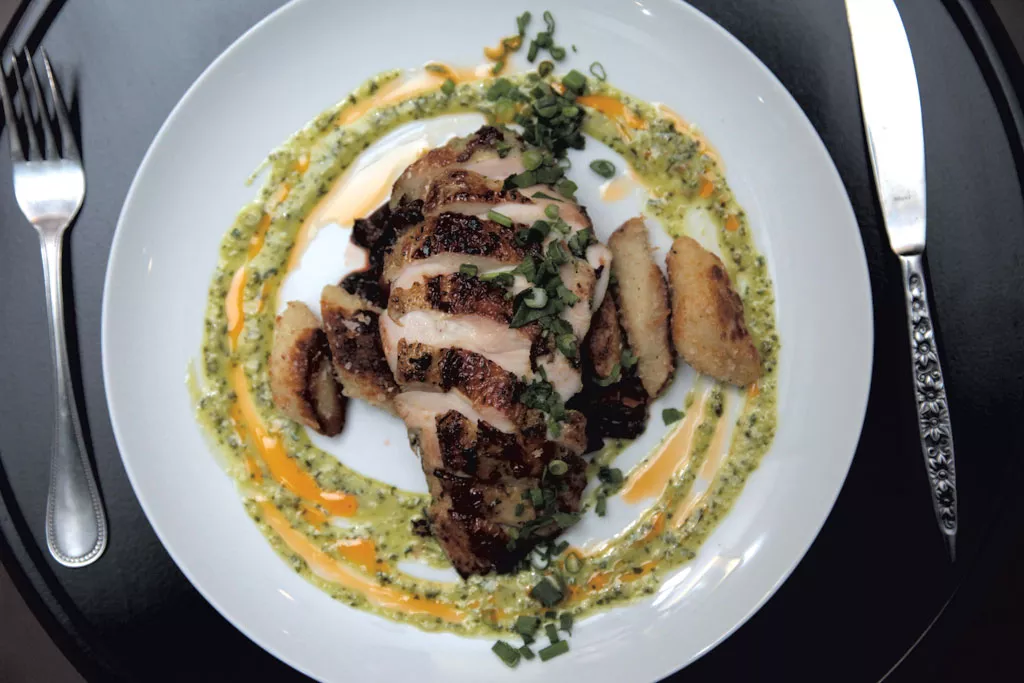 Matthew Thorsen
Jintana Chicken
The signature dish at Butch + Babe's is a take on Phanthakhot's mother's marinated chicken. Jintana's Chicken is a juicy Misty Knoll Farms breast encircled with cilantro-rich sauce. Beneath lies chard, stewed tender and full of garlic in the style of one of the restaurant's African line cooks.
Thailand and Somalia aren't the only countries contributing flavors to Jintana's Chicken. Bush's eastern European grandparents had a popular Chicago business making potato dumplings. She's re-created the starchy treats for this dish, serving them fried golden with crisp breadcrumbs alongside the chicken breast. The combination has no real raison d'être, but each element is so delectably full of flavor that there's no argument against it, either. By the time a diner starts thinking the dish may be too much of a good thing, the relatively small portion will have disappeared.
I ended my final review meal with a chocolate tart. Like the brownie, it was served warm from the oven, but this dessert was covered in a fat dollop of homemade whipped cream and chewy Bourbon cherries. Once again, it tasted and looked like a far more expensive dessert at a far fancier restaurant.
It's our good fortune that Phanthakhot and Bush have joined forces to bring Burlington such a fine, thoughtful casual restaurant. In fact, it's fair to say that Babe's is the best restaurant to open in town in years. Just as Phanthakhot isn't shy with salt and spice, diners shouldn't be leery of trying this new chapter in the saga of Asian fusion.