The amuse bouche was both unexpected and strange — a dollop of creamy pimento cheese and a couple of Ritz crackers. But the cheese, steeped in American Southern tradition, calmed and comforted, as if to say, "You're across the lake now. Welcome to vacation."
So began a recent dinner at Blue Collar Bistro, a new restaurant in downtown Plattsburgh. It's the Lake City's first with a from-scratch, farm-to-table menu.
The project began in 2013 as a pop-up eatery at the Plattsburgh Farmers' and Crafters' Market. Cindy Snow wanted to bring fresh, local food to her hometown, where her family has been in the restaurant business since 1971. She started serving Cuban and grilled-cheese sandwiches to hungry passersby and quickly earned herself a following.
In March, Snow partnered with co-owner and co-chef Ben Eichenberger to open a permanent restaurant. They've created a pint-size powerhouse of a place in an old storefront, tucked among the dusty junk shops on Margaret Street. Their menu is an exercise in beautiful paradox: It's globetrotting but regional, classic but modern, aspirational but not pretentious.
Blue Collar Bistro's menu is, first and foremost, long. So long that its many pages come clamped to a clipboard for handier perusing. Even after chatting with both chefs, I was still mystified as to how the kitchen covers that much ground in a single shift.
Despite its length, that menu is coherent. At a more ego-driven restaurant, having two chefs in charge would be a recipe for self-destruction. But Snow and Eichenberger, it seems, simply like making lots of different things. In quiet, subtle ways, they coax new flavors from old ideas, and, during two recent visits, their style revealed itself as I ate my way through dish after dish.
Inspiring that kind of appetite is exactly the restaurant's intention. Snow said she wants to keep things affordable enough that locals can visit often and eat plenty when they do. "Cindy wants people to be able to eat out three nights a week," Eichenberger told me on a recent afternoon. Snow thinks of Blue Collar as an "everyman's diner," she said.
A modest bowl of poutine — studded with smoky hunks of stringy, house-pulled pork — costs you $8. Smoothed over with just a bit of simple, savory veal gravy and melty bits of local cheese curd, the sublime piggies happily cohabitated with a crisp bowl of fries. Taking the "from scratch" mantra to the nth degree, Snow and Eichenberger make the ketchup themselves — and, yeah, it's just ketchup, but the day I had it, it was great.
Then there were the sloppy joes ($8). Instead of the familiar ketchup-soaked beef in a bun, Snow serves a meaty mélange (chicken and pork seasoned with Asian sauces and spices, plus a bit of that glorious ketchup) with al dente round rice noodles and crisp, fresh local lettuce, Thai-wrap style.
I was so taken with the fun of spooning meat and noodles into the greens, then cradling the crunchy little wraps between my fingers like tea sandwiches, that a funny thing happened. I forgot what I was eating. In this wrap format, my mouth expected a spicy Thai larb, or chopped-meat salad, which wasn't what I got. I was confused. The flavors were familiar and vaguely Asian, but not quite larb. When I finally placed the taste, the epiphany drew me back to Earth: It was a sloppy joe. But it was a low-carb, gluten-free update of the time-honored, working-class meal. Suddenly I was laughing and happy.
It's not often that a restaurant can clearly label something on the menu, then serve it in such a mind-bending way that the dish causes a professional eater to forget what she's eating. Sometimes, when a kitchen delivers exactly what it promises, eating there is like coming to Jesus.
That may be the most striking thing about Blue Collar Bistro: It delivers. The place is affordable, as the name suggests; it sources ingredients locally, just as it claims. And, in the spirit of a bistro, it's a convivial gathering place where folks of all stripes can share an everyday meal on any ole night of the week.
The approach seems to be working. Even at noon on a Tuesday, most of the bistro's seats were filled. On a recent Thursday at 6 p.m., summer student holdovers pulled up to the long, L-shaped bar as young families and trucker-hat retirees tucked themselves into antique wooden booths. A blue velvet banquette along the wall hosted a family gathering, and evening sunlight streamed through picture windows, washing over all. On the sidewalk outside, a crowd chattered over summer meals as the sun sank behind the buildings.
That night, my husband and I ate outside, drinking seasonal beers from Lake George's Adirondack Pub & Brewery and Magic Hat Brewing, both of which rang in under $5. Blue Collar has no cocktails, but there's an expansive, value-focused wine list for folks looking to class it up a bit.
"I just wanna let you know, we're out of the corned-beef Reuben," our waiter told a neighboring table. He didn't mention it, but that corned beef is cured in-house. Since it takes up to five days to brine, when it's out, it's out. I overheard people at another table saying patrons will sometimes wait five days for their Reuben fix. "That's one of the first things we run out of," the waiter apologized when I asked about it later.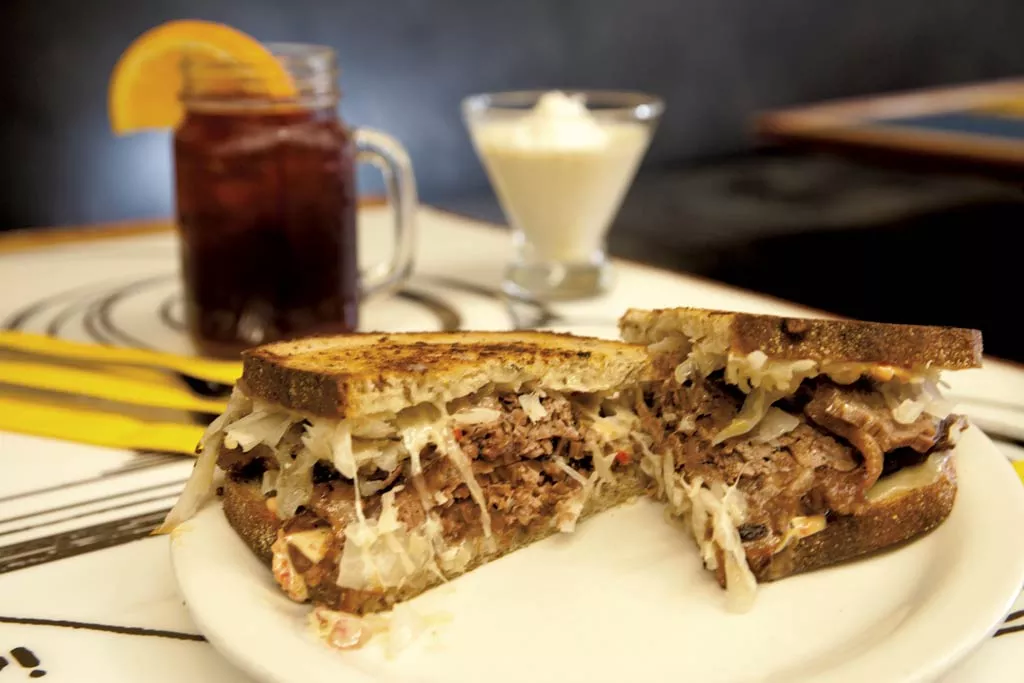 Matthew Thorsen
Reuben sandwich
When I finally got my paws on the sought-after sandwich ($8) weeks later, I fell hard and fast at first bite. Its tender, briny corned beef, thick-sliced and bookended by buttered, toasty rye; its zingy sauerkraut; satisfying slick of Southern-style remoulade (Snow's family comes from the South); and subtle, sweet Swiss all add up to a sandwich worthy of a Shakespearean sonnet.
If Blue Collar's version digressed a wee bit from what you'd expect from the classic stack, it was still exactly what a Reuben aspires to be. It was a hefty load, and eating it for lunch spoiled my dinner. But I'll do it again ... and again, for as long as they'll have me.
The Reuben was a hard act to follow, but Snow's farmers market Cuban ($7), with its thin-sliced, deli-style ham crowning a tender, marinated pork loin and garlic dill pickle, kept up pretty well. Layered into a soft panini roll, pressed to optimum crispness, it's a fine rendition of the Floridian standard.
There's nothing standard about Eichenberger's chicken Marsala ($15) — a dish I rarely order. Here, though, when my waitress (who happens to be married to one of the chefs) recommended it as one of the best things on the menu, I trusted her. And, boy, it was a sight to behold.
Crisp, bacon-wrapped cutlets of melt-in-your-mouth chicken — stuffed with chicken sausage, toasted squash seeds and McIntosh apples — were perched atop a heap of mashed potatoes and shrouded in savory Marsala veal demi-glace. That sauce, and the dish as a whole, was at once highfalutin and homey. Somehow it tasted like mom's cooking — if your mom was the best cook on Earth.
A roasted half chicken ($12) was more pared down. Still, it was a succulent beast, beer-brined with spice and juniper berries for days and juicy to the core. Cut down the spine, it came served with the same basic but great mashed potatoes and unadorned vegetables. The preparation is based on a dish Snow ate in a period restaurant near Gettysburg, Penn., she said. Yet in this, as in many dishes on the menu, chef-y nuance takes a backseat to quality ingredients.
In an era of big-name chefs pushing their big ideas on an insatiable generation of eaters, reliance on raw material is one of the bigger ideas I've seen carry a restaurant in a while.
Eichenberger and Snow get even more down-home and old-fashioned with dessert. When was the last time you saw butterscotch pudding on a menu? For me, it had been decades, and I hadn't been looking to see it ever again. But Blue Collar Bistro's bourbon butterscotch pudding ($3) was a smooth, creamy, spoonable blast from the past, flecked with fine-ground vanilla bean and richly saturated with buttery sweetness with just a flicker of boozy shine. If there's a butterscotch revival brewing, this version should be the standard bearer.
The pudding really nailed dessert, but a ricotta pie ($3) held its own, too. The flaky cake aced the classic baked-ricotta texture and was imbued with lemon zest and something a little herbal: Fennel? Juniper berry? When I spoke with the chef, I didn't ask; sometimes wondering is more interesting than knowing.
In the best sense, Blue Collar Bistro is a place that makes you wonder. Over both my meals, and in between and after, I wondered. About the menu, about what I was eating, about new- and old-fangled cookery, and about why we eat and where it all comes from and where it's all headed. And how food fleshes out the flavor of so many memories.
The restaurant also seems to pose a question about two very different shores of Lake Champlain. Blue Collar Bistro is in Plattsburgh, where it's affordable and tailored to the local palate. Could a place like this pay the rent in pricier Burlington?
If it could, the Queen City would be the better for it. But maybe this precious little café is something that Burlingtonians, with all their other amenities, will have to take that puddle-jump across the lake to enjoy.
Maybe the distance is a good thing. Blue Collar provides just what you need when you want to feel like you're on vacation: a relaxed and inexpensive retreat befitting an evening away.
INFO
Blue Collar Bistro, Plattsburgh, N.Y., 518-324-7888.
The original print version of this article was headlined "Everyman's Menu"