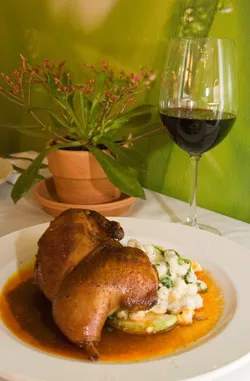 For two and a half years, Chef Chris Hechanova ran a successful take-out and delivery business from his apartment kitchen. Though Big Chile Republic's advertising was limited to guerrilla tactics such as flyering car windshields, and its menu and hours could be erratic, it was a hit.
Since Hechanova shut down the business in May 2006, in-the-know Chittenden County residents have been clamoring for another taste of his flavorful, Latin-Filipino fusion cuisine. Talk of his fabled fish tacos, cauliflower cakes and meats cooked "adobo" style was enough to put a lustful gleam in many a local foodie's eye. (For those unfamiliar with Filipino cuisine — a novelty in Vermont — it combines influences from Malay, Chinese and Spanish cultures, a heady, highly seasoned blend.)
Now Hechanova is back, in a Colchester strip mall a stone's throw from Interstate 89. Junior's, which used to serve up cannoli and pizzas in the same space, has expanded into a multimillion-dollar building nearby.
Hechanova has partnered with Mark Gauthier, formerly of Red Square and Club Metronome, to bring his unique culinary sensibility back to the region, giving hungry folks a choice of delivery, take-out, catering or sit-down dining. Those who eat in are currently relegated to a tiny dining room with only 24 seats, but in a few weeks Big Chile will open a larger dining room upstairs, tripling its capacity.
Two visits in the restaurant's second week were enough to prove that this is some of the most original, vibrant food to be had in the Green Mountains. Chef Hechanova is masterful at balancing the flavors in a given dish: He always seems to include just the right amount of vinegar or spice. What further sets his food apart is his ability to use salt properly — enough to brighten other flavors, but not overwhelm them — a quality sorely lacking in so many Vermont chefs. I could easily be persuaded to order anything on the menu.
On my first, lunchtime visit, the service was casual and a touch lackadaisical — it took a while to get menus — though the food was ample compensation. We began with soup and salad, which sounds like standard lunch fare. But, like all of the dishes I tried at Big Chile, both offerings stood out from the crowd.
The salad was composed of a tangle of mizuna — a green with leaves shaped like a dandelion's, common in salad mixes — lightly coated in a cider-sherry dressing, with slices of sour apple, bits of queso fresco, slivered almonds and a smattering of Serrano ham. The plain mizuna was a refreshing change from ubiquitous mesclun mixes; it has a delicate, slightly piquant flavor. There wasn't much ham, but each meaty, flavorful bit went a long way.
The soup — a daily special — arrived with a pungent, deep-brown broth crowded with wide noodles, minuscule bits of beef and fat mushroom chunks. It tasted refreshingly of vinegar and spice, and the meaty mushroom pieces were imbued with flavor, although the noodles were approaching disintegration.
Next, we moved on to a couple of small plates. The fish in the fish tacos was lightly battered and fried, but not greasy in the slightest. It came on a bed of spiced red rice and was topped with onions, cilantro and a thick strip of smoked lemon mayo. (The shredded cabbage mentioned on the menu was nowhere to be found.) I loved the lemony condiment — reminiscent of a classier version of creamy, tangy tartar sauce — and was pleased with the light, crisp fish. A slightly spicy pulled-adobo-chicken wrap was redolent with cinnamon and chiles.
We ended lunch with a brownie and a lemon bar. The former was merely pleasant, but the hefty lemon bar was perfectly tart and sweet.
Since lunch had been a laid-back affair, I was surprised on arriving for Thursday night dinner to find a maitre d' and a server wearing a white shirt and tie. For the evening meal we got a wine list, as well as a list of special tapas. Though I'd already planned the appetizers I wanted to try on this visit, I was swayed off course by two appealing specials: fried oysters on a mini-Caesar salad with smoky tasso ham, and duck confit with Vermont blue cheese and a mashed-potato chimichanga. In addition, we ordered cauliflower cakes, and I got a glass of a Sauvignon Blanc to sip while we waited.
It was lucky I did, because the plates took a long time to arrive — so long that our server started to pace, looking edgy. After the kitchen finally delivered, he even asked us whether our dishes were worth the wait.
I began with one of the tender, deep-brown curried cauliflower cakes, served with goat cheese and an almond-pea coulis. Delicious. By that time, my dining partner had eaten half the confit dish. We traded plates, but I couldn't find any blue cheese or potato: The savory, crispy duck leg was on a bed of hominy and cabbage instead. It seemed we'd received the confit dish from the regular menu rather than the tapas special, but we liked it enough to eat it instead of sending it back. I enjoyed the fried oysters, which showed up somewhat later. Unlike the salad I'd tried at lunch, the accompanying Caesar was weighed down with dressing, albeit a tasty, creamy one.
Though we may have begrudged our initial wait, we were glad to have some breathing room before the entrées showed up. I ordered a glass of Portuguese Quinta Dos Grilos, braving an inky-colored, fruity red even though we'd ordered pork and chicken. Our server encouraged the experiment, explaining that he "was in love with" my chosen libation. It turned out to be a fine match for the ultra-crispy pork shoulder with tender white beans and crisp green beans, all topped with Spanish romesco sauce, traditionally made with pureed roasted red peppers and almonds.
The red also paired nicely with the adobo chicken on a bed of sour apples, queso fresco and hominy with sherry jus. The chicken was tender and juicy, the jus perfectly seasoned. I did think that, in this case, a sweeter apple might have been a better complement than a sour one. One other gripe: While the chicken breast was perfectly cooked, we found the leg, which we wrapped up and reheated the next day, to be undercooked at the bone.
Our waiter was gracious — and funny — when I toppled my glass of wine as I reached for the menu, splashing the floor and my husband's clothes. A good server can pick up on a table's mood and react accordingly, and this one did: We laughed good-naturedly about my clumsiness, and he mock-threatened to ask for my address in case of indelible stains.
We were too stuffed for dessert, but couldn't resist getting a chocolate-almond tart to go. It was a good thing we did. The generously proportioned tart included a layer of gooey, bittersweet caramel, dark chocolate and a thick coating of toasted almonds seasoned with cinnamon and a hint of salt. A puddle of orange-scented crème Anglais surrounded the whole thing. When I'd recovered enough to eat it the next day, I pronounced it one of the most memorable desserts I've tried from a local restaurant.
From beginning to end, a meal at Big Chile Republic is eye-opening, tantalizing and tasteful. The food is moderately priced, too. BCR's most expensive entrée comes in at just under $23. Hearty small plates cost between $4 (for soup) and $11.95 (for duck), but most fall between $7 and $8. And vegetarians will appreciate the exciting meat-free options, such as arugula and chickpea salad with creamy coriander dressing; and lumpia (the Filipino take on eggrolls) stuffed with shiitake and oyster mushrooms, green beans and jicama. There's a vegetarian entrée of the day, too.
The days when Hechanova's food was Greater Burlington's best-kept secret are gone, but no one's got any reason to be nostalgic. I'm already planning my next meal.