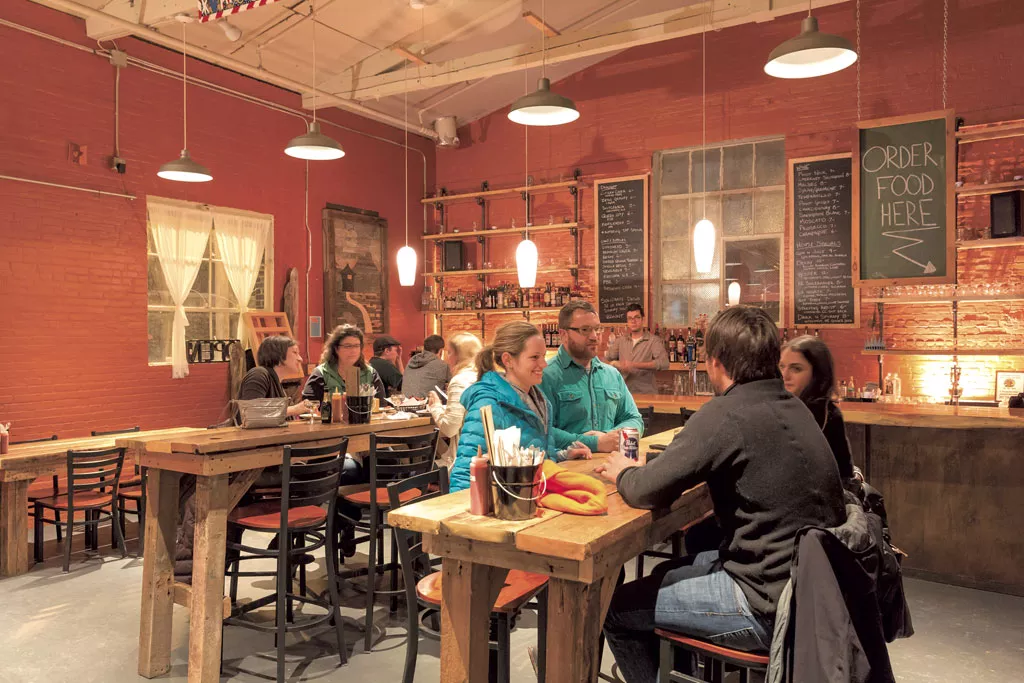 Oliver Parini
The dining room at ArtsRiot
On a recent, subzero Tuesday night, a family of four, plus a couple of friends, straggled into a Burlington bar. A young girl — maybe 4 or 5 — was tucked into a pink hat, mittens and puffy jacket. A stuffed animal dangled from her grasp as she shuffled to a table.
It was not the crowd you'd expect to see at hip hangout ArtsRiot. But lately the industrial space — with its soaring ceilings, exposed pipes and murals suggesting youth and rebellion — feels surprisingly homey.
Three months ago, ArtsRiot founders PJ McHenry and Felix Wai introduced a new menu at the Pine Street gallery/performance space/bar/restaurant. Chef George Lambertson, who had been serving weekly pub-style meals there since January 2014, took over the kitchen.
Lambertson comes with a fine-dining background. After culinary school, the South End native spent years slinging high-end cuisine, including at Burlington's Hotel Vermont and now-closed Pistou. At those places, the menus weren't his to make or change. Now, the chef says he's glad to get out from under the white tablecloths. At ArtsRiot, service is informal; orders are placed at the counter and delivered by a food runner.
"I've always really liked a casual setting," he told Seven Days via phone last week. "I want it to be fun! I go into all these places and it's not fun." His food, Lambertson hopes, will enhance — rather than be — the experience of going out. Which makes sense, considering ArtsRiot's mission: to "destroy apathy" by cultivating community engagement and face-to-face human connections.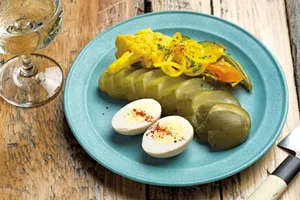 Oliver Parini
Pickle plate
While bringing people together for cocktails is a surefire way to engender connections, the food at ArtsRiot intially seemed like an afterthought. The menu changed constantly. Service was scattered and unreliable. The 40-seat dining area felt more like a loft party than a place to break bread. It was as if McHenry and Wai were trying to figure out how to serve booze (and food) in their space without actually running a restaurant.
But for Kitchen 3.0, ArtsRiot has brought on a serious chef who pairs creativity with skill. The friendly, capable front-of-house staff seem to genuinely care about delivering his food while it's still hot. On one recent visit, our bartender took a drink order, made the drinks, and returned with these and a set of side plates (to aid in sharing dishes) in under three minutes — far faster than I've experienced in some of Burlington's finest establishments.
During my visits, we kept mostly to beers — IPAs from Shelburne's Fiddlehead Brewing, ESBs from nearby Queen City Brewery — but there's wine, too, and a full bar for those who prefer harder stuff. One night, I drank Boilermakers (Citizen Cider floated with a shot of bourbon). Who knew that Burlington's townie cider would go so well with bourbon? ArtsRiot, that's who.
For food, Lambertson's everyday menu is brief. Its offerings, which the chef says he built around "fast-food flavors," are squarely grounded in pub cuisine. Dishes include snacks (pickles or pickled egg, fries); appetizers (popcorn chicken, market salad); and sandwiches. A curious curry was the sole object to break the snack/app/sandwich mold when I was there, though Lambertson debuted several new dishes last weekend. These included a few more entrées and sides, and some smaller plates that I tried as specials.
One standout was the tempura delicata — rings of velvety squash encased in brittle, airy breading and drizzled with honey and a bit of chile. Another winner was a plate of house charcuterie. This featured a calico cut of porky pâté, flecked with Craisins and pistachios and served alongside a silken scoop of chicken-liver mousse.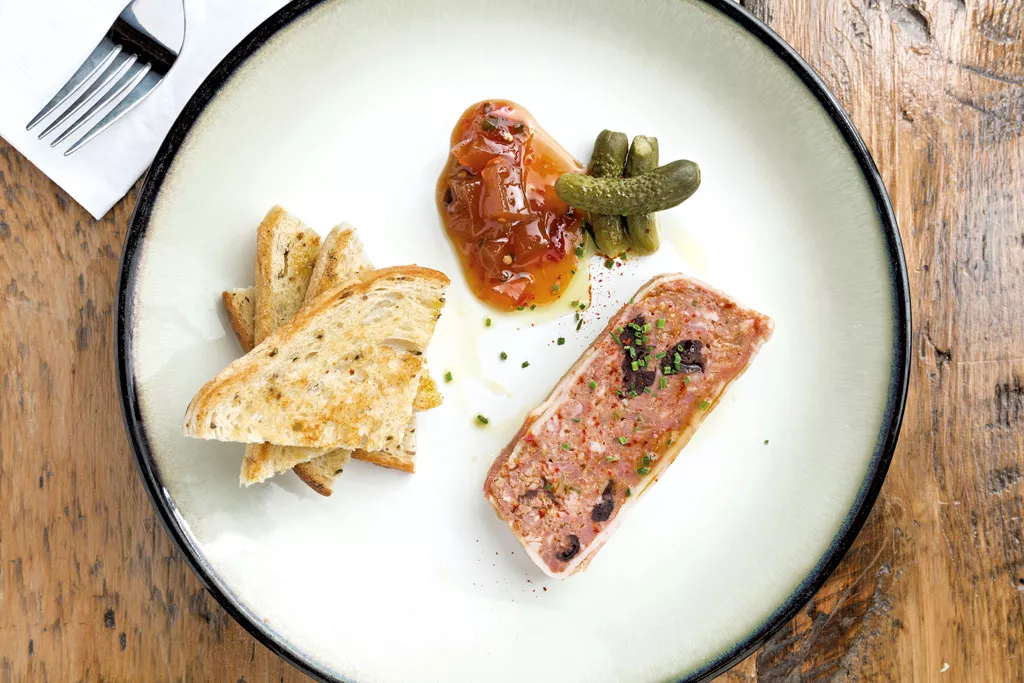 Oliver Parini
Pâté de Campagne
While the pâté (now on the menu as Pâté de Campagne) played with ideas both upscale and down, and with flavors sweet and savory, the mousse kept a blissfully even keel. Underpinned by a whisper of wine, the mousse was nice smeared solo on buttered toast. And if the liver tipped toward a surfeit of iron, a slick of Lambertson's piquant-but-sweet apple/ancho-chile jelly righted the spread to a near-perfect balance.
Across the menu, the chef puts his training to work. Using advanced techniques to reveal unexpected subtleties of flavor, Lambertson's condiments (he makes an array of pickles, preserves and fermented items in-house) tend to elevate dishes from good to excellent. And though the regular menu is pub-fare friendly, the chef gets fancier when it comes to the nightly specials.
One night, a filet mignon made an impression. Perched on a heap of impossibly smooth, buttery mashed potatoes, the supple steak came scattered with roasted crimini mushrooms, which were button-size bombs of fungal essence. Whole shallots, sous-vide confîted with butter and herbs, fell apart in layers. Each piece of the dish acted as color might in a painting. The shallots' sharp flavor provided a splashy contrast to the forest-floor funk of the mushrooms, even as the blood of the steak and creamy, snow-white mash dominated the canvas.
The popcorn chicken, served with luscious smoked buttermilk for dipping, was an exercise in fried-chicken finery. Its elegant, minimal breading was thick enough to crackle when I bit it, but light enough that it didn't drag the dish into a greasy mire. The copper-toned cracklers were an ample starter for four, or a solid meal for a single.
If the filet and that comely, delicate chicken seem to stray from Lambertson's lowbrow flavor mission, the ArtsRiot burger shot fast food straight from the hip. Cooked through and through (not to any particular temp), the Angus beef patty was as thin as any from a diner griddle and riddled with fatty, burger-chain flavor. Maybe it was the "'Merican" cheese, or the mystery "special sauce" (a blend of ketchup, mayo and housemade relish), which Lambertson declined to divulge in much detail.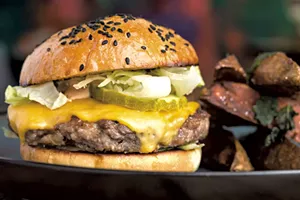 Oliver Parini
The 400 Burger
"It's my take on the Big Mac," he allowed. "That is, like, the most iconic dish in the world, but it's so gross. I wanted to make a good one."
Accompanied by golden steak fries (crisp wedges, seasoned with herbs) and spicy homemade bread-and-butter pickles, it was a McDelightful knockoff.
Pickles reappeared in a South End smoked-meat sandwich, stuffed with soft cuts of brisket that had been brined and smoked in-house for days. Properly pink at the edges, the meat married well with grainy mustard spread on crisp, buttered rye.
While many dishes are fried, straightforward and served with a pickle, Lambertson's cooking shows forethought and rare restraint. His bill of fare leans more toward gastropub than common bar fodder.
One gastropub hallmark is to present familiar dishes in unusual forms. In a fun take on General Tso's chicken, Lambertson dressed tender hunks of pork in the expected sticky-sweet soy sauce. But then he stuffed them into pillowy buns with red cabbage kimchi and pickled chiles for a groovy, finger-licking sandwich.
And few things are more old-school Vermont than a pickled egg — a forgotten favorite from my youth, typically found at general-store checkout and deli counters. At ArtsRiot, boiled eggs float in a jar of Sriracha-spiked red brine near the register. Served in a shot glass, an egg, with its spicy, razor-sharp vinegar overtones, had little in common with those I'd had as a girl. But for a $2 snack — perhaps paired with a Starving Artist drink special: a PBR can and a shot of whiskey for $7 — it really cut the mustard.
If there's one thing the menu lacks, it's dessert. Yet on one of my visits, Sunshine crêpes — ordered from the list of nightly additions — offered a sweet finish to a meal among friends. In these, a heady dollop of crème fraîche melted into thrice-folded, lissome crêpes, topped with glassy discs of candied orange and drizzled with lemon-tinged caramel.
That night, we lingered to spoon the citrusy, cream-laden crêpes into our mouths. The tables around us were full. Over drinks and dinner, people of all ages and walks of life talked real estate, art projects, politics, work and family.
And that's when it dawned on me: The ArtsRiot dining room had transformed from disorganized loft scene to something Burlington's South End had been sorely lacking — a neighborhood restaurant.
The original print version of this article was headlined "Good for the 'Hood"