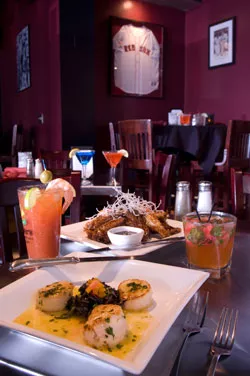 Sports bars are usually defined by two crucial elements: beer and televisions. Then there are the plates of once-frozen, deep-fried snacks, the no-nonsense staffers and the raucous patrons cheering or jeering at the TVs. Haute cuisine and gracious service aren't usually part of the deal.
That's not the case at 156 Bistro, a newly opened "sports bar" restaurant in the former home of Meñores, Plan B and The Waiting Room. First of all, if you want to, you can find a table far removed from the tubes that are sprinkled around the dining room. More intriguing, the menu mixes traditional pub snacks with slightly fancier "contemporary American" fare: Think pan-seared scallops with ginger and braised Swiss chard.
The décor is definitely on the masculine side — a rich, dark paint job, comfy banquettes and a big chalkboard listing major sporting events of the day. Carnivores will find plenty to like on the menu.
But there's more to 156 Bistro than meat, potatoes and football. For one, the cocktail offerings are a cut above, with daily specials that include primo ingredients such as fresh fruit and mint. I ordered the spicy Bloody Mary "fiery," but our helpful server suggested toning it down. She also made sure to serve the drink's jumbo shrimp garnish on the side, since she hadn't asked about shellfish allergies. Did I mention the trio of plump olives in place of the usual celery stalk? It was a preview of coming attractions.
Appetizers at 156 range from the "hot" Buffalo wings to the more creative Thai Sticky Wings — both priced at $8. The former were crispy and served with a generous portion of blue cheese dressing. The latter — glazed with a honey-hoisin sauce and sprinkled with black and white sesame seeds — were presented under a wild tangle of fried rice noodles. The chicken, sticky as advertised, was sweet and satisfying.
Spinach and artichoke dip — a pub standard — is the only meat-free app on the current menu. Though appealingly garlicky, the artichoke heart hunks were too ungainly to balance on crisp, herbed bagel chips. Dangling strings of wilted spinach made things messy, too. Judicious use of a blender would solve both problems.
The soup du jour, on the other hand, underpromised and overdelivered. Simply called "ham soup," the generous bowl of creamy broth actually featured prosciutto, ham's sexier Italian cousin. It was drizzled with a tidbit of truffle oil — not your standard sports-bar condiment.
Between courses I examined the dining room. Decorated in black and magenta, the space feels cozy and clubby. Only a few patrons were lingering at the bar, and most of the tables were empty on a sunny Thursday evening. The chefs, working quietly, were visible in the semi-open kitchen.
They sent out a tossed salad with just the right amount of house vinaigrette, but the greens hadn't been well vetted, and some pieces were slimy. Placing whole red-onion rings atop salads is an unfortunate trend. Tiny bits of onion or shallot — whether sprinkled over the plate or mixed into dressing — are a lovely complement to many vegetable concoctions. Entire rounds throw things out of balance.
Chopped Salad — a take on the classic Cobb — came topped with thick slivers of smoky bacon, grape tomatoes, blue cheese, hard-boiled egg and lots of perfectly ripe avocado. A bit of restraint with the sweet, honey-mustard dressing would have earned it a gold medal.
Although the chefs at 156 are clearly striving to make the food memorable, some of the dishes could have used more zip. A colorful Misty Knoll chicken roulade, stuffed with prosciutto, roasted red pepper, fresh mozzarella and spinach, didn't stand out. I rarely order salmon — chefs just don't seem jazzed about the pink stuff, perhaps because of its "obligatory seafood dish" status — but the bistro's cilantro-lime-ginger rendition sounded intriguing. The filet was nicely cooked, and the sweet-pea risotto was a refreshing change from potato sides, but the bold-sounding flavors didn't really deliver.
A burger arrived closer to medium than the requested medium-rare, but the patty, advertised as "freshly ground," was bursting with flavor — it was dotted with blue cheese and redolent of Worcestershire. Ketchup delivered sweetness and acidity, but a funky homemade condiment would be a nice touch.
As with the apps, vegetarians have only one entrée option: Vermont Pasta. The dish of fat, corkscrew-shaped fusilloni — like fusilli on 'roids — was topped with char-licked roasted Roma tomatoes, more wilted spinach and cheddar sauce. The cheese sauce was pleasant and the tomatoes were zesty. Had they been chopped and scattered, the bits would have pumped up the flavor of every bite.
A daily special of scallops and shrimp Provençal over noodles sounded garden variety, but it turned out to be a home run. The "pan-seared" shellfish was tender and sweet, although it lacked the hint of caramel color that signals deepened flavor. The best part was the winning rendition of a classic white wine and butter sauce.
The pair of pasta dishes illustrates one of 156 Bistro's main — and easily remedied — flaws. When a restaurant is young, the owners economize by using identical ingredients in numerous menu items. Here, the same noodles were used in each entrée, and the seafood version was studded with — surprise! — tomatoes and spinach. Nearly every main dish came with potato wedges, either roasted or fried. Shrimp popped up all over.
Another example: The regular steak entrée and a nightly steak special seemed like attractive identical twins dressed in slightly different outfits. Both pieces of meat were great: heavily seared on the outside and juicy rare within. The off-menu version, a New York strip sauced in a rich, winey reduction, came with tender potato wedges, asparagus stalks and onion rings. The other steak was served au jus, with meaty 'shrooms, potato wedges and "seasonal vegetables." The latter proved to be none-too-seasonal asparagus spears.
For the occasional visitor, this repetition might not be a problem. But for a regular — or someone with dietary restrictions — seeing the same ingredients repeatedly could make the menu feel tired. Hopefully, as business picks up, other vegetables, varied starches and meats such as pork and duck will occasionally crop up.
A trio of homemade desserts — butterscotch apple tart, blueberry tart and creamy cheesecake — were simple, good and sweet.
When our server brought the check and our wrapped leftovers, the takeout containers were labeled with the name of the restaurant and the date — yet another example of 156 Bistro's exceptional customer service. Extra plates appeared with each course to accommodate sharing. Water glasses were regularly refilled.
On my second visit, my friends and I sat by the open, garage-door-style window with a westward view. When our server noticed that I was squinting in the late-evening sun, she offered to close the window, but noted that the glare would soon dim. She was right, and the sunset was beautiful.
For now, the food at 156 Bistro is good, but not quite as dazzling as evening skies over Lake Champlain. However, some Burlington-area restaurant owners could take a lesson from whoever coached this staff to provide such excellent, nuanced service. And, as the restaurant acquires a cheering section and the dining room gets busier, that's one thing that should stay just as it is.