What happens to grapes left on the vine during Vermont's bitter-cold winter? They freeze, of course. Most winemakers bring in their harvest in early autumn, racing the weather to pick grapes before the first frost. But some Vermont vintners make a conscious choice to leave fruit untouched until winter hits. They wait for temperatures to sink to about 15 degrees Fahrenheit (usually by mid-December), then head out into the vineyard wearing heavy jackets, hats and gloves. They pick crystalline clusters of the frozen orbs, then hurry to press them before they have a moment to thaw.
The resulting juice is thick and sweet — much sweeter than that gleaned from unfrozen fruit, since the freezing process concentrates each grape's sugars and flavors. Winemakers then ferment this liquid into a super-sweet, intensely rich beverage called ice wine.
Ice wine can be traced to a happenstance vintage in Germany, sometime in the late 1700s or early 1800s. As the story goes, winemakers happened upon frozen grapes — perhaps left unpicked for livestock forage or victim to an unseasonably early cold snap. The winemakers pressed and fermented the fruit, and the experiment resulted in a wine that was intense, fruity and pure — and fiercely alcoholic, given the high sugar content. Though vineyards wouldn't start making ice wine — or eiswein, as it's known in German — on a commercial scale until the 1960s, a new kind of wine was born.
With the development of new, cold-hardy hybrid grape varieties, viticulture has gained a foothold in northern climes from Minnesota to Québec. Here in Vermont, where much of the state reliably settles into a long winter freeze by mid-December, a handful of winemakers has begun producing ice wines as a way to stretch their harvests and diversify their portfolios.
Under ideal circumstances, ice wine is pressed from grapes with a strong, tart character. "Good acidity is nice in an ice wine," says David Boyden, who has been making ice wines at Boyden Valley Winery & Spirits in Cambridge for nearly a decade. "It's so viscous and sweet that a good amount of acid really works well."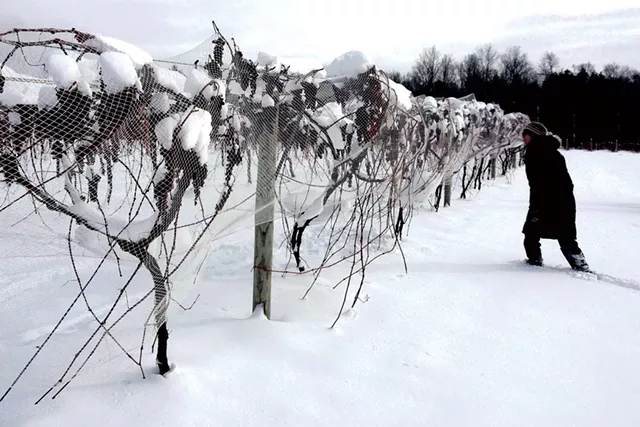 courtesy of Sara Granstrom/Lincoln Peak Vineyard
Ice wine vines at Lincoln Peak Vineyard
That means Vermont grapes are uniquely suited for ice wine production, as most are hybrids of puckery North American and European varietals. Boyden uses frontenac grapes to produce a rare red ice wine with flavors of blackberry and plum.
Grapes with softer flavor, such as chardonnay or varietals used for Champagne, tend to yield syrupy-sweet, insipid ice wine. "Something like chardonnay would ripen [and freeze] with no acidity," says Shelburne Vineyard co-owner Ken Albert, who uses zippy Vidal blanc grapes — regarded by many cold-climate winemakers as a go-to ice wine varietal — to produce his award-winning Duet.
The sweetness of ice wines lands them squarely in the dessert-wine sector. (Most dry table wines are bottled at less than 1 percent residual sugar, whereas ice wines hover at about 15 percent.) Boyden pairs his white variety with crème brûlée and other custards, serving his red with chocolate or mixing it into cocktails in lieu of simple syrup.
However you consume it, ice wine opens a special window into a grape's character. "It's a good way to really taste certain grapes in really high concentrations," Boyden says. "We make our Big Barn Red [table wine] with frontenac, and you can taste the grape somewhat — but with ice wine the flavors are just awesome. They're definitely special."
Grape to Glass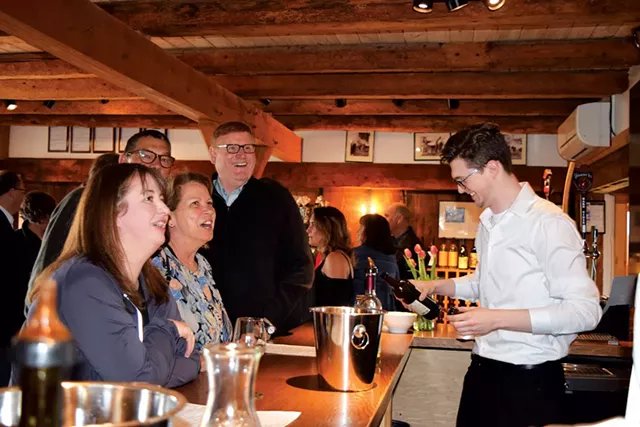 Courtesy Of Boyden Valley Winery
Boyden Valley Winery & Spirits
Want to sample ice wine for yourself? Head straight to the source: All of these vineyards produce it within an hour of Burlington.
Boyden Valley Winery & Spirits
Visitors can sip ice wines, traditional wines, ciders, distilled spirits and liqueurs inside the picturesque post-and-beam tasting room at this farm, vineyard and distillery.
Lincoln Peak Vineyard
Pair this vineyard's award-winning Firelight ice wine blend with a nibble of lemon-lavender white-chocolate bark — then sample a few drier offerings from this granddaddy of the Vermont wine scene.
Shelburne Vineyard
Winemaker Ken Albert constantly pioneers new techniques in the vineyard and the cellar. 2016's ice wine won't be ready until spring 2017, but guests can sample other dessert wines in the airy tasting room, just down the road from Burlington.
Snow Farm Vineyard
This island vineyard was Vermont's first to bottle an ice wine. Sample a glass of sweet Vidal blanc, which has earned gold medals in several industry competitions.
---
Qu'arrive-t-il aux raisins laissés sur les vignes durant le rude hiver du Vermont? Ils gèlent, bien sûr. La plupart des vignerons font les vendanges au début de l'automne afin de récolter les raisins avant le gel, mais certains choisissent délibérément de ne pas y toucher avant l'arrivée de l'hiver. Ils attendent que la température descende à environ 10 degrés Celsius sous zéro (habituellement vers la mi-décembre), puis, après avoir revêtu tuque, gants et manteau chaud, ils prennent le vignoble d'assaut. Ils cueillent alors de jolies petites grappes de sphères glacées, qu'ils se dépêchent de presser avant qu'elles ne dégèlent.
Le jus qui en résulte est épais et sucré — beaucoup plus sucré que celui des fruits récoltés avant le gel, étant donné que le processus de congélation concentre les sucres et les saveurs de chaque grain de raisin. Les vignerons font ensuite fermenter ce liquide afin de le transformer en une boisson riche, au goût intense et très doux : le vin de glace.
Le vin de glace est en quelque sorte un produit du hasard. Sa tradition remonte à la fin du 18e ou au début du 19e siècle, en Allemagne. On raconte que des vignerons seraient tombés sur des raisins gelés — laissés sur les vignes pour l'alimentation du bétail ou victimes d'un coup de froid particulièrement hâtif — et qu'ils auraient décidé de les presser et de les faire fermenter. Leur expérience aurait donné lieu à un vin à la fois intense, fruité et pur — et très fort en alcool, vu le taux de sucre élevé. Un nouveau type de vin était né, mais il faudra attendre les années 1960 pour que les vignobles se mettent à produire du vin de glace — ou eiswein, comme on dit en Allemand — à l'échelle commerciale.
Avec la création de nouveaux cépages hybrides et résistants au froid, la viticulture s'est implantée dans les contrées nordiques du Minnesota jusqu'au Québec. Ici, au Vermont, où l'hiver envahit la plus grande partie du territoire dès la mi-décembre, une poignée de vignerons ont commencé à produire des vins de glace afin d'exploiter au maximum leurs récoltes et de diversifier leurs produits.
Dans les circonstances idéales, le vin de glace s'obtient à partir de cépages au caractère fort et acidulé. « L›acidité est souhaitable dans un vin de glace, affirme David Boyden, qui fabrique des vins de glace à Boyden Valley Winery & Spirits, à Cambridge, depuis bientôt dix ans. Cette boisson, compte tenu de sa viscosité et de son sucre, profite d'une bonne dose d'acidité."
Les raisins du Vermont sont particulièrement bien adaptés à la production de vin de glace, car la plupart sont des hybrides de cépages astringents provenant d'Amérique du Nord et d'Europe. David utilise le frontenac pour produire un rare vin de glace rouge aux notes de mûre et de prune.
Les cépages au goût plus doux, comme le chardonnay ou les cépages utilisés pour le champagne, tendent à donner un vin de glace insipide, plutôt sirupeux. « Ces raisins mûrissent [et gèlent] sans aucune acidité », explique Ken Albert, copropriétaire du Shelburne Vineyard, qui utilise le vidal blanc — un cépage au goût très vif, généralement considéré comme l'un des meilleurs pour le vin de glace — afin de confectionner son Duet, un cru primé.
En raison de sa douceur, le vin de glace se range parfaitement dans la catégorie des vins de dessert. En effet, la plupart des vins de table secs contiennent moins de 1 pour cent de sucre résiduel, tandis que les vins de glace présentent une teneur d'environ 15 pour cent. David Boyden suggère de servir son cru blanc avec une crème brûlée ou d'autres flans, et son rouge, avec du chocolat ou dans un cocktail au lieu d'un sirop simple.
Peu importe comment vous le consommez, le vin de glace fait vraiment ressortir le caractère du raisin. « C›est une bonne manière de goûter certains cépages dans une concentration très élevée, dit David. Nous fabriquons notre Big Barn Red [vin de table] avec du frontenac, et on goûte quand même le raisin — mais avec le vin de glace, les saveurs sont d'une richesse exceptionnelle. C'est très spécial."
Grape to Glass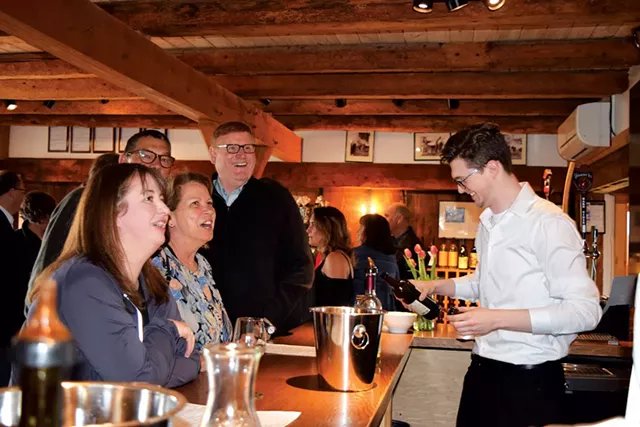 Courtesy Of Boyden Valley Winery
Boyden Valley Winery & Spirits
Vous aimeriez faire une dégustation de vins de glace? Allez directement à la source : tous les vignobles en produisent à moins d'une heure de Burlington.
Boyden Valley Winery & Spirits
Les visiteurs peuvent goûter des vins de glace, des vins traditionnels, des cidres, des eaux-de-vie distillées et des liqueurs dans la salle de dégustation pittoresque avec charpente à poutres et poteaux de cet établissement, qui comprend une ferme, un vignoble et une distillerie.
Lincoln Peak Vineyard
Accompagnez le vin de glace Firelight primé de ce vignoble avec un morceau de chocolat blanc au citron et à la lavande — puis goûtez quelques vins plus secs dans ce vénérable établissement, pionnier de la viticulture au Vermont.
Shelburne Vineyard
Le vigneron Ken Albert met constamment de l'avant de nouvelles techniques dans le vignoble et le cellier. Le vin de glace de 2016 ne sera pas prêt avant le printemps de 2017, mais les visiteurs peuvent goûter d'autres vins de dessert dans la spacieuse salle de dégustation, à un jet de pierre de Burlington.
Snow Farm Vineyard
Ce vignoble niché sur une île a été le premier au Vermont à embouteiller du vin de glace. Prenez un verre de Vidal blanc, un cru moelleux qui a remporté des médailles d'or dans plusieurs concours vinicoles.