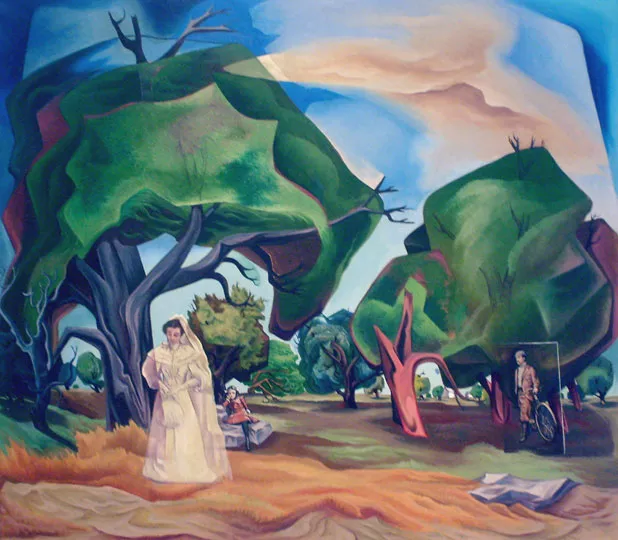 "Landscape with Figures" by Francis Colburn
"Masters of Vermont: The Men" at Bryan Memorial Gallery in Jeffersonville is a sequel to the venue's successful 2007 exhibition "Masters of Vermont: The Women." Diverse and highly informative, the latter show shed light on the careers of 19th- and 20th-century painters Martha Wood Belcher, Hilda Belcher, Georgia Balch, Ruth Mould and Mary Bryan. The intimacy of many of their works contrasts with several pieces by the eight male "Masters of Vermont," which seem extroverted and even flashy by comparison.
Ron Slayton's "Burlington Gothic," Emile Gruppe's "Gloucester Fish Pier," Robert Blair's "Glendon Leach on the Grinding Wheel," and virtually everything here by Francis Colburn are connected to the wider art world in a way that some of the women painters arguably were not. It's as if the men — or some of them — were trying to produce an important legacy, while the women were primarily working to make a living.
Gruppe (1896-1978), son of an artist and art dealer, was American born but raised in a Dutch fishing village. Back in the U.S., he studied at the Art Students League and became a masterful technician and teacher. His style is conservative, but his brushstroke is both economical and supremely confident. The 24-by-36-inch "Gloucester Fish Pier" features a welter of seagulls dashing and swooping, just as Gruppe's brush no doubt fluttered over the canvas. He reportedly made 200 paintings a year for 60 years.
The dark, heavily lined Vermont watercolors of Blair (1912-2003) are reminiscent of the series of paintings he produced while an infantryman in Europe during World War II. He doesn't seem to have been a vibrant colorist; his 38-by-28-inch oil "Glendon Leach on the Grinding Wheel," an inventive portrayal of Leach at work, is mostly concerned with fat textures. The palette is limited to earth tones, gray and white. The working-man theme is universal, but Blair seems as concerned with the painting's abstract surfaces and gestures as he is with the narrative.
The 1937 "Burlington Gothic" by social-realist Slayton (1910-1992) bursts with chromatic fireworks that most other works in the exhibition lack. His family grouping in front of a small house consists of a father with overalls and a lunch box and mom in a red dress with her hands on the shoulders of a young son. Belching smokestacks appear in the background, indicating that the Queen City's industrial base still functioned in the '30s. The obvious reference point of the work is Grant Wood's 1930 masterpiece "American Gothic," but Slayton's more cluttered and colorful composition borders on playful.
The paintings here by Colburn (1909-1984) border on the disturbed. In her excellent article about the show published in American Art Review this month, gallery director Micky Myers notes that Colburn approached "serious themes of relationship and alienation."
In his 30-by-35-inch oil "Landscape with Figures," a bride with a downward-pointing bouquet stands at left beneath a somewhat ominous tree, while at right, a man with a bicycle seems frozen behind a surreal pane of glass. Colburn's pieces are expertly composed; the former UVM art department chair was plugged into the major aesthetic trends of mid-century figurative painting, but his pieces are also conceptually complex. Each one in this show is a mystery, asking more questions than it answers.
The show also offers paintings by Charles Curtis Allen (1886-1950), Thomas Curtin (1899-1977), Alden Bryan (1913-2001) and Aldro Hibbard (1886-1972). The Bryan Memorial Gallery — founded by Alden and named in honor of Mary — has done much for the cultural history of the Green Mountain State with its two "Masters" exhibitions. It's interesting to contemplate who might qualify for a similarly themed show at the Bryan in another 50 years.