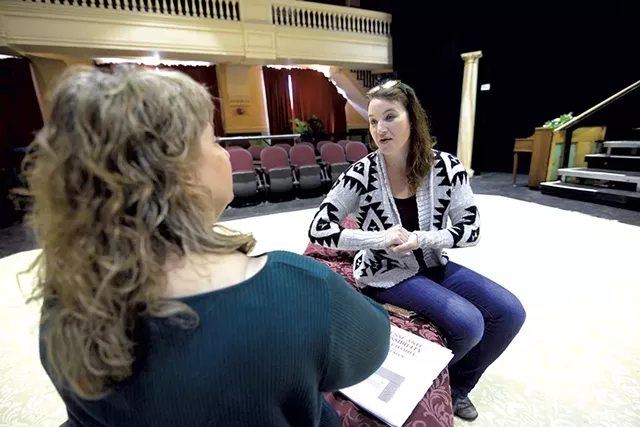 Stefan Hard
Taryn Noelle (facing), talking with Kathleen Keenan
It's ironic that, even after two successful decades in the state's entertainment industry, Taryn Noelle still describes herself, half-jokingly, as "moonlighting in Vermont." The Toronto-born choreographer, stage performer, director and teacher has more professional irons in the fire than a blacksmith.
She has choreographed and directed for Lyric Theatre, the Stowe Theatre Guild and the University of Vermont. For Lost Nation Theater, she has adapted musical scores, performed and choreographed, serving in one or more of these roles in 20 LNT productions. Noelle is also an accomplished singer and solo recording artist who performs with the western swing band Rick and the Ramblers and the jazz trio Blue Gardenias. And she directs plays and teaches theater, movement and dance to children and teens throughout Vermont, including at her alma mater, Stowe High School, where she serves as theater director.
Noelle recently won the 2017 Ellen McCulloch-Lovell Award in Arts Education, given by the Vermont Arts Council in association with the governor's office. Noelle's longtime colleague Kathleen Keenan, producing artistic director at LNT, says she can't think of anyone more deserving of the recognition.
"There are very few artists who are as talented as Taryn and as egoless as Taryn," Keenan says. "Her very generous spirit and kind heart just make her a pleasure to have in the rehearsal room ... The kids all adore her, and she's always about giving each one the time to shine."
Seven Days caught up with Noelle by phone this week between rehearsals of LNT's Sense & Sensibility, which she's choreographing. The show opens this Thursday.
SEVEN DAYS: You wear so many different hats in the entertainment world: choreographer, dancer, singer, actor, teacher. Which one is closest to your true essence?
TARYN NOELLE: Some combination of the physical world and the theatrical world and the blending of those two is probably where I mostly live. And, therefore, also teaching that kind of work and being a choreographer and stage director. I love and I'm drawn to physical theater or physical acting, not really a musical but a play whose chief storytelling mechanism is dance. Dance theater is really, really close to my soul and heart, both as a spectator and as a creator.
SD: Who was your most influential teacher?
TN: There are a few, for sure. My first voice teacher, like many Vermont performers, was Bill Reed. He's our Vermont superstar, and he's just amazing. And, because of him, I got to go to the [Circle in the Square Theatre School] in Manhattan, where I met my acting guru, Alan Langdon, who's also amazing. And Gregory Ramos, the theater chair at [UVM]. He's been a huge influence. Also, I'd have to say Kim [Bent, founding artistic director] and Kathleen [Keenan] at Lost Nation.
SD: Do you prefer being in the spotlight or working behind the scenes?
TN: When the project is right, or I'm right for the role or piece, and I have the chance to do something that's been on my bucket list, these days I'd say that's an incredible gift, and I cherish that [opportunity]. Generally, I do more behind-the-scenes creative work in terms of adapting scripts and putting shows together for my students. But then, maybe once or twice a year, I get to do a special concert or get a contract for acting. I think it's really important for me to keep doing both.
SD: What's your favorite part of being an arts educator?
TN: Oh, my God! I get so much out of seeing these kids' faces as they process new information. You have this blank slate and get to create something new. We make discoveries together, and I feel like it's a complete blessing. Ideally, when everything is working, there's so much energy bouncing off the walls, to see something click for someone and see them invested and inspired so that they don't just want the best result for themselves but want the best result for the project and the entire company.
I really love the show "Glee." There's a quote from that show that's really dorky, but it really touches my heart, and it's so true about my kids: "Being a part of something special makes you special." I think there's so much truth to that.
SD: Do you give your students tough-love advice about the challenges of breaking into the entertainment biz?
TN: To be honest, that hasn't come up a lot, but when I do impart knowledge of the tough-love variety, it's about the protocols of professionalism. I feel that it's my job to give them the heads-up as to what's going to be expected of them if they choose to do college theater or professional theater. I raise a really high bar for them, and I'm very honest and up-front about that and tell them why: "Guys, I'm doing this for you and trying to arm you with the best tools you can have: timeliness and showing up early and warming yourself up before you get there. It's about taking care of yourself and being responsible and doing everything you can to give yourself your best shot."
SD: What performing advice have you received that really stuck with you?
TN: I'm a really big fan of Jane Monheit. She's a jazz and standards singer who went to the Manhattan School of Music, and we're about the same age. She's amazing! I saw her in concert when I was just learning how to gig, and I asked her for some advice after her concert. She said, "You need to know as much, if not more, about everything that's going on on that bandstand as 'the boys.' Know everything musically and technically that you can, so you're not just 'the singer.'" That was excellent advice.
SD: If there were one person with whom you could either choreograph or share the stage, who'd it be?
TN: One of my icons is Susan Stroman, a New York choreographer who's done a ton of shows. One of her creations, about 15 years ago, was a three-act dance play at the Vivian Beaumont Theater at Lincoln Center [for the Performing Arts] called Contact. That was so groundbreaking for me, because as a spectator, I felt like, "I agree with this!"
It's about the search for contact between humans and not shutting yourself off and being solo in the world but finding other members of our tribe who can be on the same page. It was so beautiful. It just changed the way I felt forever about dance and theater, and it made me know that I had to write my own version of that. I guess I'd love to meet her and just let her know how much her work meant to me and, yes, to be choreographed by her at some point.