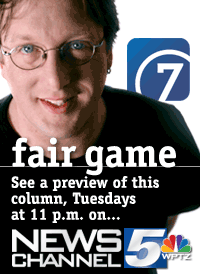 Get ready to rumble! Or something like that. The long-awaited public meeting on Burlington Telecom is scheduled for Thursday night at Burlington City Hall Auditorium. Starting at 6:30 p.m. sharp, residents can ask questions, sound off or both — as long as they can keep it to three minutes or less. Folks who want to forgo the show can submit questions online ahead of time. Organizers say they'll answer 'em.
I expect a mix of spleen venting, finger pointing and loaded questions. Almost two months have passed since city officials told state regulators they had ditched their former financier — CitiCapital — and were in active talks with outside, unnamed financial and strategic partners in an effort to keep BT alive. No deal has emerged, and, for some reason, taxpayers are anxious that the municipal telecom utility might never repay the $17 million it "borrowed" from the city's checkbook.
CitiCapital has yet to tell the city what equipment it wants back and what repossession would look like. The city reneged on a $33.5 million lease-purchase arrangement late last fall. It remains to be seen whether CitiCapital will ask for cash back with the cables.
Sure to come up Thursday night: How, and when, will BT repay the $17 million it borrowed from city taxpayers? That IOU looms large, especially in light of a recent tax-increase request in anticipation of a $1.5 million shortfall in next year's budget.
Meanwhile, the amount BT owes outside contractors and consultants had reached $625,000 as of late December. That figure doesn't include the costs of defending Chief Administrative Officer Jonathan Leopold and the city against a state civil suit filed by two city taxpayers. The suing duo wants BT to be sold off and the $17 million paid back immediately; they also want Leopold to be held personally responsible for repayment if BT doesn't generate that kind of cash.
"Fair Game" has asked the city to tally up those legal costs, which are allegedly being paid by the city's insurance company. Nothing yet.
Soft-spoken Mayor Bob Kiss will rebut a recently state-issued report critical of BT and, once again, try to convince taxpayers they should retain an interest in BT because the telecom is a valuable community asset and essential for local business development.
Kiss may have company in making this argument to taxpayers. City councilors now seem to be in agreement that keeping a minority stake in BT is the only way to ensure the $17 million is repaid.
"Having some minority stake or partnership and having a local tie is extremely important," said City Council President Bill Keogh (D-Ward 5).
Councilor Kurt Wright (R-Ward 4) is singing the same tune. Wright, who will likely run for mayor next year, says he understands why some residents want the city to shut BT down and cut the city's losses. But that might not be in the city's best financial interest.
"Let's face it: Nothing is going to be a panacea," said Wright. "The shutting down of Burlington Telecom means we have little to no chance of recovering the money."
No Threat — Yet
Did a comment published in the Ethan Allen Institute newsletter amount to a threat against Vermont Public Interest Research Group staffer James Moore? At least two news outlets covered this odd little story last week.
In EAI's January newsletter, the founder of the "free market" think tank, John McClaughry, wrote about a December debate in which Moore "emphatically declared that the Vermont Yankee nuclear plant 'hasn't killed anyone YET.'" To which an unnamed observer commented to McClaughry, "'I am thinking of James Moore as a candidate.'"
Classy.
"Lighten up, fellas," McClaughry told the folks at VPIRG via the Barre-Montpelier Times Argus. "Talk it over with your shrink, is what I say."
At least one other debate participant claims she heard Moore utter the statement, too. Meredith Angwin, who heads up EAI's Energy Education Project.
Trouble is, Moore never used those words. A review of the debate video revealed it was Moore's debate partner — Sen. Richard "Dick" McCormack (D-Windsor) — who made the VY death connection.
McCormack said somebody would likely have to die before Entergy would admit VY shouldn't be relicensed.
To which Moore added, "Or worse."
To which Angwin responded, "That's extreme."
Even confronted with McCormack's quotes, Angwin repeatedly said she recalled Moore making the "yet" claim, but admits she didn't review the video. McClaughry told "Fair Game" he never watched the video before putting the threat in print.
"The incident was related to me by a person who I believe to be very responsible, and who followed the recitation with what I considered to have been a droll remark," McClaughry wrote in an email to "Fair Game."
There's nothing droll about death threats — not now, not ever.
On the Record
State government has kept sloppy track of the number of public records requests received and how much it's charged for the service. That's a key finding in a recent study released by Secretary of Administration Jeb Spaulding.
In all, there were 1941 completed public records requests in calendar year 2010, compared to 1748 in 2009 and 1593 in 2008.
Spaulding's report is the first of its kind in more than two years. The Douglas administration failed to address the issue in similar reports in 2008 or 2009.
It took 1217 hours to fulfill the 2010 requests, or the equivalent of one half-time employee, Spaulding noted.
Of the 22,500 pages requested, an additional 460 pages were produced but withheld from the public for a variety of reasons.
The single largest public records request — 2000 pages — originated at the Department of Public Service. It was produced for an employee of Internet service provider Sovernet.
For all this work, the state collected $21,000 in fees. Spaulding notes that not all departments charge to collect and copy records, and those that do use different methods of documentation.
For example, the Department of Public Safety took more than 32,000 minutes to produce 3815 pages at a cost of $17,142. Meanwhile, the Department of Public Service took 1155 minutes to produce 6000 pages at a cost of $341.
Now, that's efficient.
A number of agencies and departments failed to report any records requests, including the secretary of state and the state auditor — the former is in charge of overseeing public records in Vermont; the latter measures the performance of state agencies.
State Auditor Tom Salmon's missing data are particularly odd. He recently complained to a judge via email that his office had been the target of politically motivated records requests.
Pack Your Bags
On Thursday, eviction notices are going out to the 44 residents at Wharf Lane in Burlington. They'll be hand delivered by sheriff's deputies on behalf of the building's landlord — Pizzagalli Properties.
As "Fair Game" noted last week, Burlington Housing Authority and the Vermont Housing Finance Agency hope to buy the building for less than its purported market value of $4.8 million and more than its city-appraised value of $1.6 million.
Pizzagalli is playing tough and won't budge on the upper figure. Money must be tight over at Pizzagalli Construction, which did $373 million in sales last year, making it the state's seventh-largest-grossing company, according to Vermont Business Magazine.
BHA and area housing advocates will meet with Wharf Lane residents Thursday to talk through the relocation process. BHA said it is committed to finding new homes for the tenants if the talks fall through and making sure no one is forcibly removed. A sale could still happen. "I remain hopeful," said BHA executive director Paul Dettman.
Welch the Whip
Washington Dems have taken notice of U.S. Rep. Peter Welch's legislative chops and collegial charm.
Minority Whip Steny Hoyer (D-MD) named Welch one of nine "chief deputy whips" who will serve in key leadership posts in the upcoming Congress.
Welch's leadership role is due to two key factors, notes University of Vermont political science professor Garrison Nelson: Welch is a member of the Progressive Caucus, which is the largest bloc in the party, and he's a proven leader.
"He was a legislative leader in Vermont and, historically, people who come to the Congress, and particularly to the House, and have prior leadership, are more likely to be considered for these types of posts because they know what the job entails."
Middlebury Memories
The official papers of outgoing Gov. Jim Douglas won't be released for six years, but his personal memorabilia is going to his alma mater, Middlebury College.
"When I left office early this year, I had accumulated many memorabilia along with a great deal of campaign material," Douglas wrote in a message published in the Middlebury Campus, the college's weekly newspaper. "The last Middlebury alumnus to serve as governor was Robert T. Stafford '35, who left office 50 years ago. I hope that the perspective of a half-century between Middlebury governors will be of some interest."
Stafford later served in the U.S. House and Senate, Douglas noted. Could the younger Midd Kid be headed in the same direction?
Media Notes
Longtime Barre-Montpelier Times Argus editor Andrew Nemethy has been axed. He was invited to apply for a lower-paying job at the Vermont Press Bureau but declined.
The bureau, which covers the legislature for the Times Argus and its sister publication the Rutland Herald, remains short staffed after two reporters left last year for greener pastures. Only Peter Hirschfeld remains. Thatcher Moats, son of the Herald's editorial-page editor David Moats, has been pitching in. He currently covers Montpelier City Hall for the Times Argus.