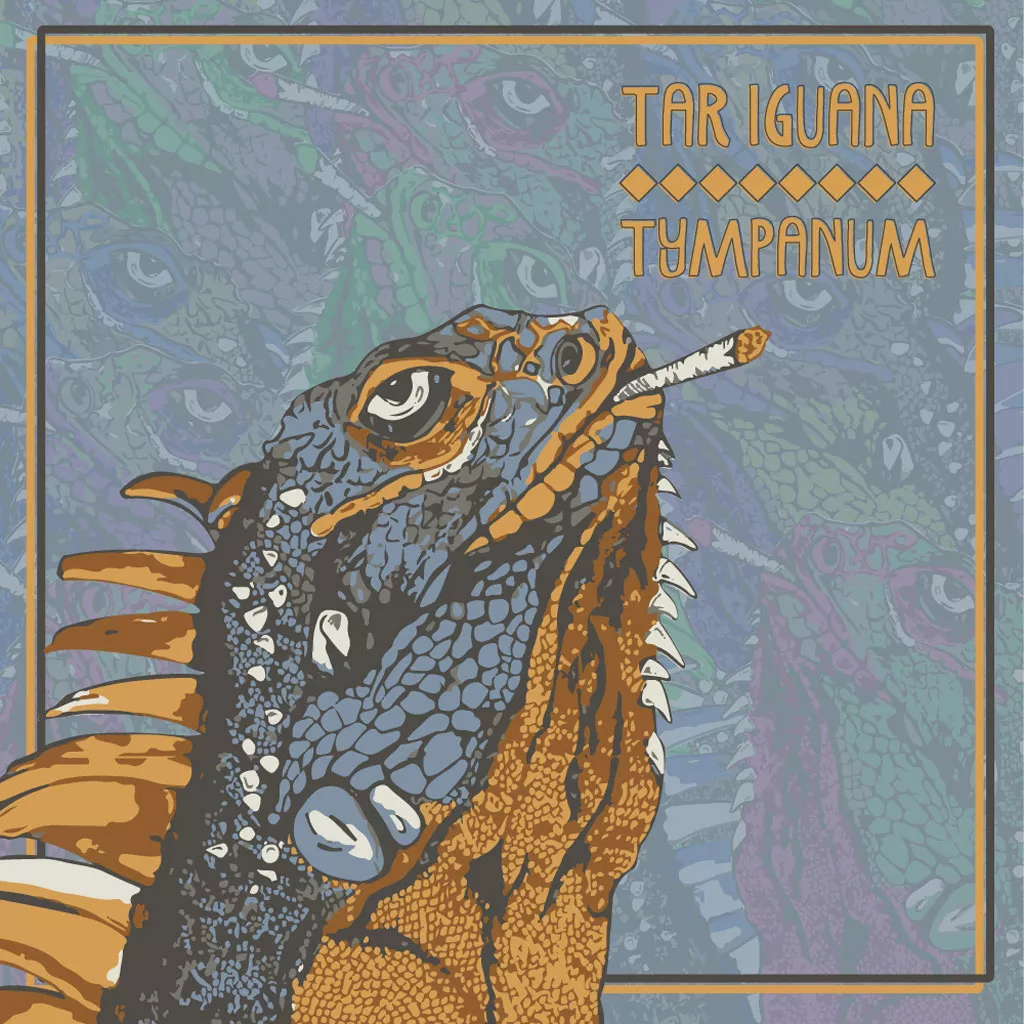 (Self-released, CD, digital download)
Even if you're a casual music fan, you could likely name a bazillion different genres of rock. Stick the word to the end of a noun or adjective and you're in the ballgame: hard rock, punk rock, surf rock, psychedelic rock, glam rock, two-skinny-bros-in-their-mom's-basement rock, etc.
Here's one to add to the list: reptilian rock. That's what five-piece Burlington band Tar Iguana claim to serve up. It also explains the peculiar title of their debut album, Tympanum. A tympanum is an external hearing gland found in certain amphibians and reptiles, such as frogs, toads and — you guessed it — iguanas.
Having emerged from the University of Vermont basement party scene, Tar Iguana trade in a tried-and-true blend of funk, reggae, rock and jam. While their story and sound are not necessarily unique, Tympanum does justice to the Vermont jam tradition.
The record opens with a prog-rock cut, "Space in the Place." Josh West's edgy, tight drumming sets the tone for fed-up lyrics. Lead vocalist Jack Schroeder demands, "People in my face they try to occupy my place / taking food up off my plate / please give me just a little space." Schroeder's powerful vocals are unusual and gravelly but also earnest and searching.
Chris Heres and Pierre Dillon tackle guitar and bass, respectively. Some of their best work is found in sections of "No Resolve." "Memories Won't Last" is also easy on the ears. With breezy moments of shimmering keys and low, descending guitar solos, it's a comfortable summertime song.
Unfortunately, the album takes a dive on track three, "Early Morning." Relying on college-life lyrics about "this bag of grass I'm-a slowly burn," it's a lazy tune that nods to the jam-band stereotype. It's also Schroeder's weakest vocal performance, as he affects a reggae accent a touch too much. "The Shag" is similarly lackluster, speaking of being educated yet still "sedated" by the daily grind.
The band recovers with "Jack's Delayed Flight," a languid reflection on waiting at the airport while really waiting for something yet unknown. Without the lyrical embellishment of previous tracks, the message comes across serenely and organically, against restrained and skuzzy instrumentals. Next up is "Zeb's Cove." Here, the band lays off the heady riffs and slows down. The payoff is a stirring six-minute number, with graceful electric Rhodes piano from Gyasi Garcia.
Tympanum offers plenty of aural pleasure in the form of decent guitar work and hip-swaying grooves. While Tar Iguana aren't exactly reinventing the funk — or reggae — wheel, they do pass the jam-band test with finesse ... and a curious fixation on lizards. If you frequently get down to local acts like Gang of Thieves, Smooth Antics and Funkwagon, Tympanum will sound like home.
Tar Iguana's debut album, Tympanum, is available at tariguana.bandcamp.com. Tar Iguana play at the Rusty Nail in Stowe on Friday, May 15.