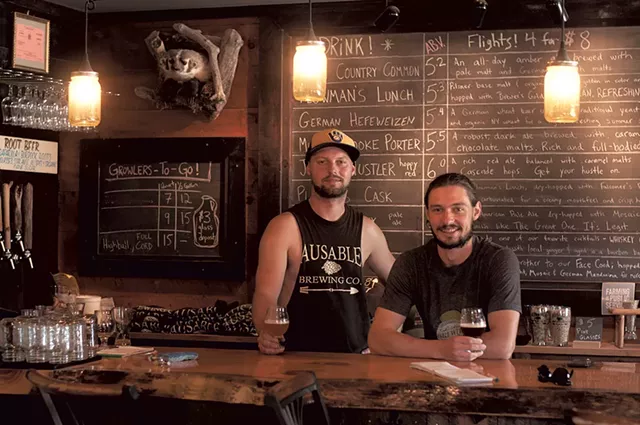 Hannah Palmer Egan
Dan and Dylan Badger, Ausable Brewing Company
When it comes to food and drink, Vermont's locavore scene can feel ripe for "Portlandia"-style ridicule. Chickens here come with a pedigree, and it's not uncommon for beer fans to journey from Boston to Greensboro and back in one day for a few bottles from Hill Farmstead Brewery. By contrast, not many restaurants across Lake Champlain list farm-partners on their menus. And precious few of New York's 260-odd breweries lie within the state's scenic northeast environs.
Yet, in the past few years, a beer scene has been taking root in the Adirondacks, says Wendy Knight, who opened the Brew Castle craft beer shop in Keene last December. Three breweries have opened in Plattsburgh since 2014, while several others have pitched camp in the Olympic region and lower Champlain Valley. "We're just on the cusp of it," Knight says. "There's this really promising local food and beverage movement, and there's a lot of community support for it."
And it's not just new breweries feeding the trend. Established ones — including Lake Placid Pub & Brewery, which has been pouring pints near Mirror Lake since 1996 — have opened new project breweries. There, brewers can push the limits of their repertoire, crafting new and experimental styles in addition to the accessible, easy-drinking classics that many locals are only now beginning to embrace.
Last week, Seven Days headed into the hills for a taste of what's new.
Ausable Brewing Company
765 Mace Chasm Road, Keeseville, N.Y., 518-900-2739. ausablebrewing.tumblr.com
On Thursday evenings, cars etch a glinting line through the hayfields along Keeseville's Mace Chasm Road. Most are headed for a sunset pint at Ausable Brewing Company, where brothers Dan and Dylan Badger have been brewing ales and sodas on a one-barrel system since September 2014.
"We could make this beer with 100 percent New York ingredients," Dan told Seven Days, pouring a sample of Ausable's popular Face Cord IPA in his tasting room before the rush last Thursday.
A sip revealed little of the intense fruity flavors built into many Vermont IPAs, courtesy of fancy warm-climate hops like Simcoe, Citra or Galaxy. Instead, Face Cord balances the forest-and-field aromas found in Cascade and Chinook hops, which thrive in New York's humid, variable climate.
As a licensed New York farm brewery, Ausable must source 20 percent of its solid ingredients within state lines, per a 2012 state law that incentivizes the use of New York hops and cereal grains. By 2024, that percentage will climb to 90 percent.
Going local was a no-brainer for the Badgers. Dylan holds an agriculture degree from the University of Vermont, and the brothers are part of a growing community of young farmers working to build Keeseville's agricultural economy.
In addition to using local grains, the brothers grow their own hops and currants, elderberries, and blueberries. Last week, Dylan tapped an exquisite cherry sour made with fruit from a neighboring farm; its saturated stone-fruit flavors recalled a mouthful of cherries eaten straight from the tree.
Other drafts included a delicate rye pilsner; a straw-colored common ale with the faintest whiff of Noble hops; a chocolaty porter; and a ginger-kissed amber brew aged in bourbon barrels, which mimicked a funk-forward whiskey-ginger cocktail.
Thirsty for a taste? You'll have to head to Keeseville. "We're not trying to go in a wholesale direction," Dan said. "Our main focus is making this place an attraction." Toward that end, visitors will find food trucks and live music most evenings. "We want to make great beer," the brewer added, "and [serve] it in a fun and beautiful setting."
— H.P.E.
Raquette River Brewing
11 Balsam Street #2, Tupper Lake, N.Y., 518-359-5219. raquetteriverbrewing.com
Hannah Palmer Egan
Samples of the brews at Raquette River Brewing
Like many Adirondack communities, Tupper Lake offers an inside view into the haves-and-have-nots dynamic that has dominated the American political conversation since Occupy Wall Street. Luxe summer homes line the lake, while the town's lower village sprawls along Route 3 in the form of small-box chain stores, washed-out gas stations and apartment houses speckled with chipping paint.
In 2012, Tupper Lake natives and longtime friends Mark Jessie and Joe Hockey hatched a plan to take advantage of coinciding early-retirement offers and buy a slummy Route 3 plot that had recently hit the market. Jessie had been making beer in his spare time for 20-odd years, and Hockey was a craft-beer enthusiast. They bought the property, towed away the worn-out trailer homes parked there (whose residents had agreed to move) and knocked down the old house that wasn't worth fixing. Then they built a brewery.
"It seemed like the right thing to do," Jessie told Seven Days last week. "There weren't a lot of breweries in our area. We wanted to create jobs, so we bought this quirky little spot and cleaned the place up."
Raquette River Brewing opened in March 2013. "It totally changed the character of the neighborhood," Jessie said. Last week, visitors, many with kids or dogs in tow, nibbled grub from Arthur's "On the Road" barbecue truck, which now summers at the brewery. They also sipped glasses filled with brews such as a malty, roasty red ale; a bold and spicy double IPA; or a straw-colored, biscuit-y blond ale at picnic tables beneath a red-striped tent canopy.
In the afternoon sun, carpenters framed a new building in the yard that will house additional bathrooms and grain storage, Jessie said. A just-completed brewhouse expansion took production from two to eight barrels per batch. Still, Jessie said, the brewery is struggling to make enough drink for its patrons and the wholesale accounts of every bar in town.
"It's a good problem to have," he added. "We have five employees, and it's our goal to create even more jobs. People are just happy to see something positive going on down here."
— H.P.E.
Big Slide Brewery & Public House
5686 Cascade Road, Lake Placid, N.Y., 518-523-7844. bigslidebrewery.com
If Raquette River's low-key vibe and straightforward, easy-drinking brews seem to reflect a town just getting to know craft beer, Lake Placid's Big Slide Brewery & Public House represents the 'Dacks' more cosmopolitan contingent.
Last week, the Olympic town was teeming with athletes running through their final workouts in preparation for the Ironman Lake Placid triathlon on July 24. They hop-jumped in place while waiting for their turn at crosswalks, commanding a wide berth from tourists toting shopping bags.
A mile or so from Ironman Village, Big Slide Brewery rounded out its first month in business. A sister establishment to Lake Placid Pub & Brewery, Big Slide is sleek and modern, an industrial-chic hipster haven that wouldn't look one bit out of place in Brooklyn or Portland, Ore.
Brick-oven pizzas topped with pristine tomatoes and basil drizzle, shaved-beef sandwiches, and fire-roasted cauliflower "steaks" emerged from an open kitchen helmed by chef Greg Sherman, who worked at the Pub & Brewery for years before departing for the greener pastures of upscale dining.
Behind the bar, knowledgeable tap jockeys offered pints and flights of bone-dry, quaffable Belgian pale ale scented with yeasty esters; bold and piney double IPAs; and Berliner weisses as sharp and clean as tacks dipped in lemonade.
Those beers extend far beyond the old-reliable offerings at the Pub & Brewery across town, but that wasn't always the plan. "This was the proverbial We were looking for something really simple, and all of a sudden it blossomed into this bigger thing," said Big Slide owner Chris Ericson.
The original idea was to increase the Pub's brewing capacity and include "a little tasting room." But the project grew. Big Slide became an experimental brewing operation, home to a barrel-aging program and a dedicated space for cultivating wild fermentations.
"We wanted to push the limits of the different beers we could brew," Ericson said. "If something works at Big Slide, we can brew [bigger batches] at the Pub" — or in macro-batches in partnership with Saranac Brewery's Utica production facility, as the Pub does with its flagship Ubu brown ale and other hit beers.
Right now, though, Ericson said, Big Slide is easing into it. "We're still feeling out the brewing system," he said, "so we're not going too far off the deep end with styles."
— H.P.E.
Slyboro Ciderhouse
18 Hicks Road, Granville, N.Y., 518-642-1788. slyboro.com
Julia Clancy
Bottles of La Sainte Terre at Slyboro Ciderhouse
Three miles off NY 22A in Granville, N.Y., a dirt pathway snakes to the side of Hicks Road. The path meanders through apple groves, sour cherry trees and pick-your-own blueberry patches before ending at a wraparound porch marked "Slyboro Ciderhouse." Named for the centuries-old hamlet that is home to Hicks Orchard, New York's first pick-your-own fruit site, Slyboro cider is the orchard's newest endeavor: blending orchard-grown apples to craft traditional, American-style hard ciders.
Signage for cider tastings promise on-site sips every day. Under the porch awning, a chalkboard arrow directs visitors to a rustic cider room with glass-window views of the fermentation tanks.
On a recent visit, bartender Judi Wetherell set five tulip glasses on the countertop to guide sippers to their favorite blends, explaining each cider's individual characteristics, from effervescence to hue. Kingston Black is bone-dry and still, with a woodsy, mineral taste characteristic of the Kingston Black apple. La Sainte Terre is aromatic and delicately sweet, like Champagne. The ruby-hued Black Currant Hard Cider has the tart finish of its added berries, while the Hidden Star variety is crisp and dry, with a clean, tight effervescence.
Slyboro's ice cider ended the tasting with a sip that was floral and nuanced, a perfect reflection of the apples dangling from their branches beyond the picnic tables outside.
— J.C.
Common Roots Brewing Company
58 Saratoga Avenue, South Glens Falls, N.Y., 518-409-8248. commonrootsbrewing.com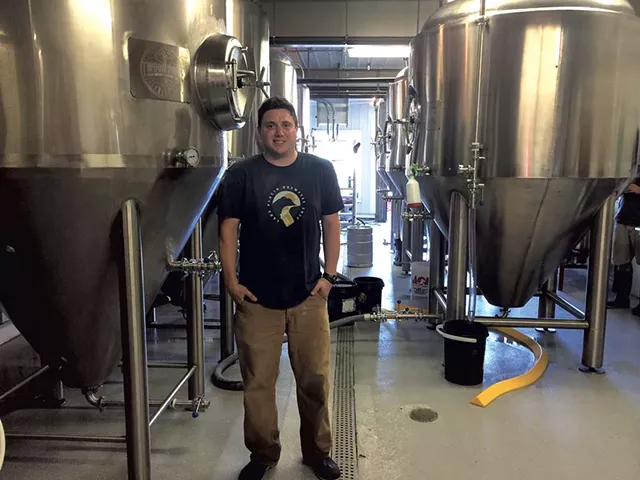 Julia Clancy
Christian Weber in the tank room at Common Roots Brewing Company
Christian Weber, cofounder and head brewer at Common Roots Brewing Company in South Glens Falls, has an undergraduate degree in biology and a master's in environmental science. He pursued his academic work in tandem with the study of home brewing, a passion that he further developed post-graduation as an apprentice at White Birch Brewing in New Hampshire.
Meanwhile, Christian's father, Bert Weber, was looking for a creative outlet after retiring from a 30-year career as a high school teacher. When his son returned home to Glens Falls, the duo decided to purchase and renovate an empty building at 58 Saratoga Avenue. On December 14, 2014, the father-son team opened Common Roots, their co-owned microbrewery.
At Common Roots, Christian uses his dual degrees to personalize his brewing process. He inoculates his own wild yeast strains for distinct sour beers and reduces environmental impact via solar panels, locally made tanks and donations of spent grain to local farmers who use it for feed.
"There's great microflora around here for cultivating yeast," Christian said as he pulled a marmalade-colored sour into a pint glass. "Great for spontaneous fermentation."
The Farmhouse Style Ale is fresh and juicy, with an off-sourness more tart than cutting. The Tasteful Deception has funky aromatics of olives and Parmesan cheese, finishing with the tongue-smacking bite of a dry-hopped sour ale. The Mosaic Session Pale Ale is honey-gold and earthy; it's so dank and complex on the hops that the mere 4.5 percent ABV is a happy surprise for those who crave something less buzz inducing than heavier brews such as the Belgian Style Honey Ale.
"Every Wednesday we host a bike ride called Gears & Beers," Christian said. "It's a bike ride through different parts of the Adirondack area that starts and ends at the brewery." The ride is capped off by a pint on the house — "but most people stay for another," he added.
— J.C.
Artisanal Brew Works
41 Geyser Road, Saratoga Springs, N.Y., 518-260-0361. artisanalbrewworks.com
Kurt Borchardt and Colin Quinn are high school teachers in Saratoga Springs, N.Y. Last Thursday, July 21, the pair cut the ribbon on a new endeavor that took them way outside the classroom: a tasting room and microbrewery called Artisanal Brew Works. The brewery, on Geyser Road near the Saratoga Performing Arts Center, currently features five in-house drafts, bar seating, and a front lawn scattered with Adirondack chairs and picnic tables.
In the chilled enclave of the brewery's tank room, Quinn poured a hazy, straw-hued Belgian American single into a sample glass. The rich malt character mingles with a hit of New York hops.
"This one's an English brown ale," said Quinn, as he handed over a taste of the deep-caramel BB Brown. A smooth, creamy head capped the slightly effervescent beer, with just enough coffee-bitterness to balance its intense malt aroma. Also on tap were a West Coast-style IPA; a dark, spicy Belgian double; and the heady Belgian triple Trappists at the Track, named for Saratoga's famed summer thoroughbred races.
Now that Artisanal Brew Works' doors are open, the bar is stocked with small bites like cheese and crackers. On the weekends, Quinn and Borchardt satisfy guests' appetites with fare from local food trucks and farmstead pizzas delivered by 9 Miles East Farm in Schuylerville.
— J.C.
Paradox Brewery
154 Route 9, Schroon Lake, N.Y., 518-351-5036 paradoxbrewery.com
The doors of this tasting room and microbrewery on Schroon Lake, helmed by husband-and-wife team Paul and Joan Mrocka, opened three years ago. Paul, a commercial pilot, used to brew beer under his porch near Paradox Lake before converting his long-standing hobby into a brick-and-mortar business.
At the Adirondack Pub & Brewery, Mrocka had met brewer Devon Hamilton, who was giving him a tour. The two men hit it off and exchanged numbers. Two years later, Hamilton saw Mrocka's advertisement for a head brewer at his new business and dug out that number. Mrocka hired him on the spot to help meet the immediate demand for fresh ales and lagers.
"The brewery was a hobby well expanded upon," said Hamilton, whose chief focus is beer production. "Right now we can't keep up with demand ... we're going to expand from 10 to 30 barrels in the upcoming year."
The year-round microbrewery quenches local thirsts with bestsellers like the Beaver Bite IPA, a Northeast-style IPA flush with hop character but "soft and juicy on the finish," said Hamilton. The Paradox Pilsner crosses a hop-forward, Czech-style brew with German hop blends for a crisp summer sipper. A monthly rotating series called Off Trail features limited-release seasonals, like a spiced Belgian-style saison and a wild-fermented pale ale brewed with fresh, puréed apricots.
In the summer, Paradox Brewery features weekly live music in its tented biergarten. Snacks — such as soft German pretzels made with Paradox beer — keep crowds satiated, but "food can also be 'bring-your-own,'" Hamilton said.
— J.C.
More ADK Brews You Can Use
The Brew Castle
In the heart of Keene village, a "Brew Castle" sign invites hopheads inside a pristine Victorian painted lady. There, in a tiny craft beer shop, owners Wendy Knight and Ben Chamberlain curate a far-reaching beer stocklist that's hundreds of bottles strong. Swing by for a weekend tasting with brewers and food trucks.
10918 Route 9N, Keene, N.Y. facebook.com/thebrewcastle
---
Lake Placid Pub & Brewery
Widely regarded as the High Peaks' benchmark brewery, this friendly mountain pub has been brewing Adirondack beer — and pairing it with hearty pub fare — for nearly 20 years.
813 Mirror Lake Drive, Lake Placid, N.Y., 518-523-3813. ubuale.com
---
Big Tupper Brewing
After wholesaling coffee and brewing beer from a Tupper Lake production facility for years, this brewery will open a downtown brewpub in late July or August. Help the brewers celebrate with a pint of mellow, golden-amber IPA Eh Ale. Grab a coffee to go — the beans are roasted in-house.
Future location: 12 Cliff Avenue, Tupper Lake, N.Y., 518-359-9440. bigtupperbrewing.com
---
Valcour Brewing Company
Housed in a renovated barracks on Plattsburgh's decommissioned Air Force Base, this brewpub traffics in drinkable ales that are more malt-driven than hoppy. Pair a pint or flight with a local beef burger or crisp-crusted flatbread. Bonus: If you overdo it, don't worry about driving — the owners converted the upstairs into a bed-and-breakfast.
49 Ohio Avenue, Plattsburgh, N.Y., 434-242-0319. valcourbrewingcompany.com
---
Oval Craft Brewing
In May 2016, this brewery opened just down the street from Valcour Brewing Company, on Plattsburgh's old Air Force campus. Find fun, creative brews, such as a cherry-tinged light blond ale dubbed Prom Night Cherry, or stick to straightforward classics like a beefy brown ale or a hop-forward session IPA.
111 Ohio Avenue, Plattsburgh, N.Y., 518-324-2739. ovalcraftbrewing.com
---
Plattsburgh Brewing Co.
Most hotel-lobby pubs offer mass-market pilsners and lagers and mediocre chicken Caesar salads. But Plattsburgh's Comfort Inn & Suites is home to a brewpub where you can sample everything from a crisp golden ale to a midnight-black oatmeal stout. Hungry? The pastas are handmade in-house, and fries come loaded with toppings or sided with several dipping sauces.
411 Route 3, Plattsburgh, N.Y., 518-324-6680. plattsburghbrewingco.com
---
Livingood's Restaurant & Brewery
Brews here include the Hive Wrecker, a crisp, Bavarian-style lager brewed with local honey, as well as an aromatic cream ale dry-hopped with Citra hops. Peruse the lengthy menu, which offers tacos and burritos stuffed with house-smoked pork or chicken, plus an array of burgers, pizzas and smaller snacks, including pulled-pork sweet-potato poutine.
697 Bear Swamp Road, Peru, N.Y., 518-643-2020. livingoodsrestaurant.com
---
The Great Adirondack Brewing Company at the Great Adirondack Steak & Seafood Company
As the name indicates, this Main Street mainstay offers fresh brews, grilled beef and fruits of the sea. Pair an award-winning kölsch or Trappist session ale with lobster or seared scallops — or sip a stout or pale ale alongside a burger or steak.
2442 Main Street, Lake Placid, N.Y., 518-523-1629. adksteakandseafood.com
---
Blue Line Brewery
This brewery expanded its production facility to include a brewpub a few years back; now you can pair your black lager or rye IPA — a local favorite — with a fried-chicken-salad sandwich, loaded potato skins or a grilled steak fajita.
555 Lake Flower Avenue, Saranac Lake, N.Y., 518-354-8114. bluelinebrew.com
---
Henry Street Taproom
This gastropub has an excellent draft list of hard-to-get craft beers, plus an extensive wine and whiskey program. In-house bites include duck meatballs, house-made porchetta and a Taproom burger loaded with Adirondack cheddar, pickled red onions and house-cured bacon.
86 Henry Street, Saratoga Springs, N.Y., 518-886-8938. henrystreettaproom.com
---
Saratoga Apple
Stop by the orchard to pick your own apples, indulge in the area's best cider doughnuts or visit the soon-to-open hard-cider tasting room.
1174 Route 29, Schuylerville, N.Y., 518-695-3131. saratogaapple.com
— H.P.E. & J.C.