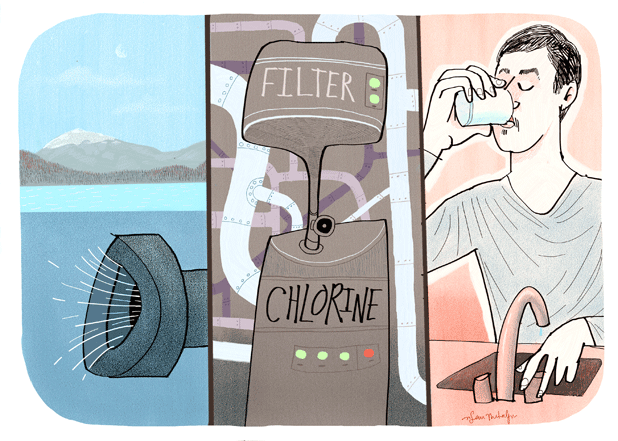 When I was asked to judge the 2010 Vermont Water Tasting Contest, I could hardly say no. Who wouldn't want to drink 20 cups of water in a sitting? And who wouldn't relish the resulting bloat?
If this is the first you've heard of such a drinking water contest, don't worry. You're in good company. Like most people in Vermont, you probably don't give much thought to where your drinking water comes from. And you probably don't care how it gets to you. You just turn on the tap and assume it will deliver water free from giardia, E. coli and other contaminants that could lead to an encampment in the bathroom, or worse.
But not all water is created equal. Or, rather, not all the water that comes out of your tap started off safe to drink. Water-purification processes vary among municipalities. Some have to filter, aerate, disinfect and chlorinate the water they provide to their residents. Others don't have to treat it at all, depending on the water's source.
The variation in treatment methods makes water taste different from town to town. Tap water in Jericho might have top notes of chlorine, while your neighbors' H2O in Essex could have a silty aftertaste. Not every town has water that tastes like a fresh mountain spring — a vegetal bouquet with a flinty finish, perhaps?
"There is no sole source aquifer in Vermont, and our geology is all over the place," said Ashley Lucht, a capacity development specialist with the Water Supply Division of the Department of Environmental Conservation. "As a result, neighbors can drink vastly different water."
Recognizing that humans influence tap water's taste as much as nature does, the organizers of Vermont Drinking Water Week host a semiregular drinking-water competition. Water-treatment operators are invited to submit samples of their product for judging by a scrupulous panel of tasters. The judges' water palates are as refined as those of the world's top oenologists. Well, except for mine.
The contest was held on a rainy Thursday in early November during the Green Mountain Water Environment Association's fall conference. Tucked in a dimly lit corner of the Sheraton Burlington Hotel & Conference Center was a table holding 50 clear plastic cups of water. Each cup in the blind taste test had a number scratched on it in indelible black ink. Only Lucht, the contest's organizer and chair of the Vermont Drinking Water Week Committee, knew which entrant names corresponded to those digits.
Before we began swilling, Lucht gave me a rundown of the types of water I would be tasting. First, she said, all the samples were potable. Thank God for that. Because I was not into contracting some gut-ravaging, poop-borne disease for this assignment.
Next, Lucht informed me the water was divided into three categories: public community surface water, public community groundwater, and something called nontransient/noncommunity water (NTNC). Surface water comes from a stream, river, lake or other aboveground reservoir. Groundwater includes that from wells and springs. NTNC water systems are found in facilities such as schools, factories and resorts that provide their own water supply.
Armed with this limited knowledge, I was ready to drink. Only 10 operators had submitted water samples, which was a little disappointing, Lucht said. But that was fine by me, since it meant less water sloshing around in my gut.
In water tasting, one does not need to follow wine tasting's five-S protocol — see, swirl, sniff, sip and savor. Unlike wine, water offers nothing much to see. Leglessness and translucence are both excellent qualities for it to possess.
Water doesn't need to be swirled, since it will not produce an aroma beyond, perhaps, a faint hint of chlorine mixed with plastic. Likewise, sniffing is a waste of time, unless you're a water expert like my fellow judges, and can smell chemicals undetectable to the untrained nose.
So, all I had to do was sip and savor. I poured the first sample into my mouth and let it sit on my tongue for a moment while I gauged the mouth feel. It was mildly unctuous, but had a sprightly crispness.
I swallowed the first sip and took another, this time to rate the flavor. It tasted of, well, nothing, which I determined to be a good thing.
Shaun Fielder, executive director of the Vermont Rural Water Association and one of my fellow judges, agreed. Good water, he asserted, should be clear, without odor or aftertaste. When asked to describe how water should taste, Fielder offered "crisp and clean."
Those words would not describe the second sample. It had an earthier taste, and by that I mean it tasted like soil. It wasn't undrinkable; it just wasn't going to win the big prize.
The third sample had top, mid- and base notes of chlorine. Tasting chlorine in your water isn't necessarily a bad thing, reasoned Fielder, because at least you know it has been thoroughly treated.
The remaining samples tasted velvety, salty, spritzy, woody and minerally, respectively. By the last cup, I couldn't discern any sort of flavor or texture. My palate needed to take a knee. It wasn't the only one.
"I want a packet of crackers to cleanse my palate," Fielder joked.
My stomach was starting to expand, as was judge Elizabeth Walker's. A former utilities manager at Sugarbush, she had a lengthy résumé of water-related jobs that well qualified her to be judging the stuff.
"Now I'm going to get bloated," Walker said with mock aggravation.
We narrowed down winners in each of the three categories, then had to judge those three against one another. More sipping, more bloat.
The final was tight — three judges voted for the first sample, and two voted for the second. We waited anxiously for Lucht to announce the winner.
Turns out, the best drinking water in Vermont (at least among our samples) now belongs to the town of Richmond. And, yes, I picked the winner. It joins past victors the Champlain Water District, Flood Brook Union High School in Londonderry, and Long Trail Brewing Company in Bridgewater Corners.
Kendall Chamberlin, chief operator for the town of Richmond's Water Resources Department, wasn't surprised by the win. He knows his town's water is damn good.
Its source, he explained, is an underground lake near Cochran's Ski Area that ultimately feeds into the Winooski River. The water is filtered naturally and aerated to raise its pH before it goes into the system. Chamberlin said he sets the chlorine just high enough to keep the water free from contamination.
Over the 25 years he's worked for the town, Chamberlin has heard countless people rave about Richmond's water. He's even fielded queries from passing travelers who wonder where they can get more of the delicious stuff. Chamberlin himself likes the water so much, he brings it home and uses it in lieu of his own well water.
And he would pit Richmond's water against the bottled variety any day. "When you do that blind taste test, ours comes out on top," he said.
This latest drinking water contest win isn't Richmond's first. The town won in 2005 and represented Vermont that year in a national competition held in Washington, D.C. There, Alaska won, but Richmond's H2O ranked among the top 10 in the country.
"It's hard to beat that glacial source," Chamberlin lamented.
This year, he and his water are heading back to the national competition. It's a nice perk for his department's hard work, reasoned Lucht.
Winning the Vermont Water Tasting Contest is recognition of a thankless job well done. Plus, the contest puts tap water in the spotlight, which is essential in the face of bottled-water encroachment.
"It's bragging rights," Lucht said. "And it's a way to expose drinking water, which is something most people never think about."