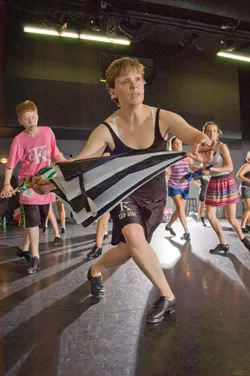 Matthew Thorsen
Lisa Hopkins and some of her Tap Kids
At the Spotlight on Dance studio in South Burlington, a sound like a military unit rehearsing marching maneuvers emanates from Studio 3. A peek inside reveals the source of the pulse-quickening sound: 17 teenagers dressed in tees, shorts and metal-soled shoes, dancing a synchronized tap routine in front of a mirrored wall in exact unison.
Master tap-dance teacher Lisa Hopkins strides back and forth along the double line of dancers, sometimes jumping rhythmically up and down to accentuate the beat. At her brief shout, the ranks dissolve to watch her demonstrate an additional eight-bar step. It's fast and precisely articulated, and it seems impossible for 17 kids to reproduce it with such clarity.
Yet, after a few seconds filled with the clatter of individual attempts, the group coheres and executes the whole sequence perfectly. Then, having jokingly crossed herself, Hopkins leads the routine again to pounding music from the stereo. After a moment, she turns up the volume so the dancers can hear it over their own thunderous sound.
It's day one of the 11th annual Tap Kids Summer Intensive, a weeklong workshop for the nation's top tap-dancing youth. Those in Studio 3 are only a sampling of the 53 kids, ages 9 to 22, who have come from all over the country — and Canada — to attend. After tapping for seven 10- and 11-hour days in a row, workshop participants will strut their stuff in a single performance on the Flynn Mainstage: the Tap Kids Showcase Spec-tap-ular.
Tap Kids is new to Burlington. Hopkins, a 45-year-old from Toronto, started the program in Tarrytown, N.Y., in 2000. When she and her husband, Broadway composer Philip Stern, moved from their Tarrytown rental to Burlington two years ago — attracted by the cultural variety and relatively affordable house prices, she says — she realized the burg offered a better environment for the workshop. There would be no big-city distractions and, instead of needing to be bussed to practice, kids could walk from their hotels to the studio off Dorset Street.
"Almost none of these people have ever been to Burlington," notes Hopkins, who speaks with an intensity and speed that rival her tap-dance skills. To give the kids a taste of the area, she has scheduled a "tap jam" lake cruise on the Spirit of Ethan Allen and another jam session in front of Ben & Jerry's on Church Street the day before the performance.
Combining gigs and sightseeing may seem a little extreme, but Hopkins says the kids love it. "As soon as they get here, they call me and say, 'Can we dance?'" When the first two students arrived a day early this year, Hopkins "ran and got them a permit" to busk on Church Street, she says.
Hopkins identifies with her charges' passion. Inspired by her dance-choreographer mother, she started choreographing when she was 16, won a scholarship to York University in Toronto to study modern dance and ran her own dance company for three years after graduation. In 1991, she and Stern moved to New York so she could study jazz and tap at Broadway Dance Center on a 10-month student visa. Soon she was teaching at Steps on Broadway, where Mikhail Baryshnikov was training at the time.
By 2000, Hopkins and Stern had formed their theatrical production company, New York Stage Originals, as a platform for their collaborative projects — which currently include the off-Broadway musicals Scrooge and Dream, with music by Stern and choreography by Hopkins.
But the company's first project was the Tap Kids Summer Intensive and showcase. Hopkins was spurred to create the program when she realized many young tap dancers "had reached their limit where they lived" and had few opportunities for advancement. Now, she adds, there are national tap festivals, but her program remains unusual.
After the second Summer Intensive, Hopkins saw certain dancers were good enough to tour nationally. She and Stern chose the best eight and created a narrative show (which he scored) called simply Tap Kids, about the lives of eight high school students leading up to graduation. The touring show has become a hit since its 2002 debut, with performances in 35 states and Europe; its international agent is now angling to get it into theaters in Asia, Hopkins says.
Tap Kids touring cast members have gone on to even bigger achievements: One is on the television show "Glee"; another has choreographed for both Janet and Michael Jackson and appears in the recent concert film Michael Jackson's This Is It. Each year, the Summer Intensive serves as the talent pool for new apprentices to the touring show.
The current group of Intensive attendees was picked from among 125 dancers who submitted audition DVDs. Half are returnees, says Hopkins, and many are on their fifth year or more. She attributes some of that enthusiasm to the noncompetitive culture she tries to create. Instead of honoring the tap-dance tradition of the "cutting contest," for example — an improv competition where a dancer performs eight bars, followed by another dancer, and the lesser one is cut — Hopkins organizes a team competition for a pool of money that the winners donate to a charity of their choice.
"What I try to do is broaden them as human beings," Hopkins explains. While learning from her, they learn from each other: "They're the best where they come from, and then they meet someone who's the best where they come from. It's just neat to see these kids from all around the country dancing."
The Intensive's faculty this year includes Hopkins and eight more "master" teachers — an industry term for talented instructors with Broadway, television or film experience. Among them is Emmy Award winner Jason Samuels Smith, whom Hopkins describes as "the best tap dancer in the world next to Savion Glover."
Hopkins also brought in some local talent. Burlington resident Sidiki Sylla — the artistic director of Jeh Kulu — will teach an African dance number involving all 53 kids and some of the Jeh Kulu drummers. University of Vermont professor Tom Cleary's jazz trio will provide live music for other segments of the program.
The two-hour performance will include some solos and duets that applicants to the Intensive have already performed at national competitions. "That's really neat for the audience, because they're seeing award-winning choreography," Hopkins says.
"It's such a family-friendly thing," she says of the showcase. "Boys will like it, too, because there are both boys and girls [in it]. It will inspire everybody."