I've been meaning to introduce the fish of Seven Days to all you Blurt readers, and seeing as we've officially had our first death, now seems as good a time as any.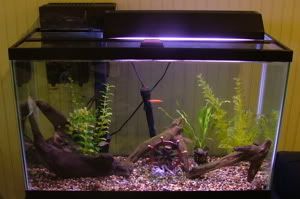 A few weeks ago, web man extraordinaire Bob Kilpatrick brought in his fish tank from home to liven up the office. The fact that we now have a water fixture within view of our front entrance is supposedly good feng shui. And the fact that I have the calming bubbling water filter within earshot of my desk is good for my own anxiety, and in turn, good for everyone around me.
The other benefit of the new fish tank? I have a daily soap opera unfolding before my very eyes. As the Tank Turns? Fish of our Lives? All my Fishies, the Passions edition? I haven't quite decided.