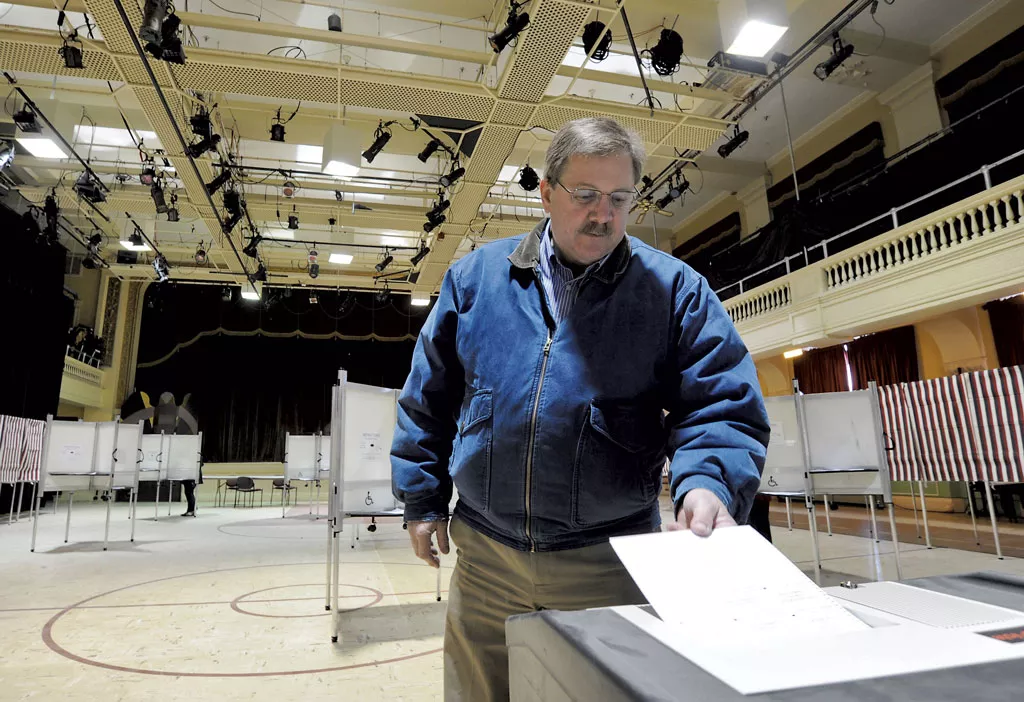 File: Jeb Wallace-Brodeur
Jim Condos
Ryan Mason ran for high bailiff in Addison County, so he was eager to see the results from Election Day voting. In its Thursday edition, the twice-weekly Addison County Independent printed a final tally showing Mason falling just short of the win. But the Democrat held out hope, anxiously awaiting the official government count.
The wait turned out to be longer than expected.
The Vermont Secretary of State's Office did not post results from three Addison County precincts until Saturday, four days after Tuesday's election. According to the government tally, Mason lost by 1 percent, which made him think about requesting a recount.
"That calls into question the validity of the final results when you have so much time lapse, especially when it's supposed to be electronic and easy to utilize," Mason said.
He was annoyed that the secretary of state's office was not providing results while the media was. "That was extremely frustrating."
Across Vermont on election night, reporters — many piggybacking on the work of the Associated Press — were able to give the public and politicians fairly comprehensive vote tallies. In the following days, the results dominated the news, particularly the thin margin separating Democratic Gov. Peter Shumlin and Republican challenger Scott Milne.
Yet, days after the polls closed, a message on the secretary of state's website said to check back over the weekend for full results. Why, in 2014, are media outlets able to provide the public with voting results faster than the government?
Town clerks point to the secretary of state's office. And that office largely blames town clerks. But both sides agree that, while the system has improved in recent years, more needs to be done.
Secretary of state Jim Condos said his office has made great strides in providing more timely election results, noting that before 2012 the office didn't offer results online. Now the office has a website to which town clerks can transmit their tallies, and the results are uploaded into a user-friendly map. Condos said they are developing a new data-entry system to provide faster results by 2016.
Live map from the secretary of state's website showing election results four days after the election with incomplete results.
Nonetheless, Condos said, providing election-night results isn't his top concern: His primary obligation is making the votes official. On the Wednesday after election week, Condos and his canvass committee — a representative from each of Vermont's political parties — must legally certify the results, before which time the votes are considered unofficial.
"I have an elections team of five providing support for all elections officials, answering questions for voters and candidates, and doing what needs to get done behind the scenes," Condos said in an email. "Our focus is on providing accurate official results for the canvass committee. We want to have 100 percent results the night of; however, we do not have the staffing to contact every town clerk, nor is that the focus of the elections division on the election night."
That much was clear.
After polls closed, the AP provided results from many more precincts than did the state. By the next morning, the AP had results from every one of Vermont's 275 precincts, while secretary of state's office was still missing more than 25 of them.
Seven Days called town clerks from four of those communities on Thursday morning and easily obtained gubernatorial election results from all of them.
Clerks in two of those communities, Bolton and Grand Isle, said they had entered their results into the secretary of state's database on election night, and were surprised to hear the votes from their towns hadn't shown up.
"We sent it in to their database," Grand Isle assistant town clerk Melissa Boutin said. "That was the very first thing we did."
In Bolton, town clerk Amy Grover said she had 12 volunteers counting votes by hand at the town's polling site on election night. She then drove back to her office to log the results in to the secretary of state's database.
"I came right back here and filed my unofficial report with their office by 11 p.m.," Grover said. "I made sure I got my information in and double-checked the numbers to make sure I had the correct information uploaded."
In an email, Condos acknowledged that there were technical problems in displaying results from a few communities that reported.
Condos also pointed to a state law passed last year that required town clerks to send his office unofficial vote counts on election night. Not all clerks complied, Condos said.
By Friday afternoon, well after Milne had started discussing his next steps, the secretary of state still lacked the results from 10 precincts.
Town clerks in Weybridge and Victory, two of the precincts absent from the secretary of state's website until the weekend, told Seven Days that they were unaware of the new requirement. They assumed they had fulfilled their legal obligation, they said, when they sent results, via certified mail, the day after the election.
"It is the town clerks' responsibility to enter the results into the online system or, in an instance where they are unable to do so for any reason, to call, fax or email them in to our office," Condos said. "It is their statutory obligation to report to us on election night."
Rather than wait for results, outlets such as the AP chase them down because they want to get information to the public as quickly as possible, AP spokesman Paul Colford said. "That's our bread and butter on election night," Colford said. "It's built on speed and trying to expeditiously deliver the numbers that the states are often slow to deliver."
So determined is the AP to get full results that a representative from the news agency called Victory clerk Carol Easter at home at 11:45 p.m. on election night. It wasn't until Saturday that the secretary of state had the same results from Victory, population 55, on its site.
Weybridge town clerk Scott Wales said the Addison County Independent got his email announcing preliminary vote counts on election night. Like many newspapers across the state, it had made arrangements to be on the list.
Why wasn't the secretary of state included? They never asked to be, Wales said.
Mason, the would-be bailiff, was grateful that at least his local paper had taken the initiative.