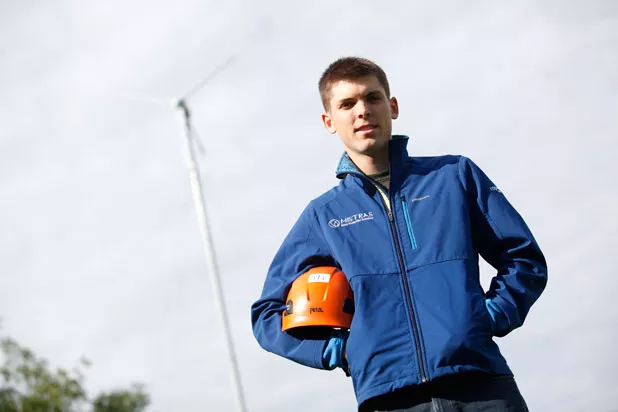 How do you fix a 300-foot-high wind turbine? After all, it's a little high to lean a ladder against. You call a guy like Brian Waters, a former staff president at the University of Vermont's indoor climbing wall who works as a rope-access technician. For nearly a year, Waters, 25, has climbed up and rappelled down wind turbines and other tall structures around the country with Ropeworks, a Reno, Nev.-based rope-access company. Between traveling to jobs at sites such as the Marble River Wind Farm northwest of Plattsburgh, N.Y., Waters lives in Burlington. What does he do in his time off? Naturally, he climbs, favoring Keene Valley in the Adirondacks. Seven Days met up with Waters over tea at Maglianero Café to ask him more about the high life.
SEVEN DAYS: How'd you break into this business?
BRIAN WATERS: My dad showed me a newspaper article from the New York Times about one of our competitor [rope-access] companies. He said, "You know, this would be a fun job for you," kind of half in jest. You've just got to take the class and pass the test. [I did,] and then I got the job.
SD: What did the class consist of? Was it familiar to you as a climber?
BW: It's not the same kinds of things that you use climbing. In rope access, we use two ropes for redundancy — everything is redundant. We have a full-body harness. Our descending device automatically locks. We use mechanical ascenders. So there are different tools, and the techniques that we use in rope access are different, too. I learned a whole bunch of maneuvers in my [class] that I had never even heard of before, like rope-to-rope transfer or a rebelay.
SD: What do you climb, and what's it like when you get to the top?
BW: Almost all the work I've done in the last year has been wind power. [Ropeworks does] other things — we do oil refineries, bridges, hydro dams. We've done the Space Needle and Mount Rushmore and all kinds of wild things like that. It can be pretty varied, but most of my experience has been on the wind.
What's it like up there? It's windy. I don't know. I love it. It's — how do I describe it? Sometimes I take pictures. Wind jobs tend to be pretty photogenic, and a lot of times we have a camera because we're doing inspection, so if I see something cool, I'm always taking shots of it. But at the [oil] refinery, there's no cameras allowed. You have to have a special license for hot work because they're concerned about sparks.
SD: It's funny — that's almost more dangerous than wind work.
BW: Totally. People think that working up high is dangerous. I guess working at height, no matter what you're doing, is inherently dangerous. But rope-access people, for whatever reason, maybe it's because we're more exposed to risk, or maybe it's because of just the type of people that are attracted to rope access, we're really diligent about safety. I always say, if something's gonna hurt me, it's not gonna be a fall — I'll get electrocuted or something.
SD: Do you ever work in bad weather conditions?
BW: We've worked in cold, but we won't work if it's too windy [or] if it's raining. If you're on a big, giant machine that's designed to rotate in the wind, and you're hanging, it just doesn't seem like a good idea to be out there if the wind is really kickin'.
SD: Does the term "rope-access technician" give rise to jokes about rats?
BW: No, it doesn't, for some weird reason. I've suggested it a few times, and no one seems to think it's funny [laughs].
SD: What exactly do you do up there?
BW: Sometimes we'll do blade inspection, where we're looking for defects and documenting those and making reports. We've done blade cleaning. We do mechanical stuff inside the tower. Refineries have hundreds or thousands of miles of pipes in them, and all of those pipes need to be inspected every so often.
SD: You travel a lot. How does that work?
BW: We go out and we work for a couple weeks. We get lots of overtime and work really hard, and we come home and we've got anywhere from a week to a month to hang out, have some fun, do whatever we want. Some guys are total climbing bums; other people are running a business.
We spend most of our time in the Midwest. If you look at a [color] wind map of the United States, it's all weird, jumbly mixed colors because it depends on the ridgelines; maybe it's higher [in some places]. But then, as soon as you go from the Rockies to Iowa, there's, like, a vertical band that's totally purple. That's where all the wind is in the United States: Texas, Oklahoma, Nebraska, Minnesota, Iowa, Missouri, South Dakota. We tend to go to really rural places — they'll fly us into Oklahoma City, and we drive, like, two hours out into the cornfields.
SD: When you're up there, are you in a Zen-like mode, or is your heart pounding?
BW: Well, I'll tell you, my heart was pounding on my first day at work [laughs]. But it's like anything else — we work really hard to make sure everything is safe. So you can work confidently knowing that everything's gonna be OK, and after you do it a couple of times, it's not scary anymore. You can just get out there and do your job.