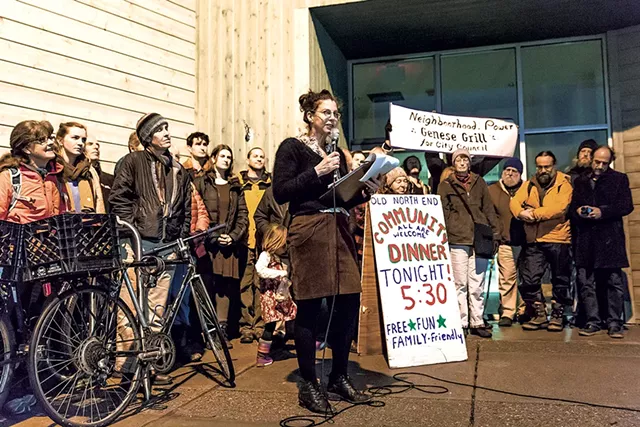 Oliver Parini
Genese Grill at McClure Multigenerational Center
Burlington City Council candidate Genese Grill seemed more hostess than politician at her campaign kickoff last month in Burlington's Old North End. She eschewed electoral convention, jumping up to serve tea to six or seven supporters, and espoused a populist vision for the city. "This is about bringing power back to the people," she told those gathered as they snacked on free pastries at Nunyuns Bakery and Café.
But the group seemed more interested in grumbling about the city-sanctioned redevelopment plans for the Burlington Town Center. Grill, an artist, translator and writer who is running as an independent, listened and nodded empathetically as they disparaged the administration for "building downtown high-rises" and derided "the mayor's developer friends."
The attendees included several members of the Coalition for a Livable City, which has vociferously opposed the tall mall. For Grill, who belongs to the group, the Burlington Town Center is a symbol of the sway of corporate interests within city government and a key example of councilors "compromising at the expense of the people they serve."
Grill's criticism was aimed at her competitor for the Central District seat, incumbent council president Jane Knodell, who was kicking off her campaign at precisely the same time a few blocks south. At least six city councilors of various political leanings came by Three Needs Taproom & Brewery to order a pint — and to voice support for Knodell.
There, too, the discussion returned again and again to the mall. Bob Wright and his wife, Sylvia, live in the New North End — outside the Central District — but came out to support Knodell because she had backed the Burlington Town Center redevelopment. "We can't vote for Jane, but we would if we could," Wright said. The mall is necessary for growth, he said, reasoning it's better to accept the inevitable evolution of the city rather than resist it. "Things have to change," he said.
In remarks to two dozen listeners, Knodell highlighted her record of promoting growth. She vowed to increase the number of affordable housing units in Burlington and to work to create more livable-wage jobs in the city. Predicting that Grill would link her to Democratic Mayor Miro Weinberger, Knodell countered by describing herself as a "strong Progressive" with "an independent streak." That line also appears on her campaign literature.
Despite 18 years on the city council, Knodell said she'd be campaigning hard on the streets of Burlington's Old North End, where she's lived for almost three decades. "I'm taking this race very seriously," she said.
No doubt that's because of how voters in her Central District — made up of Wards 2 and 3 in the Old North End — voted on mall-related questions last fall. While they passed a tax increment finance measure 52-48 percent, the same voters shot down a bid to increase allowable heights in the downtown area where the mall is meant to go, 53-47 percent. Citywide, both measures passed.
The Central District council race illustrates a growing conflict in Burlington politics: pro-growth Progressives and Democrats versus antiestablishment forces represented by Grill. In the past four years, the 51-year-old has increasingly devoted herself to grassroots activism opposing city development projects. And she does it without a cell phone. Grill gets around town on a three-speed bicycle — her only means of transportation — and shares a home with other artists.
Grill, a New York City native, came to Burlington in 1997, after friends on a cross-country road trip had car trouble in the Queen City. They wound up staying, and wrote Grill a letter, urging her to join them. She did. By 2002, Grill, who earned a PhD at City University of New York, had a regular gig teaching literature and writing at Burlington College. Six years later, then-president Jane O'Meara Sanders fired her.
Now she pieces together a living as a freelancer: translating German literary texts, penning essays and pursuing her art. In her South End studio, she's working on a room-size book — more of a sculpture, really — that displays her writings. Grill lives below the poverty line, she said, but manages to make ends meet with a "very economical" lifestyle.
When she initially considered the prospect of running for city council, "I was terrified," said the candidate dressed in a vintage flowered dress with a stopwatch pendant around her neck. Although the prospect of campaigning does not appeal, "The more people I talk to," she said, "I just feel called."
While Grill advertises herself as a political outsider and neophyte, Knodell is anything but. Since coming to Burlington in 1986, the University of Vermont economics professor has served nine terms on the city council — though not consecutively. She took a break from city politics between 2009 and 2013, when she held the number-two job — of provost — at the University of Vermont.
Matthew Thorsen
Jane Knodell
Stanford-educated Knodell, 62, looks the part of a stern academic: The bespectacled council president runs meetings with authority; she knows her Robert's Rules of Order. And, unlike Grill, she embraces institutions and bureaucracy and touts her political connections as key to getting things done. Her wry sense of humor often serves to lighten the proceedings.
A devout Progressive, Knodell touts her ability to work across party lines. On the mall and other projects, she's asked the mayor "hard questions," which, she noted, "weren't always welcome, frankly."
Burlington has stagnated for decades, Knodell said. "Now things are starting to happen. We're actually starting to break through the stasis and go ahead and develop new houses and jobs."
Grill believes those projects are moving too fast, and, in some cases, in the wrong direction. And she's not the only candidate for city council who opposed the Burlington Town Center project.
Progressive Charles Simpson, who played a prominent role with the Coalition for a Livable City, is running in the South District. And outgoing Burlington Progressive Party chair Charles Winkleman, also against the mall, is running in the East District.
An antidevelopment faction within the Progressive Party prompted Weinberger to speak out at last month's Democratic caucus. The Burlington mayor urged the Dems to endorse Knodell, while lambasting what he called the Progs' "reactionary fringe."
City Dems went ahead and nominated Knodell, who is now trying to balance her allegiances. She's grateful for Democratic support, she said, and plans to acknowledge it in her campaign. But she is not adding a "D" next to her name on the ballot.
Knodell refused to comment on the mayor's "reactionary fringe" statement. "I don't really have a take on it one way or the other," she said. "I'm just trying to focus on the race."
She also downplayed tensions within the Progressive party. "Probably, the Democrats are also split on issues of housing and job growth," she said matter-of-factly during an interview in her UVM office.
That pragmatism has earned her support across the aisle. Democratic Councilor Joan Shannon, who was city council president before Knodell, described her successor as "fair." Of Knodell's views on development and growth, the South District councilor said, "She's been largely consistent in her votes, I would say, and in her outlook and opinions and values."
John Franco, a Burlington attorney representing the CLC in a mall-related lawsuit the group brought against the city, said he backs Knodell in spite of their different positions on downtown development.
He served in the administrations of mayors Peter Clavelle and Bernie Sanders and sees Knodell as a strong advocate for Progressive values. "The loss of Jane on the city council would be a tremendous loss to Burlington and a tremendous loss for Progressive issues," he said.
While she's not a Progressive, Grill said she felt stung by Weinberger's comments at the Democratic caucus. She protested by speaking at a council meeting on January 30, calling his remarks "Orwellian doublespeak at its most sinister."
Though Grill insists there's more to her campaign than opposing development — "This is not about the mall," she told the group at Nunyuns, to no avail — she feels like Weinberger has backed her contingent into a corner.
"We seem to be on the defensive because the mayor is constantly assaulting the city with projects we did not ask for," she wrote in an email to Seven Days. "We need a minute to breathe so that we can establish neighborhood priorities."
If elected, Grill said she would prioritize the preservation of Memorial Auditorium, keep Burlington Telecom local, scale back the Champlain Parkway and increase funding for public transportation and childcare.
For some, at least, that platform has struck a chord. "Genese will really serve the whole population," said Caryn Long, who was handing out flyers at a press conference Grill held at the McClure Multigenerational Center. Long lives in Ward 1 but is helping out with Grill's campaign. She pointed out that the bicycle-riding candidate understands and has empathy for people. "She gets it," Long said.
Amanda Hannaford was also at McClure but she hadn't yet decided whether Grill or Knodell would get her vote. The Ward 3 resident said she grew disillusioned during the hearings for the mall. "No one in city government tried to involve people," she said.
"I like Jane; I'm not against her," she clarified. "I just think we should have a choice."