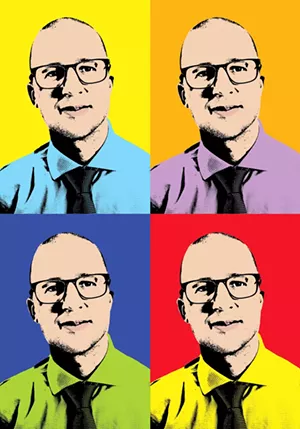 Matthew Thorsen
Anthony Grudin
In a January 4 article in the New York Times, writer Ted Loos noted that some 40 Andy Warhol exhibits "will be flooding university art museums and institutions" this year. One of them is the Middlebury College Museum of Art, which has on view 10 silk-screen prints recently donated by the Andy Warhol Foundation for the Visual Arts. That foundation will give an additional nearly $14 million this year — including the $100,000 grant that Burlington City Arts recently received. Concurrently, the Montréal Museum of Fine Arts is hosting "Warhol Mania," an exhibit of the artist's early magazine and advertising work.
Warhol, who died in 1987, still appears to be ubiquitous. Even in Vermont, his posthumous largesse continues to fulfill his foundation's mission: the advancement of the visual arts.
That's why we chose to interview Anthony Grudin, an assistant professor of art history at the University of Vermont since 2009. From Eugene, Ore., the 38-year-old has been researching Warhol since grad school at the University of California, Berkeley. He had some surprising things to say about the artist we thought we knew well.
According to your online bio, your research focuses "on the challenges of late modern cultural production and reproduction, with an emphasis on the ways in which these challenges are visualized in Andy Warhol's appropriations of mass culture." What do you mean by "the challenges"?
Warhol was so in love with mass culture — he was a huge fan and had a great appetite for it. Yet there was a constant acknowledgment that it's impossible to actually get a place at the table. I think he held on to the idea that mass culture is a one-way street. He was always on the lookout for ways an individual could make a contribution.
Is this what your dissertation addressed?
I started to develop it at Berkeley and have worked on it ever since. I have a book under contract, Working Class Warhol (University of Chicago Press). Another research project and book is called Animal Warhol. I've spent a lot of time reading Warhol's diaries and noticed an emphasis on animals. His family had a dog in the basement that his brothers would beat up — it was traumatic for him.
In the '50s and '60s, he also had a talking parrot. When he moved to New York with his mom, they had 28 Persian cats. Late in life, he had two dachshunds, and had to split custody of them with an ex-boyfriend. This was interesting to me because I was simultaneously looking into philosophical animal studies, which look at the relationships between humans and animals. Warhol was considering these questions in the '70s and '80s and foreshadowed this area of critical thinking.
Why is Andy Warhol so popular?
This is a fascinating question. This question of mass culture participation has relevance for us today. Even though people may not consciously recognize this in Warhol's work, they sense that aspect of his interest. Also: animals, nonnormative lifestyles, gender — he was among the earliest really prominent artists to delve into these things in his work. And Warhol's interest in everyday, ephemeral material culture obviously gives curators a lot to work with. He's as good as anyone of his time in helping us understand the 20th century.
Warhol made 500 four-minute films called "Screen Tests," mainly of his friends and visitors to the Factory [his studio]. How many have you seen, and what do you think Warhol was trying to do or say with them?
I've seen dozens — enough to get a taste for them. There are interesting angles — one goes back to cultural reproduction. Warhol tests his own ability to make a movie, but also the subject's ability to be a star. They're also interesting as a form of social interaction. Warhol was shy, soft-spoken; he didn't interact easily. Some say he used technology as a baffle.
Warhol's comment "Everyone will be world-famous for 15 minutes" has been overused and misquoted. What do you think he actually meant by it?
I'm so glad you asked. He did have a quote that specified 15 minutes of fame, but he had an earlier quote: "There's going to be a day when no one will be famous for more than a week. Then everyone will have a chance to be famous." It focuses on egalitarianism, which I think is a thread throughout Warhol's work.
Warhol documented everything in his life so incessantly, he would have been a fiend on social media. Were he still alive, how many Facebook friends would he have by now?
He'd be competing for the most friends. Same on Twitter. He would have loved these technologies. Warhol was an early adopter.
Please fill in the blank: Never mind the fact that Warhol produced a staggering amount of work. I wish he had done more ____ .
I wish he'd been a little nicer to people. People often felt let down by his interpersonal relationships. When you admire someone, you want to see them be better.
I wish Warhol had lived to see _____ .
Facebook and Twitter are the easy answers. But on a deeper level, I wish he'd lived to see the gains made by the queer movement. He suffered so much, even as a famous person.
I wish Warhol had made a portrait of ______ .
Ana Mendieta.*
*Mendieta (1948-85) was a Cuban American artist known for her "earth-body" artwork. She died by falling 34 floors from the window of her New York apartment.
INFO
In connection with the exhibit "Recent Gifts From the Andy Warhol Foundation," Anthony Grudin will give a talk titled "I Like to Keep Modern: Andy Warhol's Portraiture" on Friday, January 23, 12:30 p.m., at the Mahaney Center for the Arts, Middlebury College. $5 donation for lunch; students free. middlebury.edu