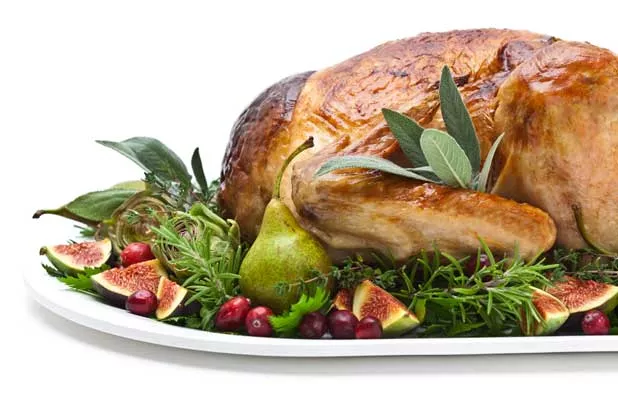 ©istockphoto.com/Jill Chen
When the last bite of pumpkin pie is gone and my T-Day guests are watching movies or playing board games, I'm left with a nagging question: "What about the leftovers?" Sure, I could pack the potatoes, bag the Brussels sprouts and send them home with Grandma. But these days, I aim to stretch the bits and pieces as far as I can.
The simplest solution is to relive Thanksgiving dinner on Friday (and Saturday and Sunday) with the help of the microwave. And there's always the good old turkey sandwich with mayo and cranberry jelly. But if those prospects bore you, try some less common ideas for making the most of your feast fragments. Just be sure to hunt up recipes for the more complex ones.
The Turkey
Given its fairly subtle flavor, turkey easily can be added to dishes from around the globe, but Mexican food is an especially good pairing. Historians believe the Aztecs were the first to domesticate the funny-looking bird, and that many modern Mexican recipes with chicken originally would have been made with its bigger cousin.
Enchiladas are one neat way to wrap up leftovers. Cut or pull the leftover turkey into bite-sized pieces, season it well with salt and pepper, wrap it in corn tortillas, pour on bottled sauce and sprinkle with grated cheese. Warm the enchiladas in the oven, and voilà. Turkey is great with mole sauce, too, and can be added to tacos or burritos.
Not into South-of-the-Border fare? Look East. Cooked turkey can be incorporated into all kinds of curries — rich massaman curry made with coconut milk and peanuts, say, or a turmeric-based Indian version. If you've got soy sauce, mirin and lots of garlic, whip up a veggie stir-fry and add the cooked turkey at the end, giving it just enough time to heat through. Serve this over jasmine rice to give yourself a break from potatoes.
A snazzy post-holiday brunch is another occasion to turn poultry scraps into something delicious. Chop up the meat and cook it with onion, garlic, cubes of cooked potato or sweet potato, some thyme and a bit of mustard and cream, and you've got turkey hash. Plop some poached eggs on top for a hearty a.m. offering.
Or make a savory bread pudding: Just mix eggs, cream and a complementary cheese; blend with the leftover stuffing and turkey; and bake. Simpler options include turkey-topped omelettes and crêpes. If you decide to flank the fowl with pancakes, don't forget to add a smear of cranberry jelly.
Finally, you can use up both your mashers and meat by making a turkey "shepherd's" pie. Layer the poultry, leftover veggies such as green beans or Brussels sprouts, and mashed potatoes in a baking dish. Top with cheddar and bake.
Mashed Potatoes
Over the years, I've come up with two tricks for using my extra spuds. The first is to turn them into croquettes. A little caramelized onion, a couple of eggs, a coating of bread crumbs and a hot pan are all it takes. Making gnocchi sounds fancier, but it's just as easy: Add flour, eggs, salt, pepper and Parmesan to the mash, roll the resulting dough into "worms," and cut each one into half-inch pieces. Boil the dumplings for a couple of minutes and serve with your favorite sauce.
Sweet Potatoes and Squash
Nearly anything you can do with potatoes, you can do with sweet potatoes. Besides the tricks already mentioned, try adding sweet potato or squash purées to muffin or pancake batter for extra flavor and vitamin A, or thin them with broth and cream to make soup.
Cranberry Sauce
If you're totally out of turkey but still have cranberry jelly or relish, don't forget that the sweet-tart condiment goes perfectly with pork. Sear up a couple of chops, glaze with jelly and serve with cooked cabbage or raw slaw. Or treat it like any other jelly: Slather it on bread with peanut butter or cream cheese.
The Carcass, Giblets, Neck and Gravy
Although it used to be de rigueur to add turkey giblets to the gravy pan, this practice seems to have fallen by the wayside. If you're not too squeamish, though, the offal can make your post-Thanksgiving stock that much better. Snag the bones off people's plates and put them in a stockpot with the giblets and neck, a bouquet garni and enough water to cover. Simmer for a few hours, adding celery, carrots and onions about an hour before the end, and strain when cool.
When you make soup with the stock, add the remaining gravy a few minutes before you serve. The concentrated pan drippings, broth and flour will make your soup extra thick and flavorful.
With a little ingenuity, your holiday splurge will give you material for another week of menus, with no repeats. Happy eating!
"Getting By" is a column that appears every other week in Seven Days. In it, we examine how Vermonters are surviving the current economic downturn. We'll share personal stories and money-saving strategies to help you get by during these tough times. Send your recession survival tips to: cathy@sevendaysvt.com.