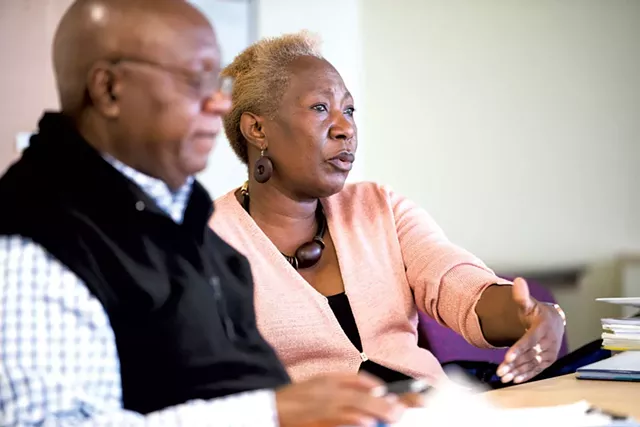 James Buck
Symphorien Sikyala and Virginie Diambou
When does drinking or drug taking become an "at-risk" behavior? It can be hard to know when one is on a dangerous path, still harder to reach out for help. And that situation is particularly difficult for members of immigrant and refugee communities, who may grapple with fear, cultural disapproval or a lack of awareness of the services available to them.
The "cultural brokers" of Chittenden County want to help.
That peculiar-sounding term is the job title for half a dozen New Americans who have been trained, along with 28 other Vermonters across the state, to offer screening, brief intervention and referral to treatment (SBIRT) services to individuals 16 years and older. In August 2013, the Vermont Department of Health won a $10 million federal grant to launch the program; Vermont was one of five states to receive such funding that year.
Using evidence-based protocol, SBIRT providers make connections between individuals who have substance-abuse issues — or are at risk for developing them — and the physical and mental health care systems. In the past two and a half years, more than 60,000 Vermonters have been screened; about 500 of them are New Americans. Vermont's six New American workers were trained specifically to reach out to members of their own communities.
But first they have to know how to bring up the topic. That can mean overcoming fear and suspicion.
"You're going to bring my story to the police," said cultural broker Symphorien Sikyala, imitating the reaction of some members of his Congolese community. He also sees individuals from Burundi, Rwanda and Malawi. "Each person has their own mentality, and [you have] to break it [down]."
Sikyala was speaking on a recent Thursday morning at the Fletcher Free Library in Burlington, where he and fellow cultural broker Virginie Diambou explained their roles to about 60 people from organizations that serve refugees and immigrants.
As the audience listened attentively, the pair described how they have spent the past year discussing issues of mental health and substance use within the African community. When the cultural brokers find individuals who will submit to an interview, they ask a series of questions to screen them for behaviors that could put their health at risk.
"It's a really hard task, because our population is not used to screening," Diambou said of the African community. "We take a long time to explain the benefits."
The six cultural brokers include one man and one woman each from the Central African, Bhutanese and Somali populations. Khadija Adam, a Somali, said it's more culturally appropriate for her to screen only women; Noor Bulle screens the Somali men. The others screen both males and females. The group collectively speaks 11 languages and is supervised by Jody Kamon, a psychologist with the Center for Behavioral Health Integration, and University of Vermont assistant professor of pediatrics Maria Mercedes Avila.
The idea of training people from diverse backgrounds as SBIRT providers arose from New American focus groups that Kamon and Avila conducted in 2014. They asked Congolese, Bhutanese and Somali residents of Burlington, Winooski and Colchester about their beliefs regarding mental health and substance use, and about the barriers that prevented them from accessing related services. Participants suggested that more people would be encouraged to seek professional help if members of their own communities — who understand the language and culture — were trained to address such issues.
"That's when Jody and I advocated for funding [from the federal grant] to be put specifically toward cultural brokers," said Avila, who teaches in both the pediatric and nursing departments at UVM.
The SBIRT providers work nine hours a week. Besides conducting SBIRT interviews, they educate respondents on the health risks of alcohol, tobacco and other drugs; offer advice on coping with stress and worries; explain the benefits of flu shots; and encourage safe driving habits, such as wearing seat belts.
Staying active in their communities is a boon to the providers in their SBIRT outreach. For example, Bulle works for the Multicultural Youth Program at Burlington-based Spectrum Youth & Family Services. He's also a multilingual liaison for the Burlington School District and a player-assistant coach for the Juba Star Soccer club.
"Most people know who I am already," Bulle said. "It definitely helps to have connection with the community."
The multicultural team is looking for ways to introduce itself to the wider local network of health and social services providers. That's why Sikyala and Diambou attended the meeting at the Fletcher Free Library.
"They understand both worlds," said Martha Friedman, the refugee health and health equity coordinator at the health department. The cultural brokers bring an important perspective to the table, she pointed out, at a time when substance use among New Americans — and Vermonters in general — is a growing concern.
Kamon noted that the cultural brokers are better able to "support the person in the early stages of services, when everything can feel new and overwhelming." Indeed, the New American SBIRT providers often accompany members of their community to appointments.
But first they may need to overcome initial resistance to the prospect of seeking help. While SBIRT providers across the state typically conduct health screenings in community clinics, hospitals or primary care offices, the multicultural workers in Chittenden County adopt a more informal approach.
"We are not in an office, which means you go see someone around a meal," explained Diambou in an interview. Conversations may begin over a shared meal in private homes or during a chance meeting in a public place, her colleagues confirmed.
For Africans, home screening is better, Diambou said, "because they are in their own environment. There's no fear of the white coats."
Adam agreed. In Somali culture, it's perfectly acceptable to show up at a neighbor's or relative's house unannounced, she said. She's even attended weddings with the intention of doing outreach work.
Adam has to reassure people that SBIRT doesn't specifically target the immigrant and refugee populations, she said. Since Somalis are Muslim, some get defensive when she asks if they drink alcohol or use marijuana, practices that Islam forbids. Those who do use drugs are afraid of being ostracized if others find out. Adam has to convince respondents that their information will be kept confidential.
Such obstacles do not surprise Avila. "We expected it was going to be complex," she said of the New American outreach. "Communities tend to be reluctant to share issues related to something that would get them into trouble."
Bidur Dahal has a slightly different experience among fellow Bhutanese. "Our community say[s] yes [to screening] because they think I may be unhappy [if they don't]," he said. Or they're worried that he might not help them in the future if they don't cooperate. But Dahal said he assures people they have the right to say no.
Sometimes the SBIRT workers have to deal with no-shows or wait for someone to complete a task before they can talk. "People are busy," Dahal pointed out. Other respondents may be dishonest in their answers or underestimate their at-risk behaviors. The prejudices surrounding mental health and substance use cut across all cultures.
"For us, reaching out to them, it's a lot of driving, planning and frustration," Diambou said. But she enjoys her work and sees it as having value: "I'm always concerned about the needs of our community," she said.
What have the screenings turned up so far?
Of the 501 immigrant and refugee individuals screened to date, 4 percent were considered "low risk." Eighty percent of them received what's called a "brief negotiated interview," during which they were informed of the potential consequences of their habit and asked if they would consider a lifestyle change. Seven percent of respondents reported depressive symptoms. Just 2 percent screened as "high risk," a designation that can come with a referral for treatment. About half of those individuals accepted the referral — or were in treatment already.
In short, the New American screenings found 6 percent to be at either low or high risk, compared with 15 percent for Vermonters at large.
For the cultural brokers, all of whom are former refugees or asylees, doing SBIRT work itself can be an "at-risk" behavior, one that calls up their past traumatic experiences. "[It's like] having a mirror in front of you, reminding you of your own sufferings," said Diambou.
"It's really hard. Some of the stories affect you," said Bulle. For him, "going for a run helps."
That's why Kamon and Avila check in with the team every week or two. The brokers exchange stories and tips on how to manage their own emotions, as well as to offer support.
"We have to take care of each other," Kamon said.