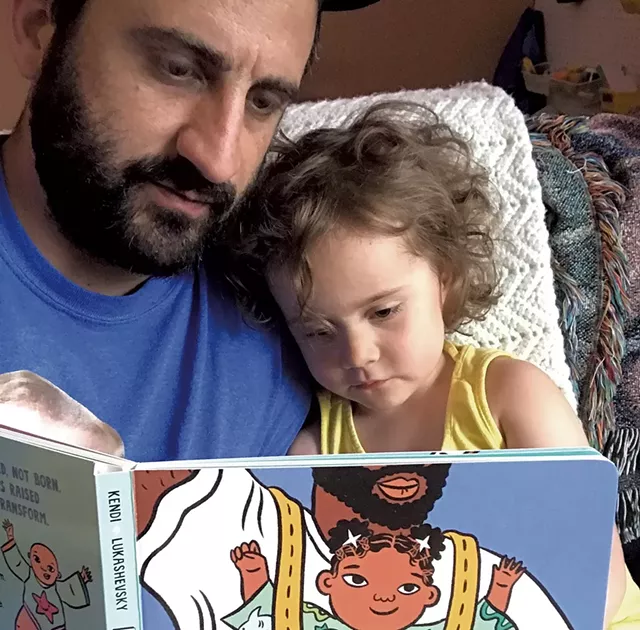 Keegan Albaugh
Keegan and Penelope reading Ibram X. Kendi's Antiracist Baby
"Explain it to me in a different way," requested then-3-year-old Coraline as she sat on her toddler potty in our living room last month. Again, I searched for the words to use, hoping that I could help my daughter understand the conversation my partner, Stephanie, and I had been having in recent days. I made a fourth attempt.
"So the white police officer pressed his knee up against the neck belonging to the man with brown skin, and it caused him to die," I explained. Was I being clear enough? Was I being developmentally appropriate?
"Why did the police officer make that man die?" asked Coraline.
"Because people are treated differently based on the color of their skin. That's racism, and it is not OK," I replied.
"Can you tell me again?" she asked with a look of curiosity. Lather, rinse, repeat.
Conversations like this one have been increasingly common in our household over the past month, and I often feel like I'm stumbling through them. I question whether I'm saying the right things, and I know I'm making a lot of mistakes along the way. I have talked with Coraline about racism a handful of times over the past couple of years, but lately I've been making an effort to increase the learning opportunities and dialogue.
During these times, I often find myself thinking: Who am I to teach someone about systemic racism? What experience and knowledge do I have?
I'm a white, middle-class, heterosexual male. I know that I have a tremendous amount of privilege, much of which I'm still unaware. I have benefited, and continue to benefit, from the many racist systems that exist in our country. Most of my own success is owed simply to the color of my skin.
I acknowledge how hypocritical it is for me to be just now increasing my attention to the topic of systemic racism in light of the recent deaths of George Floyd, Breonna Taylor and Ahmaud Arbery, given that horrific murders of people of color have been happening for hundreds of years. I also acknowledge that, as a parent of white children, the conversation around racism is viewed by many as "optional." Unlike parents who are people of color, I don't have to worry about things like my kids being killed by a police officer because of the color of their skin.
I am absolutely not an expert on the topic of systemic racism, and I would never pretend to be. There are literally millions of people whose voices should be heard before my own. A semi-aware, middle-class white dude should not be the person responsible for introducing this topic to other people.
But I'm a parent.
Regardless of how comfortable, qualified or educated I feel regarding facilitating discussions around the topics of racism and oppression, it is my responsibility to do so. As parents, we don't hesitate to teach our young children how to read, write, count and tie their shoes. Teaching about systemic racism should be no different.
And it's important to start early. According to Lawrence Hirschfeld, anthropology and psychology professor at the New School for Social Research, studies show that by 3 years old, "children effortlessly sort people into racial categories and use membership in these categories to interpret behaviors in accord with ... adult stereotypes."
And I'm coming to terms with the fact that it's OK to not know all of the answers. In fact, it's expected. Conversations around systemic racism can be challenging, especially if it's fairly new territory for you.
Paul Espina, a local educator at the Centerpoint School with experience facilitating diversity training workshops for teachers, suggests that if you're ever asked a question you don't know the answer to, you can respond with something along the lines of: "Thank you for asking that question. I need to think about it for a while before I answer you. Can we talk about it later?" Espina says that response "can buy adults time to figure out the message they want to give the child and consult other people if needed. And it models vulnerability and lifelong learning."
I couldn't agree more with Espina. Teaching your children about systemic racism starts with your own commitment to learning and action. Listen to podcasts (I started with the "Seeing White" series from Scene on Radio). Read articles and books (check out the "Your Kids Aren't Too Young to Talk About Race: Resource Roundup" at prettygooddesign.org). And the next time you're watching Frozen with your children, try saying something along the lines of: "I notice there aren't any people of color in this movie. That's really unfair."
A couple of weeks ago, while Coraline and I were filming a video to share with friends, I asked her to talk to the camera as I stepped away to wash something in the kitchen sink. As I squeezed out some dish soap, I overheard her talking to the camera. "Racism has been happening in the whole world, and we need to stop racism because it's really unfair," she said. Clearly, she's listening to what I'm saying. And that's a start. But it doesn't end there.