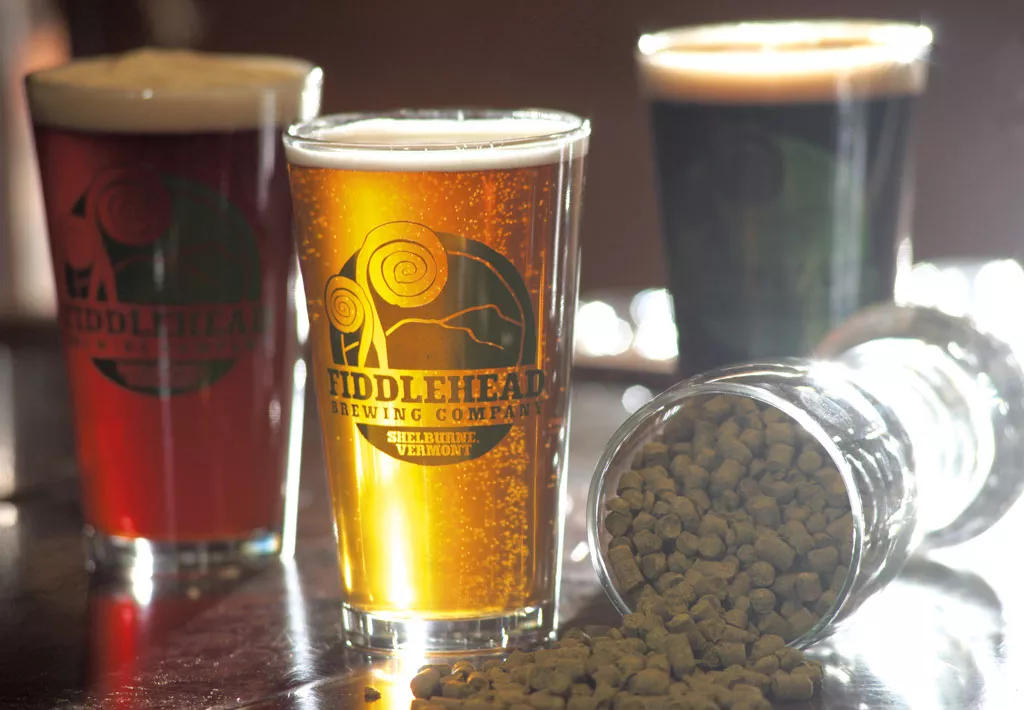 When Matthew ("Matty O") Cohen opened Fiddlehead Brewing Company in 2011 after more than a decade brewing at Magic Hat, he wanted to get one thing right: an easy-drinking, well-balanced, draft-only IPA. "For the first year and a half," Cohen recalls, "all anyone really saw from us was the IPA." That was a deliberate decision, he says: "We wanted to put that beer out there and build our brand."
While the flagship IPA still commands tap lines statewide, Shelburne-based Fiddlehead is one of a handful of Vermont breweries — along with the Alchemist, Hill Farmstead and Lawson's Finest Liquids — with a fan base willing to stand in line for a taste of its latest brew. Last spring, Fiddlehead teamed up with mobile operation Iron Heart Canning Co. and started offering beer in cans: first, the wildly popular Hodad Porter, then Second Fiddle, a piney, hoppy double IPA.
Last Thursday at the brewery, brewheads braved near-freezing temperatures to score cans of Mastermind, another deeply hoppy, bright and fruity, pale gold double IPA. The beer's final canning is this Wednesday, November 19. Just before last week's release, Cohen took a moment to chat with Seven Days in his tasting room.
As beer made its way from tank to cans — many of which would be sold within hours — Cohen pondered summer porters, hobbyist brewers and the inevitable popping of the Vermont beer bubble.
SEVEN DAYS: What's the last beer you drank?
MATT COHEN: I just had some Mastermind a few minutes ago. I drank the first can off the line today.
SD: What beer is in your fridge at home?
MC: I have one Mastermind left [from the last canning], and I have three Second Fiddles from August. I always go back and sample; every week I'm tasting something we packaged up to three months ago to see how it's holding up.
SD: How is the Second Fiddle doing with a little age?
MC: It's aged very well. The aroma's not quite as fresh and explosive, but the flavor's still there. It's nice and piney; I'm getting a lot of tropical notes. Once a beer goes into a can, more often than not, you should drink it within 90 days. [But] there are still cans out there that are getting traded that people are sampling. I see it all the time; I follow all this stuff on the various social media platforms and whenever I see someone drink a Second Fiddle, I like to see how it's doing.
SD: Are you planning to release Second Fiddle again anytime soon?
MC: The last Mastermind run is happening next week; we'll come back on December 6 with Second Fiddle.
SD: What did you drink growing up?
MC: The first real hardcore craft beer I drank was Sierra Nevada's Bigfoot barley wine. That was kind of an eye-opening experience. Before that, it was all Natty Light and Milwaukee's Best. A friend of mine freshman year [of college] said, "Hey, you should try this out." And I tried it and found it undrinkable. But I had a four-pack and I worked my way through it. By the fourth beer, I was hooked.
SD: Before you got into brewing, where did you work?
MC: When I was in school, I knew I wanted to pursue a career in brewing. It was the early 1990s, so there weren't as many craft brewers as there are today. And there definitely wasn't a major that would allow me to focus on [brewing], so I got an anthropology degree.
I was fascinated with cultures and music, and I was interested in how different cultures have different beverages. I tied that into my love of beer and started brewing in my dorm room. I would brew every week. After school, I moved [to Vermont] in 1996 and started working at the Shed [Restaurant & Brewery] in Stowe. I was there for, like, six months. Then I joined on with a then-new, up-and-coming brewery: Magic Hat. I worked there for 13 years. I was the head brewer, and then I left to start my own project.
SD: So were you responsible for, say, Magic Hat's #9?
MC: Uh, well, I was responsible for a lot of tweaking of the #9 recipe, for sure! The beer has evolved and changed over time, and I was definitely instrumental in that.
SD: That beer has really fanned out all over the world. How does it feel to see that happen?
MC: It's interesting right now, for breweries of that size. I feel like there is a strong focus on small, local producers, like that's where the industry's headed. It's interesting to see these larger, now national craft brewers trying to continue the rapid growth they experienced for so many years. [Now they] have to go up against these local breweries. So it's definitely a unique and fascinating time in craft beer. The small, local guy seems to be holding a lot of the cards.
SD: Indeed. So what's in the fermenter right now?
MC: Our draft-only IPA; that's still the main focus of the company. We've also got some Second Fiddle in the fermenters, getting ready for [the December 6] run, and we have a beer called Tejas Marrones, which is a big, hoppy brown ale that we're going to try and sneak into cans by January. We're going to put that on tap today — we're in the process of dialing in the recipe.
SD: What's the worst beer you've ever brewed?
MC: At Magic Hat, [cofounder] Alan Newman came up with the idea of a garlic beer. So he sent us out to brew it, and it was absolutely horrible. As if that wasn't bad enough, he was, like, "Hey, let's put a clove of garlic in every bottle." It landed at Pearl Street Beverage and, within a day, all the beer got recalled because it was just so damn undrinkable. We destroyed most of it, but we kept a couple of cases, and we used to do bets. If you lost a bet, you'd have to drink, like, two of those bottles. It was actually in a clear bottle, which was also kind of gross. It was for Night of the Living Dead, so it was something about vampires. [It was called] Ale of the Living Dead, maybe.
SD: And the best brew?
MC: My all-time favorite is a Belgian beer called Rodenbach. It's a Flanders Red Ale, and just so different. It really opened my eyes to what beer could be. The thing about that beer is, it takes at least three years to cure. But I've got one that's coming up on that; it was one of the first beers I brewed here. Someday, we'll get to it!
SD: What's a major challenge in making beer for a living?
MC: It's really being able to stand out as a brand. The market is becoming more crowded every single day. Right now, it seems like there's this endless thirst for craft beer, but eventually things change. We're in a boom right now, but the bubble, in my opinion, will burst. And the biggest challenge for me is to be strategic and smart — to create a viable business that's able to withstand a correction in the market.
It's not like people are going to stop drinking craft beer, but I think that the consumer is going to be a lot more selective, and I don't think there's going to be room for all the little tiny players. But some will survive.
SD: So you don't think this current growth is sustainable?
MC: No way. There are only so many tap handles out there. Here in Vermont, we're fortunate that craft beer makes up more than 10 percent of the beer market. That's well above the national average. But within that, it's going to become very cutthroat to secure those handles, and to deliver a consistent and quality product.
SD: What's one lesson you learned the hard way?
MC: Well, it's not easy. You have to learn lessons, and you have to learn them the hard way. This is not a hobby. A lot of people getting into [brewing] these days are approaching it from a hobby standpoint. They were home brewers, making five gallons at a time in their kitchen. Their friends loved it. They all loved it and it's the greatest beer, so why not go pro?
You know what? I cook food at home; I'm not qualified to run a kitchen — not by any stretch of the imagination. I've never done it. So I feel experience is necessary. You need to get your feet wet. You need to learn — ideally on someone else's dime — by making mistakes. And a lot of these new startups are people who have no experience in the brewing industry. They're going to make mistakes that are going to jeopardize their companies, and potentially the whole craft beer brand. I feel really strongly about that.
One thing that really attracted me to craft beer [was] the collaboration among brewers. When I started, we were, like, 4 percent of the market share. So the idea was, we could battle each other for that 4 percent, or we could try to elevate as a team and collaborate on best practices and on new and interesting varieties of raw materials and whatnot. But right now, that's changing.
SD: How else has the industry changed since you first started brewing?
MC: It's night and day. Not only are the types of beer being produced completely different, consumers' palates are completely different. When I started at Magic Hat, we had an IPA called Blind Faith and it was 35 IBUs [international bitterness units]. At the time, it was the most bitter thing I'd ever tried! Thirty-five IBUs is not even a pale ale. Earlier you asked about our IPA, which is really balanced and definitely on the lower end of bitterness, and that's 55 IBUs. So what a consumer is looking for, in terms of bitterness, is so much higher than it was 15 years ago. So the types of beer have changed, as have the explosion of all these small producers. We'll see if it all works out.
SD: What ingredients do you like to experiment with?
MC: Every year we do a maple beer with the last run of sap, so that's kind of a cool thing. Right now we're also using [Brettanomyces], a sort of semi-wild strain of yeast that produces these different unique fruit flavors. So we're playing with that quite a bit. We have a whole "Brett" line. We did one with 300 pounds of blueberries from Charlotte Berry [Farm], and we have one that's aging on a pound of tart cherries per gallon.
One of our most popular experimental beers has been Hodad [Porter]. We're getting a couple new fermenters next week, and when they go in we'll get some Hodad going when possible. You'll definitely be seeing releases throughout the winter.
SD: Hodad is such an odd porter because it feels so fresh, even in summer.
MC: Yeah, we decided to do it for [Vermont] Brewers Festival. Every year, the brewers fest is the third week in July. It was super hot, as always, and there was a line, and every person was like, "Hodad," "Hodad." It was, like, 97 degrees out, and it was like, If people are drinking a porter in the middle of the summer, then this beer has legs.
SD: Especially since it seems like half the people at brew fest were there to drink double IPAs.
MC: Exactly. Right now, the focus is on double IPAs, and I'm not going to say anything bad about that because we've gotten some great success from that style. But I am a beer drinker and I do enjoy a lot of other styles. That was one of the reasons why we went with Hodad as the first can we ever released. We wanted to do something a little different. We had the Second Fiddle recipe all lined up, but we said, Hey, let's do Hodad first.
SD: What's next for Fiddlehead?
MC: We're adding two new fermenters, and that will max out the space here. So we're working on building another facility behind this brewery. We'll put another brewhouse in there and increase our production. But I have no plans of leaving Vermont. I want to grow the business to about, I don't know, maybe 25,000 barrels per year.
SD: And the timeline for that?
MC: Well, I have a timeline, but things never seem to stay on a timeline. I would say we should be up and running by this time next year.
SD: What's next for Vermont beer in general?
MC: We've got a lot of great producers here, and there's a lot of national attention focused on Vermont [beer] right now, which is great for everybody. I would like to see Vermont continue to lead the way in terms of making better beer on the East Coast, if not the whole country.
Also, the beer tourism is amazing. The number of people who come up here and into our tasting room with their map and their brewers' passport in their hands is pretty outstanding. Beer tourism is bringing a lot of money and resources to the state. I hope it just continues to grow.
SD: And in terms of the beer itself: We're clearly still in the IPA zone, but do you see anything else starting to bubble up?
MC: You know, you always hear about that, but I have yet to see it. I think for the short term, the IPA will continue to be the exciting thing that really gets people going. A lot of that really stems from where the research and development is happening. There's tons of money being spent on developing these new varieties of hops. Citra came out recently, Amarillo is another. These were all being grown specifically for craft brewers and for the aromas. What better style to showcase these hops than in a big IPA? So I think that's going to continue. It's kind of like spicy food. When you first start, you like just a little bit of spice, and it keeps building on itself. And you don't go back.
SD: Do you have a favorite beer and food pairing?
MC: Pizza and beer! Folino's Pizza! A No. 4 [pie] with a Mastermind.
SD: What do you like best about brewing in Vermont?
MC: We've got a great brand and people are willing to travel to our state. When people come to a different place — at least for myself, whenever I go to a new place — you always try to immerse yourself in the local culture, and what better way to do that than to drink one of the local beers?
INFO
The final Mastermind double IPA can release is on Wednesday, November 19, at noon, at Fiddlehead Brewing in Shelburne. Info, 399-2944. fiddleheadbrewing.com
The original print version of this article was headlined "On Tap: Fiddlehead Brewing"