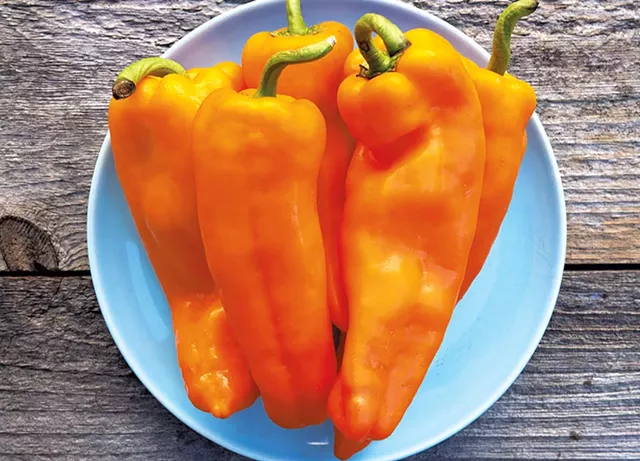 Lively Italian sweet peppers
Check the calendar: It's late February. Which is almost March, which is just a quick month away from April showers, then May flowers. So if last week's deep freeze made you feel like winter would never end, stay strong — spring is coming. Soon.
For farmers and home gardeners, winter's end begins with the arrival of seed catalogs, which start rolling in just after New Year's. Perusing page after page of produce depicted in full-color spreads, growers begin planting lush green gardens in their mind's eyes, and seed orders follow. Within weeks, spindly little plants start emerging in plastic cells and flats, warmed inside area greenhouses and homes.
Most growers entrust much of their harvest to one or two go-to seed sources. For many Vermonters, that source is Wolcott's High Mowing Organic Seeds. Founder Tom Stearns began harvesting seed in 1996 with a couple dozen cultivars in his backyard. The hobby grew into a business, and, 20 years later, High Mowing employs 70 people and produces nearly 700 unique vegetable varieties. All are certified organic, GMO-free, and selected for flavor, productivity and disease resistance. They're tested in fields at dozens of farms and research institutions around the country, and at the company's own plots in Wolcott, Hardwick and Hyde Park.
Local growers can take comfort in knowing seed has been trialed in the heart of northern Vermont — if it can grow here, it can grow anywhere. But that isn't High Mowing's only distinction: Stearns runs the company on a long-view philosophy grounded in environmentally sound growing practices, biodiversity and food justice. In 1999, he teamed up with other seed companies to craft a "safe-seed pledge," in effect creating a consortium of growers committed to producing non-GMO seed. That group is now almost 400 producers strong. Stearns' advocacy for a GMO-free food system has earned him no less than three legal tangles with seed giant Monsanto.
A few years ago, High Mowing began working with the emergent Open Source Seed Initiative. The organization's mission is to keep seed — and the genetic material it contains — unrestricted by patent or other legal frameworks that could make it proprietary or otherwise limit its use. When customers open a packet of OSSI-pledged seeds, they agree to abide by the initiative's "free and open" terms.
Some OSSI seed is produced in Wolcott, where it's currently seed-shipping season at High Mowing. Workers will spend the next couple of months packing most of the three billion seeds Stearns estimates the company will disseminate this year.
High Mowing Organic Seeds trial field
Last week, Seven Days chatted with Stearns, who shared his insights into sourcing new varieties, GMOs and seed freedom.
SEVEN DAYS: What are some exciting new varieties you're offering this season?
TOM STEARNS: We add so many new varieties each year. We're really excited about two new Italian peppers — you know those long, skinny sweet red peppers? We've [just introduced] an orange and a yellow. They're really sweet, with thick walls, way sweeter than bell peppers. And incredibly high yielding, with 20 to 30 peppers per plant. They're really high quality.
SD: Where do you find new seeds?
TS: New varieties are popping up all over the place! Some come from breeding programs at other companies, from independent breeders or farm breeders, or universities and research [institutions]. Others are older [plants] we're just getting to know — heirlooms passed from family to family, or interesting varieties from a different culture or ethnicity, which are of interest to the increasingly diverse palate. Exploring Asian greens might mean tapping seed sources in China and Japan.
We also [trial] older varieties that were developed at universities back in the 1940s or 1950s or 1960s. And we're breeding our own.
SD: What does the breeding and selection process look like?
TS: We work with dozens of breeding partners around the world. People let us know what they're working with, and we'll put promising varieties into our trial program.
The originator is like a painter who got a painting three-quarters done — we finish the last quarter. We're asking, What does a variety need to be to serve organic growers?
[The Italian peppers] came from Tom Lively [at Organically Grown] in Oregon. For the last four to five years we've been trialing and selecting and improving that seed. We'll grow hundreds of plants and select the best ones. Yellow mixed into the orange [in some plants]. Others matured much later. So it's this process of getting rid of the traits you don't want. And selecting for the things you do want.
SD: How important is it to buy seed that's been tested or developed near where you live?
TS: A seed company that's based in a region is likely to be trialing [seeds] there. So even if those seeds come from somewhere else, the varieties are proving themselves in that environment.
But it's also important to consider: Is the company selecting varieties for home or commercial or organic gardeners? Maybe [a seed] works well in a region, but if the trials are conventional, that seed might not succeed in your organic garden.
Also, the amount of pesticide and herbicide that goes into producing conventional seed is outrageous, because seed is not a food crop. Conventional seeds are [subject to] around five times more chemical usage than conventional vegetables.
With organic seeds, you're choosing something that was selected for its genetics and that's familiar with the kind of environment you have in your garden. So you're choosing the right genetics. It's like having a sharp tool.
SD: If someone wanted to select their own seed at home, what would they need to know?
TS: If they're saving seeds from a plant they're growing, it's just learning the basics and how to get the seeds out of the plant and process them. We actually have all those particulars on our website.
SD: With plants like corn, which cross-pollinate really easily, is there a risk of creating weird hybrids — or of contamination from nearby GMO crops?
TS: Genetic engineering is something that's potentially really dangerous, and that doesn't really have a place in the healthy food system of the future. I think we need progress — scientific and technological progress is really important [to agriculture] — but I just see GE as a level of tampering without a system of morality to back it up.
It's not, Should we do this? It's always just like, Shit, let's do this! The question of should we, or how should we, is hard to ask when you're intoxicated by how smart you are. We look back on almost every technological development and see the unintended consequences. This one could be pretty bad.
So there is risk if you're working in your backyard and you're saving corn. [But] the only GMO corn [around here] will be field corn, not sweet corn, and they have to be flowering at the same time. So a home gardener that gets an early start with their sweet corn is probably going to be pretty safe. And as long as you're more than 1,000 feet from the [GMO] cornfield, you'll probably be OK.
SD: Tell me about your work with the Open Source Seed Initiative.
TS: We've been really engaged and supportive and part of the conversation. We worked on drafting the pledge and looked at the structure and helped incubate it. After the first couple years it took on a life of its own, so we didn't have to be as involved.
It's a terrific response to all of the patenting of seeds, to the locking up of that germplasm, right when we need so much more [from] organic agriculture because of climate change. It's kind of a counterbalance to this idea [of restricting seeds]. And it's a positive response. That's an important point. I really think at least 90 percent of our time should be in building the world we want to be, not knocking down other people.
SD: Is the OSSI pledge legally binding?
TS: We will see how legally defensible it is. We went down many different roads about licensing. [Unlike open-source software], it's not just a "Click yes if you agree to the terms." There's an electronic trail in that case. So we don't have that.
But it's being talked about. Monsanto published a response, and I think that's great. And what was so interesting was that they're recognizing the power of this — they called OSSI seed "too contagious to touch."
So functionally, it may be acting with more weight than it has, legally. But we didn't want to have some 10-page document that people had to sign [to purchase seeds]. That would look a lot like what the other guys do. Some critics say it's totally weak. But I think it's recognition of a social movement as much as a legal issue.
SD: Let's look local: Where is Vermont's agricultural hive-mind now, and where's it all headed?
TS: Vermont is the hotbed of innovation in gardening and farming and organics. We're forced to be creative and innovative by the landscape and climate and markets. You never find innovation happening in the center — it's always on the extreme far edges.
Climate change is making Vermont warmer and wetter, so we may start to have more varieties that [can grow] here, but we'll be asking a lot more of those varieties. They'll need to handle cold and wet and rain and dry and hot. They'll need to be rugged workhorses, and our technology will need to stay flexible. I think it's going to ask a lot of Vermonters and of the plants. But I think we're up to the task.