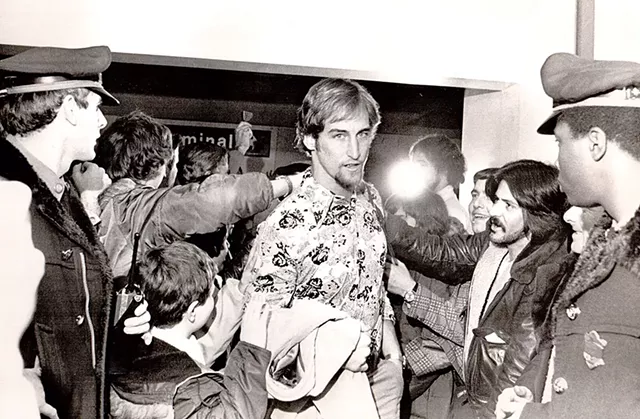 Former New England Patriots quarterback Steve Grogan, 1976
Journalist and author Glenn Stout claims you can safely talk about two things with strangers: weather and sports. If you're game to make chitchat with a seatmate or hope to kick off a lively discussion around the dinner table, Stout and coauthor Richard A. Johnson have written one heck of a conversation starter: The Pats: An Illustrated History of the New England Patriots.
Weighing substantially more than a football — partially deflated or otherwise — at 3.6 pounds, Stout's 384-page opus is the first thorough narrative of the National Football League team's history. The new book includes everything from the Patriots' ignominious origins in 1960 to the team's present-day dynasty under owner Robert Kraft, head coach Bill Belichick and quarterback Tom Brady.
Stout's book is a cornucopia of exhaustive research and archival photos, as well as essays from notable sports writers such as Howard Bryant and Lesley Visser. But The Pats is not just an album of information — it tells a story.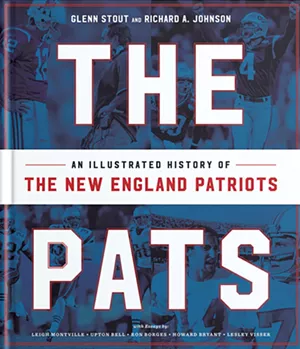 The Pats: An Illustrated History of the New England Patriots by Glenn Stout and Richard A. Johnson, Houghton Mifflin Harcourt, 384 pages. $35.
"You don't want to just rehash 58 years of games," Alburgh-based Stout recently told Seven Days. So he teamed up with Johnson, curator of the Sports Museum in Boston, who provided hundreds of captioned photos to illustrate Stout's 16 chapters. Each chapter covers anywhere from two years to a decade in the Patriots' saga. Consequently, The Pats provides readers with a larger narrative about why they lost when they lost, why they won when they won and, most importantly, why people cared.
"It's not a valentine to the team," Stout insists. "It's critical when it needs to be, but there's more. There's the history of Boston in this book and the history of New England."
Seven Days spoke with Stout about his new book and about the Best American Sports Writing anthology, for which he has served as the series' editor since its inception 28 years ago.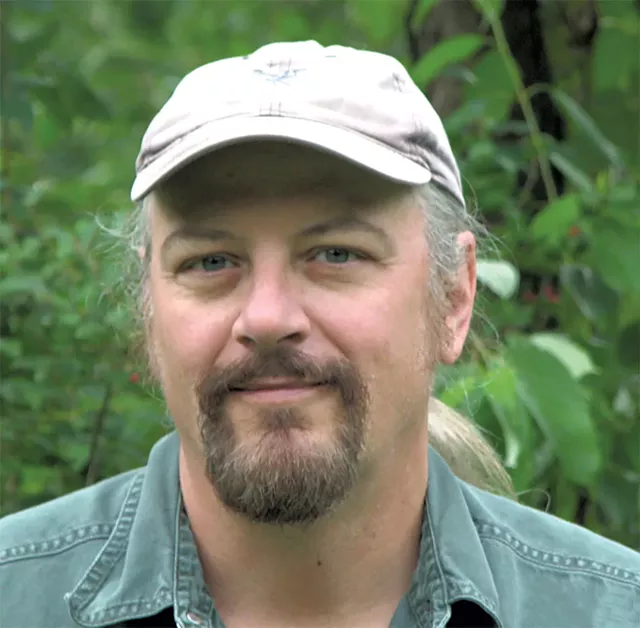 SEVEN DAYS: A whole generation of fans has only ever known the Pats as the dynasty they are now. Care to share some tidbits about the years when they were not the champions of anything?
GLENN STOUT: Yeah, a generation ago they were bad, and before that they were significantly worse. The Patriots were kind of a mess at the beginning, and there's a lot of transplants and new fans that don't know that history. They were the last team to join the American Football League. They were the most poorly funded team.
Sixty years ago, the Patriots didn't even have a place to play. They were the laughingstock for the first 30 years and the premier team the last 30.
New England Patriots, 1960
SD: How did they go from laughingstock to five-time champions? Money?
GS: A lot of it's money. This book starts with the 1958 overtime Colts-versus-Giants game. Back then, local towns had a blackout on TV coverage to make people buy tickets and go sit in the stadium. But so many fans wanted to see the game on TV that they got in their cars and flooded into New England motels to watch the game. So, for the first time, people realized there could be money in football.
Initially, the Patriots played their first games at Boston University, Harvard, Boston College and Fenway Park. Billy Sullivan [the Patriots' first owner] was not a rich person himself. He had a checkered history: He was a PR person for Boston College, and he was an oil-and-coal executive. But he got involved in getting Sullivan Stadium [the Patriots' first stadium] built.
He was from Lowell [Mass.] and the one thing he feared was being a "nonentity." By owning the Patriots, he overcame that. Then Robert Kraft bought Sullivan Stadium and, eventually, the team.
For a while, there was talk of moving the franchise to Hartford [Conn.] and maybe St. Louis, but they stayed. Kraft was a savvier businessperson than Sullivan. He came in at the right time. By then the TV money had gone up exponentially.
And just to clarify one thing in regard to the Pats' financial advantage: Although much NFL income is shared, and salaries are capped — meaning each team has basically the same payroll — a team like the Patriots, with a state-of-the-art facility and a winning tradition, becomes more attractive to players, particularly those who are free agents. This has given the Pats a distinct advantage, as players coming to New England have, at times, been willing to take less money or structure their contracts more favorably to the team, both to join the Patriots and to stay in New England.
SD: What do you make of the increasing intersectionality with politics, both in sports and in sports writing?
GS: Governments built the football stadiums to begin with — and bear in mind the National Football League turns 100 next year. And the owners of the NFL are incredibly wealthy and influential people, and it's part of their DNA to align themselves with those in political power. Tom Brady has a MAGA hat in his locker. Trump comes to Kraft's luxury box [at Gillette Stadium]. The Patriots are one of the top two teams featuring military displays at games, which are paid for by the Department of Defense.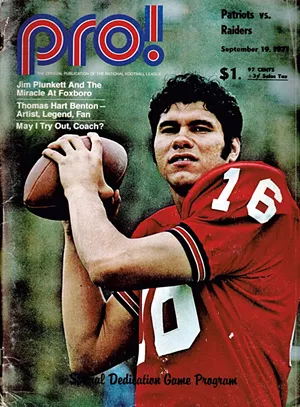 SD: The 2018 issue of the Best American Sports Writing comes out this fall. Are you seeing any trends in how sports are covered and who is covering them?
GS: Because of the collapse of the newspaper industry, there is far less sports coverage — there's fewer pages allotted to sports and fewer feature stories. So, although the writing's still good, there's less material being submitted for the Best American Sports Writing than there was even a decade ago.
Also, as a reporter, you don't have the access you used to. Back in the day, sportswriters flooded the locker room and traveled with the players. The writers and the athletes had similar pay grades. In the early days, players made between $8,000 and $10,000 a year and always had other jobs in the off-season, and sometimes worked an extra job during the season.
Now they are in a different class [financially], so access is harder. Plus, the leagues and teams are producing their own media: They control access; they host press conferences.
SD: Who are some of the sportswriters that you read avidly?
GS: I try not to play favorites and/or read the same writers over and over. I'm always trying to pay attention to what other people are talking about — I don't want to miss anything.
As far as the Best American Sports Writing submissions process is concerned, anyone is welcome to submit. I try to keep all the doors and windows open for material to come in. Editors can submit. Authors can submit their own work. Readers can submit what they love.
SD: You're originally from Ohio. How do you negotiate sports loyalties, and does that interfere with writing a book on the Patriots?
GS: I have no allegiances. Everyone thinks, if you write about 'em, you're a fan. [Stout has also authored books about the New York Yankees, the Los Angeles Dodgers and the Boston Red Sox.] But I see them as research topics. It's immaterial to me whether they win or lose.
However, what I do see is that when you orient yourself in a region [and begin rooting for the local team], it gives you a social entrée.
That's why students show up in the fall for college wearing a Steelers jersey and go home with a Patriots tattoo. It's a way to stake a claim to the city and culture. It's the social graphite that allows us to speak to one another. This book is a way to add more fuel for those conversations, to present stories they might not have heard.