Jeb Wallace-brodeur
Martina Anderson
Martina Anderson pronounces the word "vulva" differently from most Vermonters. A native of Austria, she gives the first syllable a rounder, fuller sound. Her "vul" rhymes with "wool." Voolvah.
Anderson, a former chocolatier and current marketer at Vermont confectioner Nutty Steph's, said the word many times during a conversation with Seven Days. She set in motion a gender-equity initiative by the company when she came upon a chocolate vulva mold while looking for an Easter bunny form.
"We needed more Easter bunnies for Easter, and I was scrambling like crazy," Anderson recalled. During her online hunt, she decided to expand her search and look for other "fun little things" for chocolate making: stars, unicorns, sunflowers.
"And then I also found the vulva," she said. "We were all sitting around here, and I was like, I love this mold. I wasn't thinking this is naughty or dirty or sexy. I was thinking: This is going to be so cool. This is going to be empowering and educational and starting a big dialogue."
Now, some two years later, Nutty Steph's is on a serious chocolate vulva campaign. Through their sales, the company aims to raise $100,000 for Planned Parenthood of Northern New England.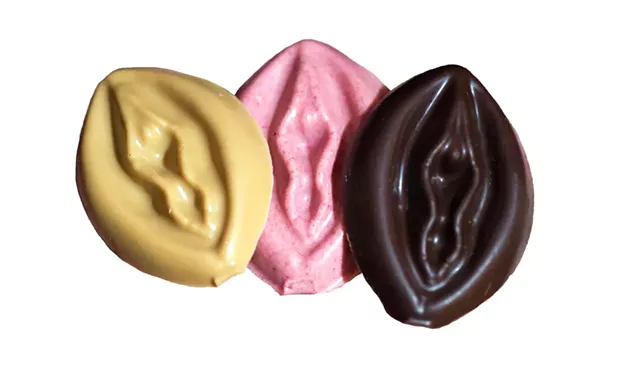 Jeb Wallace-brodeur
Chocolate vulvas at Nutty Steph's
The chocolate candies come in three flavors — dark chocolate, caramelized and peppermint; the trio of colors can "represent skin tones," Anderson said. They are wrapped in foil and packaged in a pink box with cards of vulva illustrations by Dutch artist Hilde Atalanta.
The chocolate vulvas are available through Nutty's Steph's website and at its Middlesex shop, as well as at retail outlets such as the Craftsbury General Store. For each $5 box sold, $1 is donated to PPNNE.
"We have sold a ton of them," said Kelsey Crelin, a cashier at the Craftsbury store. "It's great, because I get to say the word 'vulva' multiple times a day in a publicly acceptable way. We have so many conversations about reproductive health. I love having these vulvas here." (The store has sold 15 cases of 30 boxes each in a month, according to co-owner Emily Maclure.)
Anderson, 32, grew up in a small town outside of Vienna. She studied special education in Austria before her 2010 move to the United States; she spent two years in Colorado before settling in Vermont. She lives in Montpelier with her son and daughter and has worked at Nutty Steph's for two and a half years.
The company, founded 15 years ago by Jaquelyn Fernandez Rieke, is changing its business structure from sole ownership to a cooperative in which a group of employees will own and operate Nutty Steph's. The transaction should be finalized in two weeks, according to Fernandez Rieke. Anderson is one of the "rising owners."
She talked with Seven Days about the vulva project, Austrian chocolate and the company's new business model.
SEVEN DAYS: How did you come to work at Nutty Steph's?
MARTINA ANDERSON: I went to [Jaquelyn's] Oktoberfest at her campground. She was wearing lederhosen and an Austrian hat and was all excited and started talking German to me. I met her again at a women's circle hosted at Jaquelyn's land. It was a great day and evening and, literally the next day, I opened Facebook and saw Nutty Steph's is hiring. I emailed her and said, "Would you hire somebody with no experience but eating chocolate?" [Fernandez Rieke replied,] "We need you right now." I was hired on the spot, making confections.
Jeb Wallace-brodeur
Chocolate vulvas at Nutty Steph's
SD: Why was Nutty Steph's interested in obtaining the vulva mold?
MA: The mold was $1. I was like, "Let's just get them and play with this." We are a chocolate shop. We are not a sex-toy shop. We are very open, but we don't expect people to walk in here and expect a chocolate-shaped sexual organ. That's where the marketing came in. I didn't want people to see just the sexuality ... I really want people to see it as an empowering tool, as an educational tool, talking about stopping shame — and being body positive.
SD: Nutty Steph's is becoming a cooperatively owned business. Why does that interest you?
MA: I was interested, first, because of the cooperative mind-set. I want to be part of a company where we are all making a change together, where we all have the same voice and are creating our environment together. Because we are a company like this, we are pretty political. We believe that it's important to make a point as a company and to speak up and to use our influence in a way that we think is important.
Jaquelyn has always been interested in distributing wealth and what [that] looks like when it comes to the workplace. [People] interested in that model are super invested and see the benefit in the future of this. It makes for a great workplace. You feel really appreciated when you're heard and you know what's going on. We have open-book finance reviews. We meet and we go over the numbers: how much we spend, how much we made, what we are using our money for. We all decide together.
SD: What was your favorite candy growing up in Austria?
MA: It was [milk] chocolate, not dark chocolate. I feel it's such a hype, the Belgian chocolate or the German chocolate. [My favorite] would be Milka, an Austrian brand, a chocolate bar that had a purple cow on it. And Toblerone.
SD: Do you think the shape of a piece of chocolate influences the way it tastes?
MA: I think, first of all, it's important that you don't bite into it, but you suck on it. Which is kind of funny, talking about vulvas.