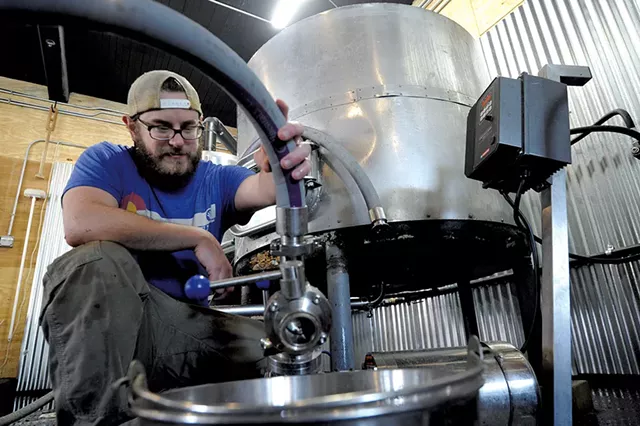 Jeb Wallace-brodeur
Nate Johnson
Nate Johnson was working as an economist when he met Chad Rich. At the time, Rich ran the bar at American Flatbread Burlington Hearth. Johnson was a regular, and the two found common ground in beer geekery. Johnson's homebrewing habit blossomed into a healthy obsession, even as Rich was dreaming up the restaurant (and later, brewery) that would become Prohibition Pig.
The friends kept in touch after Rich left Flatbread to work at Farmhouse Tap & Grill. After Tropical Storm Irene flooded most of downtown Waterbury in August 2011, Rich moved into the former quarters of the Alchemist in Waterbury. By the following year, he'd transformed it into Prohibition Pig. Alchemist owners John and Jen Kimmich had left behind their pub's seven-barrel mash tun (a hand-me-down from Vermont Pub & Brewery's late cofounder Greg Noonan) in the restaurant's basement. The unused equipment was a constant reminder that brewing could happen there.
Johnson continued crunching numbers nine to five and brewing beer in his spare time. "I really got into it," he said. "I wanted to become a brewer."
In 2013, Rich decided to make a go of brewing in-house. He brought Johnson on board. The brewer got to work in the restaurant's basement on a modest, one-barrel system purchased from Sean Lawson of Warren-based Lawson's Finest Liquids.
Last year, Pro Pig expanded into an adjacent space and scaled up the brewing operation with the old Alchemist equipment. It's installed directly behind the tasting-room bar, in full view of the customers. Now, up to half of the restaurant's 22 tap lines flow with housemade beer. On Wednesday, January 27, Prohibition Pig will celebrate its first anniversary in the new space, serving $1 tacos and plenty of Johnson's brews.
In a conversation with Seven Days, Johnson talked about drinker feedback, candy canes and brewing for an audience.
SEVEN DAYS: Given the history of this brewhouse, have you brewed any beers that pay homage to the Alchemist or VPB?
NATE JOHNSON: Needless to say, there's some sizable shoes to fill. I love John [Kimmich's] beers — they're phenomenal. But I don't want to try to follow in John's footsteps, and I don't think I could ever do it as well as he does. He's probably one of the best brewers in the world. And I want to create our own thing.
SD: Since you've been here — with this beautiful laboratory filled with guinea pigs eager to beta-test every beer you brew — how has the feedback over the last year affected your brewing?
NJ: It's good! It depends on what beer it is. Every beer is sort of different, and the first time you brew anything it's almost never 100 percent. Hopefully, you get pretty close — with your math and everything else. It's tough for me to get feedback, just because you have so many different people with so many different expectations and palates.
SD: But it's a fairly open conversation between what goes on here [in the brewery] and what goes on over there [in the bar]?
NJ: I don't have the interaction with the customers that my bartenders do, but I always ask them, 'If you're getting a consensus, please tell me.' That's super helpful. I can look at ratings online, but ratings are [done by] a self-selecting populace.
SD: But patron feedback has an impact.
NJ: Oh, definitely. And you can sort of take things you learn from one beer and apply them to the next. Right now I'm working on a new water profile for my hoppy beers.
SD: Are you saying you amend your water?
NJ: Oh, yeah, absolutely.
SD: Does every brewer do that?
NJ: Most. And it really changes the perception of your beer. It helps — pH is super important for brewing, for 10, 15, 20 different [reasons]. But also just for flavor. So that [vanilla-bean porter] has [extra] chloride added to it. That helps give the volume, the rounded qualities, that you want in a porter. Your pale beers will be a little crisper.
SD: That porter is so lovely — subtle but still rich in flavor.
NJ: That's one of my things: If you want to add flavors to beer, you really need to go to the source. So for this, I actually add vanilla beans. I cut them in half, scrape all the pods, bag the whole thing and soak it in the beer after fermentation.
SD: It's a beautiful beer for winter.
NJ: I actually brew it year-round. I really enjoy it — it's a great beer to have even if it's not seasonally appropriate.
SD: People want porters year-round, though. There's a dearth of good porters right now.
NJ: I try to have a spectrum. I don't want people to come in, and we have 10 beers on tap, and eight of them are hoppy. Do you like peppermint?
SD: Sure!
NJ: [Goes to the bar and pulls a sample of another dark, wintry beer.] This is called Piggy's Little Helper. It's the same grain bill as the vanilla-bean porter, but it's aged on vanilla beans, cocoa nibs and candy canes.
SD: Candy canes! It's light, though — the peppermint is way in the back.
NJ: It's this peppermint patty sort of thing, where the mint is just this cooling aspect. The candy canes were just a way for me to add peppermint oil to the beer without adding the oil itself. They completely dissolve, and it's this more gentle way of adding the mint. If I've got 220 gallons of beer, I'd be terrified to add the oil itself because it's so strong.
SD: How many did you put in?
NJ: It was 280 mini candy canes.
SD: Did you feel like Santa up there, dropping candy into the beer?
NJ: I felt like a moron, actually. When I ordered the candy canes, I was like, OK, the mini ones will dissolve faster. The thing arrives, and it's this big jug from Amazon. We have to unwrap each one, and then I didn't even keep them whole. I'm looking at it, and I'm like, I can't even add these [to the tank]. Unless I want to stand on my eight-foot ladder and add them one by one, this isn't going to work. So I took them and ran them through the food processor in the kitchen. Just pulverized them completely.
SD: If you hadn't told me there was peppermint in this, I might not have picked up on it. It's mellow.
NJ: It's one of the few beers I've brewed that is kind of a one-and-done sort of beer. A big thing I try to do is to make drinkable beers — something you can easily drink a crowler of and not have it be too much. So this is one of the few with that heaviness and sweetness that you can't really keep coming back to it.
SD: But it's fun to play around with flavors without making one of these over-the-top concept beers.
NJ: If a brewer is getting a little crazy, I want to see that they had a flavor profile that they're working toward. If it doesn't work out, it doesn't work out. But I appreciate that a lot more than, 'Well, there were chiles, and then this, and then this.' You can throw a bunch of goofy shit into a kettle, but I want to see coherent flavor profiles.
SD: You've been in this space for a year. What's next?
NJ: I've brewed two batches of this Waka Waka Lime [beer], which is pale ale with Wakatu hops and lime juice and zest. That is a killer food beer with the tacos. So, once it warms up, I'll brew that again. I'm looking to do something with tea and lemon — something Arnold Palmer-ish. But who knows? Maybe I'll wake up tomorrow morning with some cool idea. The nice thing about being a brewpub is, I can do whatever I want.
SD: The patrons at the bar can see everything you're doing back here. Do you feel like you're brewing in a fishbowl?
NJ: Kind of! It's definitely a challenge — especially if something goes wrong, there's a limit to how much I can swear. Some people [want to] chat with me if I'm up at the bar grabbing something. Sometimes I can chat for 30 seconds, and then I really do have to get back to this. And I don't want to be rude.
SD: What do you like best about this job?
NJ: One thing, I never really look at my watch, that's for sure. Although you do get days where it's like, Shit, it's four o'clock already. But it's a nice blend of creativity and manual labor. You can really exercise, but it's not too much of one thing or the other. You're working your ass off, but it's this synthesis of creativity and science and method and pure labor.
SD: So how does it feel to transition from homebrewing to having this audience for every beer you make?
NJ: Stressful? I mean, my beers are on tap here next to a pretty solid lineup. So it's definitely stressful, and you certainly need a thick skin.
SD: Does that pressure help you stay focused?
NJ: Kind of, yeah. You can half-ass something, and it's going to show up in your beer. So it's a constant reminder to not do that — because it's going to be right next to something that's really good.