Jeb Wallace-brodeur
Tom Leytham
Tom Leytham's love of drawing initially inspired him to become an architect, so it's no surprise that buildings would be his favorite subjects. In 2007, Leytham began sketching remnants of 19th- and 20th-century structures that had once been factories, granaries, mills and mines. "The Other Working Landscape," his solo exhibition of 20 giclée prints at the Governor's Gallery, visually captures some of Vermont's industrial past.
Saw and grist mill, Tunbridge
First drawn and then rendered in watercolor, Leytham's images are as striking for what they leave out as for what they include. The negative space, he says, helps guide the eye.
Leytham studied architecture at the Pratt Institute. His work has been featured in such magazines as House Beautiful and Handyman Magazine, and in The Compact House Book, Small House Designs and The Big Book of Small House Designs. The Vermont Historical Society and the Preservation Trust of Vermont have recognized his architectural preservation work. Now 72, the Montpelier architect is gregarious and droll. His witticisms pepper the descriptions of his adventures in finding and drawing the state's built environment of centuries past. Leytham recently met with Seven Days to talk about his artwork.
How did you begin making these drawings?
When I went to the Upper Peninsula [in Michigan], I kept seeing old mineheads and foundry buildings, so I spent time trying to document them. I realized they had a certain kind of energy that I've been looking for in architecture — not the falling-down part but the wild shapes and forms in these structures, and some really ingenious engineering. More vernacular engineering, common-sense kind of stuff.
Have you drawn a building in Vermont that holds this kind of fascination?
There's a mill in Tunbridge. It's the most ingenious building — the [architectural] vernacular — in the state. It's kind of a stepchild of a historic site. All the documentation is on the covered bridge and the cottage next to it, and there's very little about the mill building. But the way they solved [how] the building is sited — putting the turbine down in the basement and bringing the power up to have a woodshop on top — is really some ingenious thinking. But the fact of it not being acknowledged ... It's hiding in plain sight.
[For that drawing,] I concentrated the color on that building and drew the others as negative space. It's kind of a commentary that the brick cottage and the covered bridge are generic. But this is a very special building. It's a way of emphasizing it.
How do you see these drawings? Do you see them as documents?
They're documents about places we all know of but never look at. I don't know whether it's because they're places where people work or what. We go by them all the time, and they don't register. That Bethel building is a six-story building right in the village, surrounded by one-and-a-half-story homes. It's barely mentioned in the town's history. It's like Chartres forgetting about the cathedral. The amazing thing is that it's still an active granary, and they're shipping organic grain [within] a 300-mile radius. It's actually expanded since I made the drawing.
There is a building that was a piano-parts factory in Barton. It's loaded with poison ivy and asbestos. It's [in] a little industrial park that ran off of water power. There was a series of underground shafts — with an underground drive shaft, like on a car. It was pretty sophisticated. It's called the Brick Kingdom. [Also known as Crystal Lake Falls Historic District, the site is on the National Register of Historic Places.]
Are there inherent dangers in sketching these places? And what about ghosts?
All of these sites have a little story to them. At Vermont Asbestos [Group Mine in Eden], you're driving along a dirt road and all of a sudden there's this five-story building with a chain-link fence around it. I wasn't going to spend a lot of time drawing there. I thought I'd just photograph it. There was a rottweiler there I had to feed. I had the forethought of taking a pocketful of dog cookies. I could flip dog cookies with one hand and take snapshots with the other until I was told to leave.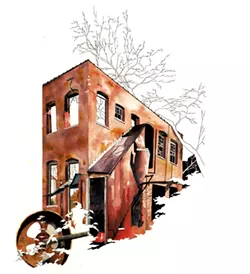 Another place I visited was an old brick kiln. The road to it was paved with broken bricks. And there was so much thicket. You've got to be careful. Sometimes it looks like there are homeless encampments. In Puerto Rico, I ran into a bunch of feral dogs. I don't go inside the buildings.
One place had a chain-link fence all the way around it, and a gate was open. All the lights were on. I called out and no one was there. There's some really spooky stuff.
What is your method? Do you sketch on-site or work from photos?
It's all according to how comfortable I am. The basic outline takes four to six hours, and the painting is another 12 to 18 hours. Most of the painting is done continuously. Watercolors are a very immediate medium. The whole thing of it is the shadows and the way the light hits the building — to capture that [you need photography].
I pick what's interesting to me and work it right through. I might look at it for a few days before I decide how to approach it. One of the reasons I leave the white as much as I do is that it kind of leads your eye around. Part of the dynamism of the pieces is to make the eye work a little bit. The eye and the mind. I have a friend who gets upset that I've left things out. I tell him, "But you found them." You know they're there.
The focus makes what I do. It's somehow the mind's eye. It's what I'm really interested in. The forms are quite dynamic. Wouldn't it be wonderful to make architecture that looked like that?