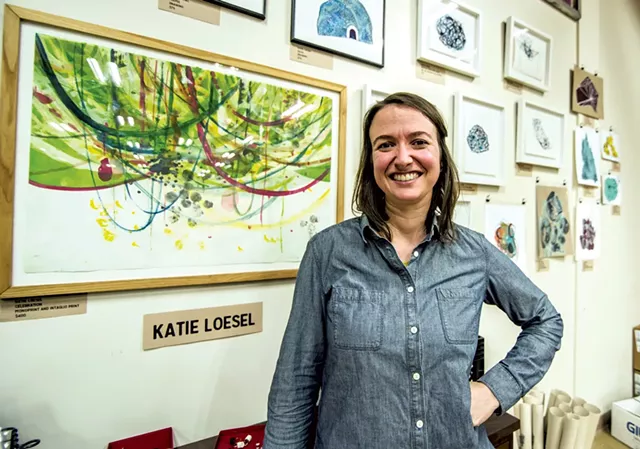 Robin Katrick
Katie Loesel
Artist Katie Loesel moved to Vermont from Boston just three and a half years ago. The Cleveland Institute of Art graduate arrived with her husband fresh from a stint as gallery educator at the Massachusetts College of Art and Design. In her short time in Vermont, she's already acquired several jobs — even if some are "super part time," as she puts it.
In addition to creating her own prints, Loesel, 32, is the production manager of New Duds, a custom screen-printing business in Winooski; a printmaking studio tech and educator at Burlington City Arts; and an occasional printmaking instructor at Champlain College.
Her access to BCA's studio allows her to continue making her one-of-a-kind prints, which are environmentally oriented in both material and subject matter. A proponent of nontoxic printmaking, Loesel takes inspiration from geology and ecological issues.
For example, her current Plastiglomerate series — colorful, almost cellular-looking images that she achieves by layering blob-shaped monoprints — is inspired by the rock of the same name. "Plastiglomerate" is a recently coined term used by certain geologists for a stony amalgamation of plastic and sedimentary material, evidence of human activity and impact on the Earth. Loesel creates the plates — surfaces coated with ink that are pressed into paper, resulting in a print — with a variety of everyday sources, from scored cardboard packing material to crumpled aluminum foil to newsprint. She works with nontoxic, soy-based Akua printmakers' inks.
Loesel has jumped right into exhibiting locally. She wrapped a solo show at Main Street Landing Performing Arts Center in October and currently appears in a group exhibition titled "More Light" at Northern Daughters gallery in Vergennes. Early next year, some of her prints will be included in an "art CSA" offered by Public Works Press.
As BCA's educational studios prepare to move to new quarters on Pine Street, Loesel met with Seven Days in the soon-to-close print shop in Memorial Auditorium to talk about her work.
Robin Katrick
Katie Loesel screen-printing
SEVEN DAYS: With all that you have going on, how do you make time for your own work?
KATIE LOESEL: The times when I'm going to BCA, I try to plan in some time for myself. Even if it's putting a couple layers on a few [prints], and I'm not necessarily going to finish it, just having enough time to say, OK, today I'm only getting at two colors; I'm going to put those layers on. And then the next time I come around, I'll maybe finish a couple. They build up in stages. It's not [usually] a full day in the studio.
SD: What are you working on currently?
KL: These plates are made with carborundum grit — it's sort of a DIY sandpaper, and you can either mix it with glue and paint it [onto the plate], or you can apply the glue and sprinkle it on like glitter. When it hardens, I like to draw on it with glue, too, because then the areas that are smooth will [end up] much lighter, because the ink will wipe off. I call it "lowbrow etching," because the grit tends to look like an aquatint [a print resembling watercolor] in the way it holds tone. There's not a lot of ways to achieve that kind of tone in printmaking, and I've been sort of experimenting with different nontoxic printmaking processes and trying to learn new things.
SD: You took a nontoxic printmaking class at Zea Mays Printmaking in Massachusetts with your money from a Vermont Arts Council Creation Grant last year. Is that when this experimentation started?
KL: This stuff has all been happening for the past year. The carborundum I discovered on my own. A lot of the stuff that I'm doing now is nothing that we covered when I was in college. We had amazing facilities, and you could do lithography and all these supply- and space-heavy processes. Having left that print studio, I've never been in another that was as well equipped, so I've been trying to figure out, How can I do this in a way that I don't need a spray hood or an acid room? How can I achieve similar results and still be able to build in these layers like I always have?
A friend of mine [Mike Marks] and I have been doing a lot with carborundum, and I ended up being his TA for a workshop he taught [at Haystack Mountain School of Crafts] in Maine [last May]. It was the first time either of us had taught [the process], so we did a lot of discovering in those four days, watching people do it and perfecting the best way.
The thing that I like about [the carborundum process] is that it parallels the way I make work, in that there aren't any rules. You can use cardboard or mat board — your substrate doesn't have to be a fancy metal plate. I think that sort of attitude helps me to set myself up for success. I'm not a super planner with my artwork; I like to put one color on [the paper] and then decide from there what the next color is that I'm going to mix.
And the plates I'm making are also experimental and interchangeable. There aren't a lot of restrictions. Because, you know, if you have no expectations, you'll always be happy with the results!
SD: Are you happy with the results?
KL: A lot of times, I can be unhappy with a middle step but know from what I have done in the past that eventually I will be happier about a print.
SD: Would you qualify what you're doing as experimental printmaking?
KL: Yes. And also as nontoxic.
SD: What's wrong with toxic stuff?
KL: Well, I don't want to die from being an artist. I'm interested in using materials and eating things in my non-art life [that aren't toxic]. And I've always been an environmentalist; even when I was a kid, I was getting on people for not recycling. I still do that. I care about what I consume in the world; I care about the cleaning products I use in my kitchen. And if you go back in the history of printmaking, everyone is using solvents and nasty things, and there are heavy metals in some of the pigments. A lot of that has changed now, so I'm trying to use processes and materials and cleaning supplies that are not going to harm myself, or the room I'm in, or the other people in the room or the planet. At least that's the idea.
SD: What informs your Plastiglomerate series?
Courtesy Of Katie Loesel
"Plastiglomerate: Cytology 1" monoprint
KL: The Plastiglomerate prints are based on something that's real, but then I [transform it] with this experimental method of printmaking, making layers that are loosely based on this object.
Plastiglomerate rock was discovered in Hawaii by an artist, a geologist and an oceanographer. They found that because [of] the Great Pacific garbage patch, and the currents and location of Hawaii, and because of either volcanic heat or campfires on the beach, when plastic is broken down into small pieces, it is fused by heat and combined with sedimentary layers. So, these rocks are horribly depressing and also kind of beautiful, because the plastic keeps its color, and there are ropes and things [in it] from fishing.
[This series] feeds into my recycling nature and environmentalism. It's not just about a rock. It's about pollution and all of the horrible things that are going on. The plastic doesn't go away. It's just getting smaller, and here's the by-product. And even though these things look cool, and I can make this print that is interesting and layered and maybe beautiful, it's still talking about this gruesome thing we've done.