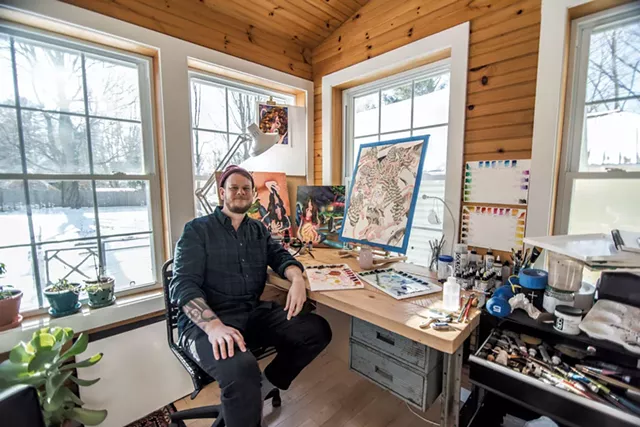 Robin Katrick
Jeffrey Robbins in his studio
Jeffrey Robbins is not a starving artist. With his mind on how to support himself, he dropped out of New York's Pratt Institute in 2000 and opted instead to pursue a career in web development and e-commerce during the internet boom.
After spending his earlier adult life in New York City, Robbins, 38, relocated to Burlington with his wife in the summer of 2015. Since then, he's found the time to rededicate himself to art making. Robbins has established a routine that's allowed him to experiment with ideas that were brewing for more than a decade.
The results have been fruitful. For his first public showing in about 15 years, Robbins was accepted into the juried show of Burlington's South End Art Hop last fall, exhibiting two of his drippy, trippy watercolors. The juror, New York gallerist Asya Geisberg, awarded Robbins first place for his painting "Cellar Dwellers."
"I wanted to reward a vision executed with such ferocity that little did it matter my own personal stake in the artist's choices," Geisberg wrote. She continued, "[Robbins'] commitment to making every form as sinewy and spaghetti-like as possible and colors from a Pop-y '70s quilt made me want to indulge in every last wanton limb and dirty crumb."
Through February, Burlingtonians can see Robbins' work at Speeder & Earl's Coffee. Seven Days met up with Robbins to talk about youthful rebellion, schlocky horror flicks and working outside a major commercial art scene.
"Interdimensional Discovery"
SEVEN DAYS: What drove you to go to art school, and to leave?
JEFFREY ROBBINS: I'd always been artistic when I was young. I ended up going to Pratt in 1998 for painting, and while I was spending all of this money to be there, I was thinking, How am I going to make a living when I get out of this? I come from Buffalo; it's a very blue-collar town. I didn't grow up wealthy or anything like that, so I had to figure out how I was going to make a living.
This was at the height of the internet boom, and it was like, if you know HTML, you're golden! So I decided to transfer some of my art skills into the digital realm by doing graphic design and [Adobe] Illustrator. I started doing some of that digital art, and I hated it. I felt like it was a diluted version of what I wanted to do with art. So I said, "I might as well go full bore and learn programming and take that route." And I have.
SD: Your work has a gooey, irreverent quality, but it's actually precisely executed. Can you talk about your visual influences?
JR: When I was young, I was very into horror movies. I still am, and it's a big influence. I was 9 years old, maybe 8, when I started watching horror movies. I remember when my family got a VHS player for the first time. I went to the video shop on the way home from getting our Sharp VHS player, and all of these movie covers [were] just jumping out, like Chopping Mall and Ghoulies.
[The horror movies] are so hokey, and none of them actually hold up as good movies at all. I think of Phantasm as this great aesthetic masterpiece, and, in the fog of my memory, it is. And then I watch it and am like, Man, this movie is horrible.
We had a clubhouse, and I would draw werewolves and vampires and hang them up all over it. I would look at skateboard graphics from the time, which I still think are super cool. They were very colorful, very neon, loud and in-your-face. I feel like they spoke to rebellion when you were a 9-year-old.
A lot of that aesthetic still sticks with me: the skateboard deck, the VHS cover of a horror movie, a Tales From the Crypt comic book, thrash metal album art; all of those things are still so strongly embedded in my visual memory.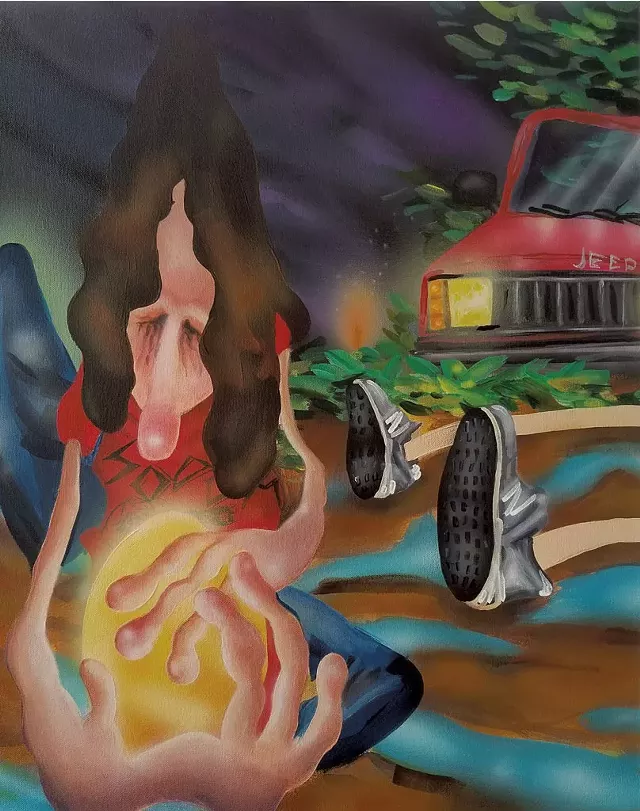 SD: Have you been making work steadily since you left art school?
JR: Once I dropped out of Pratt, I would make art on and off. That was a cycle I had for many years, and for most of that time I was living in New York City. New York is the cultural capital of the world, arguably, and trying to make art in that environment when you're not 100 percent sure what you are doing is very intimidating.
Not until I moved to Vermont a few years ago did I really say, "OK, this is what I'm going to focus on now." I'm free from a lot of the pressures that you have in a big commercial art market like New York. Burlington is a very supportive city for the arts, and there are a lot of opportunities to get a little bit of recognition. You don't really have to give a shit whether you're going to sell anything — you're not going to sell anything. Maybe it finds an audience, maybe it doesn't, but you can do whatever you want.
When I finally did decide that art was something I wanted to do seriously again, it wasn't because I felt like I had to do it; it was because I felt compelled to do it. I feel like I've hit a midlife creative spurt — more than I've ever had in my life. In art school, you're still doing it on somebody else's terms, at somebody else's direction. Here, I have no direction; I just do it because I want to. I do it seven nights a week, and I love it.